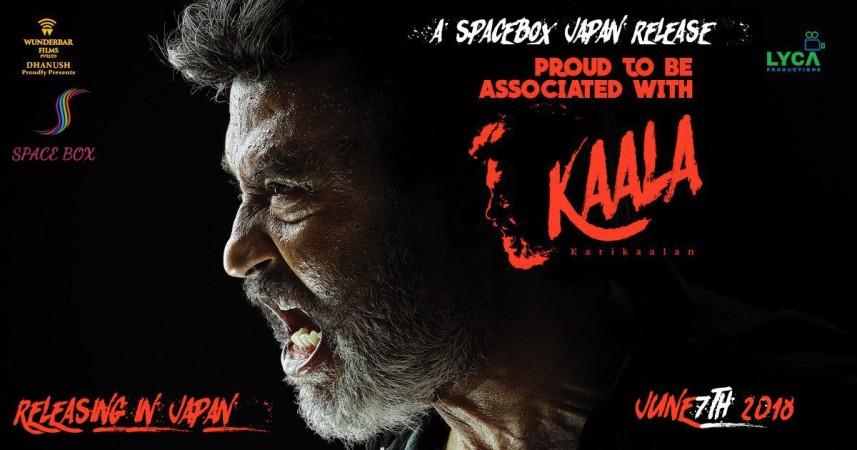 Rajinikanth's undulating charm and powerful screen presence makes Kaala, although it is long movie, a nice watch. It has a great story and maturity fits him like a glove, say viewers. Like Pa Ranjith's earlier film Madras, he presents the lifestyle of slum dwellers to the perfection. The candid loudness usually associated with lower class groups and their family dynamics are portrayed with poignant scenes and nonchalant support cast.
Kaala 1st Day Collection at the Tamil Nadu Box Office
The audience have lauded the movie and called it a "pure commercial entertainer." Rajinikanth's performance, as always, is the major highlight of the movie, say netizens. The rain fight and Santhosh Narayanan's background score are getting special mention. Read on the review to find out what the movie has to offer to the fans...
Kaala Story
The story of Kaala may seem like a simple face-off between a powerful politician — Nana Patekar (Hari Dada) and a leader of a local community in Dharavi — Rajinikanth (Karikaalan). However, Pa Ranjith has added a lot of layers to the narrative, making the movie a compelling watch.
Ranjith does take a little bit of time to establish his characters and atmosphere in the first half. A lot of focus is given to Rajinikanth's equation with his wife Easwari Rao (Selvi) and his sons, predominantly Dileepan (Selvam) and Manikandan (Lenin).
Rao's scenes with Rajinikanth add a lot of colour to the first half and it gets even better once Huma Qureshi (Zareena) enters the plot. Ranjith has made sure the film reaches a high towards the end of the first half where Patekar makes his full-fledged entry into the storyline.
The second half is lit up whenever there is a face-to-face confrontation between Kaala and Hari Dada. Rajinikanth has ample scenes to prove his worth as a performer after the intermission and he does it with relative ease. Even towards the end, Ranjith has treated the film differently and hasn't let a usual revenge drama creep in. The climax stands out for ideation and execution.
Kaala Review and Analysis:
Rajinikanth's simple introductory scene, his confrontation with Nana Patekar backed by good cinematography, background score and art works in his Kaala have won the hearts of the audience. While Kabali was made typically like a Pa Ranjith film, the latest flick is a combination of Rajini-Ranjith style.
The clash between Rajinikanth and Nana Patekar have been hailed. Last but not the least, people should not miss out the brilliant climax, say the netizens.
Kaala Highlights
Rajini's intro
Mind-blowing Rain fight on par with Enthiran's train fight
Santhosh's BGM
Rajini-Nana confrontation scene
Kaala & Zarina's Flashback
Drawbacks
The usual punch one-liners are missing and the length of the movie is a concern. The editing should have been better, say those who have already watched the film. And the second half is predictable and preachy. In short, it has an outdated story, but saved by Rajini's charisma.
Average Ratings being Given by Audience:
3
Find out the reviews in their own words:
Haricharan Pudipeddi: #Kaala does have its issues, especially in the second half where it turns quite predictable, only to redeem itself with that beautiful last scene. Oh, and I fell in love with Eswari Rao's performance. Such a delightful screen presence.
#Kaala works a powerful, rooted and relevant story that shines the spotlight on the oppressed and their fight for identity while resonating the same sentiments that powered the recent Jallikattu and Tuticorin protests. #Rajinikanth's rage-filled performance is a joy to watch.
Scenes between #Rajinikanth and @humasqureshi work beautifully, proving that on screen romance can be mature yet heartwarming. Huma is a revelation in a role she owns comfortably, never going overboard in portraying the right emotions.
Halfway through #Kaala . We get a #Rajinikanth, who is so comfortable in his shoes, owning some scenes with the kind of charisma that's rare to see. On the story front, @beemji establishes the premise strongly without any distractions.
Baradwaj Rangan: In #Kaala , PaRanjith kills Rajinikanth. At least, he kills off someone named Sivaji Rao Gaekwad. The entire film seems to be about subverting Tamil-hero mythology. Fascinating, sure. But why has Ranjith allowed the ideator in him to overcome the filmmaker in him? #earlyThoughts
Zakka Jacob: #Kaala is a deeply political film. Arguably the most political film that @rajinikanth has done in the last 25 years. It's an out and out @beemji with a big political message for the rulers and the ruled.
#Kaala deals with all the contemporary issues of our times. Nationalism, cleanliness, communal amity, police atrocities, the works...but primarily it's a movie about land, and people's rights. Can this be a launchpad for @rajinikanth political career? Time will tell.
Sathish Kumar M: If #Kabali is 100% Ranjith film, #Kaala is 75% Ranjith Film. Scenes between Superstar with 2 heroies @humasqureshi & #Eswari has come out well. Interval block was good. Second half could have been much better
#Kaala - Movie picks up speed after @humasqureshi introduction. @beemji has given more importance to actor Rajinikanth than our Mass Superstar. Thalaivar impresses in romance, comedy & fight scenes. Interval block is a big treat for Thalaivar fans
#KaalainVettri #kaala Thalaivar is always the one & only Superstar of indian cinema. Seeing lots of family crowd for 4 AM Show @ @VettriTheatres
Rohit Venkatraman: #Kaala - What starts as a @rajinikanth film ends as what @beemji perceived it . Superstar's electrifying screens presence & dialogues are a major pull factor & i personally felt the plot in the 2nd half revolved around the current happenings in the state Rating - 3 / 5 Abv Avg
Prashanth Rangaswamy: #Kaala - 80/100 . A movie that will be celebrated and debated for years to come . You will fall in love with the acting of @rajinikanth . Must be watched with your family !!
People living in Dharavi, Mumbai. If they are watching #Kaala - I think no one will come out without tears in their eyes. I think this movie will make them even stronger and will make them fight even harder !!
#Kaala Interval - Best first half of a @rajinikanth movie i have seen in my lifetime!! Tha! - The guts of @beemji to take such a pressing issue and convert it in to one hell of a movie. This @Music_Santhosh - His BGM - Constant goosebumps !! Just so so so happy !! .
Kaushik LM: #Kaala - Felt that it's far far better than #Kabali. @beemji has learnt his lesson and delivers a film which will appeal to majority of viewers, Superstar #Rajinikanth fans & also his core 'arasiyal padam' audience. And yes, he strongly forces his political ideology into the film
#Kaala 2nd half top takkar.. Sema
#Blockbuster! Podra repeatta!
My rating 3.5/5
#Kaala 1st half - The illustrations which present the flashback between Kaala & Zarina will be a big treat for Superstar #Rajinikanth fans. His vintage look, style and charisma have been sketched so well. Grt work
Waiting for the 2nd half to take off. Kaala vs Hari Dada!
#Kaala 1st half - Terrific interval block confrontation between Kaala & Hari Dada and the preceding rain fight, leave the crowd in high spirits. #NikkalNikkal #Superstar #Rajinikanth is at his very best compared to all his recent films. Evergreen .
Largely unhurried pace!
Ramesh Bala: #Kaala [3.25/5] : Dir @beemji has stayed true to his conviction.. Has written powerful characters..
Has presented #Thalaivar in a better Avatar than #Kabali
The movie will satisfy both fans and family audience..
#Kaala [3.25/5]: @thondankani , #EaswariRao, #Dhiliban, #Manikandan and #AnjaliPatil stand out..
@Music_Santhosh songs and BGM go very well with the movie..
#Kaala [3.25/5] : The movie 's surprise package is @humasqureshi
In an author backed role, she has performed admirably..
Her scenes with #Thalaivar are so pleasant to watch..
#Kaala [3.25/5] : #Thalaivar 's confrontation scenes with #NanaPatekar are Theri..
#NanaPatekar is a great asset to the movie.. After a long time, a powerful villain character in a #Superstar movie..
#Kaala [3.25/5] : A fight between oppressed vs Land mafia in #Mumbai 's #Dharavi
#Thalaivar shines as #Kaala
Vintage #Superstar is rocking in Mass Avatar..
His mannerisms, dialogue delivery and action
Treat for #Thalaivar fans..
Hari: Considering Tamil nadu's current gloomy industrial exploitation and political downfall, #kaala has some hefty dialogues , capitalising on little details like water served to a guest has ranjiths phenomenal touch. #Rajinikanth acting his age with wit and mass is a delight to watch
R_ : #Kaala story plot is very relevant to present day TN situation.When people see the movie, they will understand how a genuine pure "People protest" is turned into a violent one-the true meaning of #SamogaVirothigal as #Thalaivar said #KaalatheRageofRajinikanth
Shiva: #Kaala: The director has covered a lot of stuff in 150 mins - communalism (Rajni's son), communism (people demanding bigger temples), politics, exploitation of poor by the rich, caste-divisions within the society and the whole Ram vs Raavan thing...
#Kaala is a very powerful film. The more you think about it, the more it grows on you. Over the time, this will be regarded as a classic.
#Kaala is a very powerful film. The more you think about it, the more it grows on you. Over the time, this will be regarded as a classic.
Christopher Kanagaraj: #Kaala | 1st hlf - Family drama with light political touch. Superstar's simple intro; superb perf by all d actors. Gud camera, bgm & art work. 'Zareena - Kaala' first meet scene & interval block super. Less mass scenes, pretty lengthy! Waiting for Superstar - Nana Patekar clash.
#Kaala | 2nd hlf - Full of protest 'Land is our right' , Superstar mass is completely missing. Nana Patekar was literally wasted. Dead Old story & Uninteresting screenplay. Expected a Rajini film, but its actually a half baked Pa Ranjith film. 'Porattam Poraattam..' Kabali
Anuj Radia: So #Kaala was okay overall. But can we just take a moment to appreciate that two icons of Indian cinema: #Rajinikanth & #NanaPatekar share screen-space together? Seeing them two together was GOLD!
Lol yup. A bit too political for my liking... I felt it was trying to make a statement.
Aravind Ramesh: #Kaala DARK VS LIGHT,RAM VS RAAVAN,KARUPPU VS VELLAI,GOOD VS BAD & KAALA VS HARI DADA,So much Depth in writing,Many realistic issues touched right from Protests to Digital India,Clean India, etc etc..Many Indian political topics debated in d medium of Superstar's Mass Image
Dhanvanth: This movie will refrain on the fact of what Rajini meant by anti-social elements while showing what Rajini is willing to offer when he comes into politics, and I hope the idiots who screamed that #Kaala will be a flop can brace themselves for the blockbuster of the year. (3/3)
@Music_Santhosh bgm is amazing and works flawlessly with the story which was beautifully executed by @beemji. Easwari Raos acting and character is extraordinary. (2/3)
@RajiniFollowers As an ardent Rajini fan I just finished watching the fdfs morning show for #Kaala in Canada, this movie is beyond beautiful in both story and visually. Not gonna say much cause I'm not gonna spoil it for @rajinikanth fans. (1/3)
Aniket Bose: #Kaala is your junk food over the weekend. Rajni- Nana scenes confrontation scenes are the film's biggest highlight. Also, the CLIMAX sequence is probably one of the better shot scenes in a long while. Keep your expectations in check and you will enjoy this.
SOHAIL KHAN: All in all, #Kaala is a pure #Rajinikanth paisa vasool film with award winning performance by @rajinikanth & @nanagpatekar. Well written script by @beemji. Sure shot
B-L-O-C-K-B-U-S-T-E-R. @wunderbarfilms @LycaProductions
⭐⭐⭐⭐ A Must watch
... @nanagpatekar done a marvelous job as Harinath Desai. @humasqureshi performance is also good. Background score is just amazing by @Music_Santhosh. Action stunts are new and breathtaking!! Editing is average, it could be cut 10 minutes more. #Kaala (2/3)
#Kaala Review
One of the best action masala film in recent times. A pure mass entertainer with a great message in the end! Top class performance by #Rajinikanth. He is the main USP of #Kaala. Amazing direction & pacy screenplay by @beemji. Climax scene is just MindBlowing...(1/3)
Madison Kannika: #Kaala⁠ ⁠Movie Review : A complete package of entertainment for the masses and devoted fans of masala movies. #Rajnikanth is in the centre of the battle between good and evil. He Nailed it. This one is sure to roar at the box-office. ⭐⭐⭐⭐
Chitra: Going to bed on a high after watchin #kaala at singapore. not one dull moment!Loved the way the yearn of lost love was portrayed. #kannamma is beautifully haunting but especially loved the flashback portion. Brilliantly done @beemji @dhanushkraja @Music_Santhosh Thank u 4 #Kaala
Voiceless Stranger: I must say that director ranjith wrote this amazingly beautiful story with a golden pencil, I'm sure. This isnt another love story. It's a life story, where there's more to discover behind the colors of paintings and the still faces of sculptures than meets the eye.
The 100: #Kaala Premier done in Singapore. Pros: Thalaivar Intro, BGM, Rain fight, Interval, Nana Patekar
Cons: A little slow in the beginning
Overall my rating as a non-Rajini fan 3.25/5 Decent film not outstanding but definitely not bad (Went with no expectations).