The year began on a sombre note, coming after a month of tragedies that occurred last December, including the Sydney cafe siege, the Peshawar school attack and the crash of an AirAsia passenger plane.
And just few days into 2015, we were jolted again when two gunmen stormed the office of satirical French magazine Charlie Hebdo in Paris on 7 January and gunned down 10 people, including the cartoonists and the editor.
A few days before the Charlie Hebdo shooting, the Nigerian terror group Boko Haram had carried out a deadly massacre in the Baga town in Borno, killing 'up to 2000', but the attack was not as widely reported as the Paris attack.
The first six months of the year saw at least 11 terror attacks that claimed more than 100 lives each, according to the National Consortium for the Study of Terrorism and Responses to Terrorism.
Most of these attacks took place in Syria and Iraq, perpetrated mainly by the Islamic State, while the others were reported in Nigeria, carried out by Boko Haram, and in Yemen and Kenya, the think-tank's report said.
Towards the end of the year, horrific attacks at multiple places in Paris and the shooting at San Bernardino in California confirmed the ever-real threat of global terrorism.
Here is a timeline of the major terror attacks of 2015:
3 January - Boko Haram attack in Nigeria kills over 150: Boko Haram militants stormed into the Nigerian towns of Baga and Doron Baga in the Borno state in the first week of the year, and massacred scores of residents with rocket-propelled grenades and assault rifles over the next few days.
'Hundreds of bodies' were found strewn across the streets, and while the Nigerian government put the death toll at 150, some reports said that as many as 2000 people had been slaughtered.
Amnesty International called the killings the "deadliest massacre" in the history of Boko Haram.
Satellite images showed thousands of structures destroyed in the chilling attack. Thousands fled from the region after the deadly attack.
READ: Boko Haram Devastation Seen on Satellite Images; Militants Also Kill Woman in Labour
7 January – 9 January - Charlie Hebdo shooting and kosher market siege: Brothers Said and Cherif Kouachi walked into the Charlie Hebdo office in Paris heavily armed, gunning down 12 people, including the editor of the French satirical magazine, Stephane Charbonnier.
Al Qaeda in the Arabian Peninsula claimed responsibility for the attack, having already put 'Charb' on its hitlist for the magazine's cartoons deemed insulting to Islam.
The two brothers were killed in a police battle two days later when they were holed up in a factory near Paris.
On the same day, Isis supporter Amedy Coulibaly, who had reportedly pledged allegiance to Isis leader Abu Bakr al-Baghdadi, laid siege at a kosher grocery store in Paris, killing four people before being shot dead by the police.
READ: Cartoonists Dominate Al-Qaida's Hit List that Featured Charlie Hebdo Editor ;
Who are Brothers Sharif and Said Kouachi, the Gunmen Wanted for Paris Shooting? ;
Paris Jewish Supermarket Attacker Uploaded Video, Pledged Allegiance to ISIS
20 March – Yemen mosque bombings kill scores: The Isis affiliate terror group in Yemen launched suicide bombing attacks at two Shiite mosques in the capital city of Sanaa on 20 March, killing at least 137 worshippers and injuring hundreds of others.
The suicide bombers reportedly dressed as disabled men to hide the explosives under their casts, Yemen's state-run Saba news agency had said.
The deaths added to the mounting toll of Yemen's bloody civil war as the Houthi militia seeks to take control from the government. Isis carried out several more attacks in Yemen in the following month.
READ: Yemen Mosque Bloodbath Kills 137; Isis Claims Responsibility
2 April - Al Shabaab attack on Garissa University in Kenya: Al Shabaab gunmen entered the Garissa University College campus in northern Kenya and took students hostage, killing 148 people.
The gunmen reportedly singled out non-Muslims to kill, with some horrific accounts by survivors revealing that they had forces some students to call their families before shooting them. The Al Shabaab mastermind behind the attack, Mohamed Kuno, had said that the attack was a response to the offensive by Kenyan forces against the terror group.
READ: Kenya University Attack: Most Disturbing, Tragic Moments of Al-Shabaab Massacre
Who is Mohamed Mohamud, Kenyan Teacher who Masterminded Al-Shabaab Garissa Attack?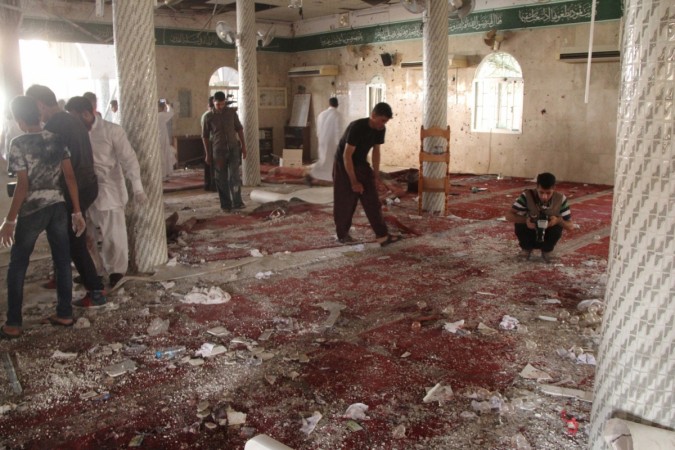 22 May - Isis suicide bombing at Imam Ali mosque in Saudi Arabia : The Islamic State claimed its first major attack in Saudi Arabia when it carried out a suicide bombing at a Shi'ite mosque in al-Qadeeh village in the eastern region of the kingdom. About 150 people were praying at the mosque at the time, and at least 20 worshippers were killed.
A few days later, Isis struck again at a Shiite mosque in Dammam in Saudi Arabia, in which a suicide bomber dressed as a woman killed at least four people on 29 May.
READ: First Isis Attack in Saudi Arabia? Islamic State Claims Suicide Attack at Shia Mosque
Saudi Arabia: Isis Behind Suicide Attack at Dammam Shia Mosque that Killed 4
26 June - Kuwait Shia mosque bombing: Even as Muslims were observing the holy month of Ramadan, Isis chose to attack Shia worshippers inside their mosque in Kuwait during Friday prayers, killing at least 27 people. The terror group's Saudi Arabia affiliate, Najd Province, said that its suicide bomber Abu Suleiman al-Muwahed carried out the attack on the 'temple of the rejectionists', a phrase the group uses to refer to Shia Muslims.
The blast occurred at the Imam Sadiq Mosque in Kuwait City's al-Sawabir district. It is one of the largest Shia mosques in the Middle Eastern nation.
READ: Kuwait: Isis Claims Bomb Blast at Shia Mosque During Ramadan; 27 Killed
Kuwait to Take DNA Samples of 4 Million People Following Isis Mosque Bombing
26 June: Isis gunman kills tourists at Tunisia beach resort: A 23-year-old Tunisian gunman landed on the beach at the Imperial Marhaba Hotel in Sousse posing as a tourist, while hiding a gun in his umbrella.
He opened fire on the tourists, killing at least 38 people, most of them British nationals. The Islamic State claimed the attack, stating that it had synchronised the attack with the Kuwait mosque blast on the same day.
READ: Tunisia to Crack Down on 80 Mosques After Deadly Beach Attack Kills 38
Gunman who Shot Dead 38 Tourists in Tunisia Trained in Libya
20 July – Suruc bombing in Turkey – A suicide bomber with alleged links to Isis killed 32 youth activists and wounded 100 others in Suruc in Turkey, which lies close to the border with Syria.
This was said to be the first major terror attack by the Islamic State in Turkey. It was also the deadliest attack in the country since 2013.
Among the dead were college students and young activists who were part of a reconstruction project in the Syrian town of Kobane.
READ: Turkey Blast: Dozens of Students Killed in Suspected Isis Suicide Attack
Twitter Down in Turkey; Gag on Publication of Suruc Attack Pictures, Videos
27 July: Gurdaspur terror attack in Punjab: Three terrorists from Pakistan attacked a passenger bus in Punjab and then stormed a police station in Gurdaspur, a town close to the India-Pak border, killing 8 people including civilians and the Superintendent of Police Baljit Singh.
Indian security forces engaged in a gunbattle with the terrorists for nearly 12 hours before all three were killed.
Some reports said the terrorists shouted 'Allah hu Akbar' — which means 'God is great', a phrase that has come to be chillingly familiar with Isis attacks.
READ: Isis, Pak ISI in Crosshairs as Officials Hint at Islamist Outfit's Hand in Gurdaspur Attack
Terrorists Came From Pakistan: Rajnath Singh in Rajya Sabha on Gurdaspur Terror Attack
Gurdaspur Terror Attack: CCTV Footage Shows Terrorists Posing as Soldiers Before Encounter
10 October - Ankara twin blasts kill over 100: In one of the deadliest attacks of the year, two bomb blasts in the Turkish capital killed 102 people during a peace rally near the Ankara train station.
Turkey named Isis the main suspect in the suicide bombings. The rally had been called to demand an end to the fight between the Turkish government and the terrorist organisation PKK.
The blasts came ahead of Turkey's snap elections on 1 November.
The horrific moments of the blasts were caught on video.

READ: Twin blasts at Ankara train station captured on camera
Thousands protest in Paris, Strasbourg and Zurich over twin bombings in Ankara
31 October - Russian passenger plane crash blamed on 'terror bomb' – A passenger plane of Russian airline Kogalymavia crashed in the Sinai desert in Egypt on 31 October, killing all 224 people on board. Russia confirmed weeks later that the plane was downed in a terror attack with a 'home-made bomb equivalent of up to one kg of TNT'.
The Islamic State had claimed responsibility for the crash, claiming that it had shot the plane down in retaliation to Russian airstrikes against Isis targets in Syria.
Russian President Vladimir Putin has vowed to 'find and punish' those behind the terror act.
Egypt, however, has refrained from calling the incident a terror attack.
READ: Russia offers $50 mn reward for info on plane bombing
Russian plane crash: Isis releases video as 'proof' of downing aircraft
12 November – Suicide bombing in Lebanon kills over 40: Two suicide bombings in a Shia-dominated neighbourhood in Beirut killed 43 people on 12 November, and injured over 200 others.
The Islamic State claimed the attack, said to be the deadliest in Beirut since Lebanon's civil war in 1990.
While two suicide bombers detonated their vests, targeting a crowded market place and a mosque, a third militant who failed to blow up his explosives was found dead in the second blast, while another bomber was taken into custody, CNN had reported.
The Burj el-Barajneh area where the attacks took place is said to be a stronghold of Hezbollah, a Shiite militant outfit.
READ: Lebanon: Terror network behind Beirut blasts busted
13 November – Shooting bombings in France kill 138: In the deadliest attack on French soil since World War II, Isis terrorists carried out a series of attacks in Paris on Friday the 13th, killing 130 people, most at the Bataclan concert hall.
A suicide bomber also detonated his vest near the Stade de France where France and Germany were playing a friendly match to a packed stadium, with French President Francois Hollande also in the audience.
Several restaurants and cafes were also targeted in the simultaneous attacks.
At the Bataclan hall, 89 people were gunned down by three terrorists who fired at the crowd that had gathered for a concert by Californian rock group Eagles of Death Metal.
READ: Isis supporters 'celebrate' Paris attacks on Twitter
Paris terror attack mastermind suspected to be Belgian linked to foiled Thalys train attack
Paris attacks: Turkey warned France twice about homegrown jihadi
2 December – San Bernardino shooting kills 14: US citizen Syed Farook and his Pakistan-born wife Tashfeen Malik left their six-month-old daughter with their family before coming down to a San Bernardino community centre heavily-armed, and shot dead 14 people.
Malik had reportedly pledged allegiance to Isis chief Abu Bakr al-Baghdadi on Facebook on the same day.
The two were shot dead in their car four hours after the attack in an intense gun battle with the police.
The San Bernardino shooting, which is said to have been inspired by Isis, is considered among the worst terror attacks in the United States since 9/11.
The Islamic State later released a statement claiming that its 'followers' had carried out the San Bernardino mass shooting in California.
READ: Who are California shooting suspects Syed Farook and Tashfeen Malik?
California shooter Tashfeen Malik travelled to India once
Isis radio says Daesh 'martyrs' behind San Bernardino attack