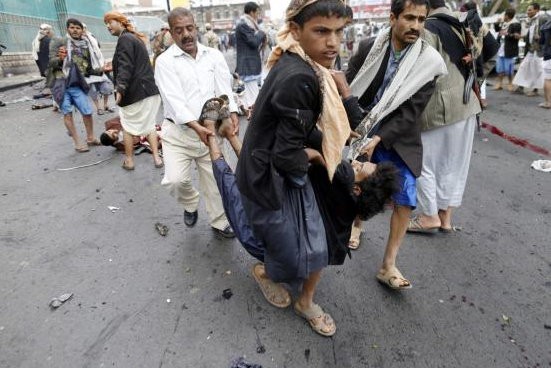 Sunni terror group Isis has claimed responsibility for Friday's 'bloodbath' at a Shia mosques in Yemen's capital Sanaa, where two separate suicide attacks killed 137 people and wounded 357. According to CNN the attack on the Houthi Shia mosques is Isis' first large-scale attack in the Arabian Peninsula.
Isis, in a brazen written statement, claimed that the Friday's blasts were just "a tip of an iceberg" indicating that there will more such attacks in the coming days. The group also released an audio statement claim that said five Isis suicide bombers had killed the 'Houthi infidels'.
The suicide bombers, who attacked two Shia mosques, came dressed as disabled men to hide the explosives under the casts, according to Yemen's state-run Saba news agency.
Local Yemeni sources, however, claim that four suicide bombers were involved in the attack on Badr mosque in the south of Sanaa and the al-Hashoosh mosque in the north of the capital.
As per eyewitnesses' accounts, one suicide bomber was caught at the Badr mosque by the security personnel at the main gate, but he immediately detonated his vest. In the ensuing confusion, a second bomber fled inside the mosque and triggered another blast. A second pair of suicide bombers attacked the al-Hashoosh mosque, according to the state news agency.
According to Al Jazeera, prominent Houthi cleric Al-Murtada bin Zayd al-Mahatwari, the imaam of the Badr mosque, was among those killed. Two senior Houthi leaders -- Taha al-Mutawakkil and Khalid Madanib -- both members of the Zaidi Shia sect reportedly were grievously injured in the suicide attack.
All the dead and injured at the two mosques were supporters of the Shia Houthi fighters.
"The heads, legs and arms of the dead people were scattered on the floor of the mosque," said an eyewitness, Mohammed al-Ansi. "There was a river of blood." A survivor from the Badr mosque, Ahmed al-Gabri, said: "I fell on the ground and when I regained consciousness I found myself sleeping in a pool of blood."
Another, Sadek al-Harithi, described the scene to the Associated Press as "an earthquake where I felt the ground split and swallow everyone".