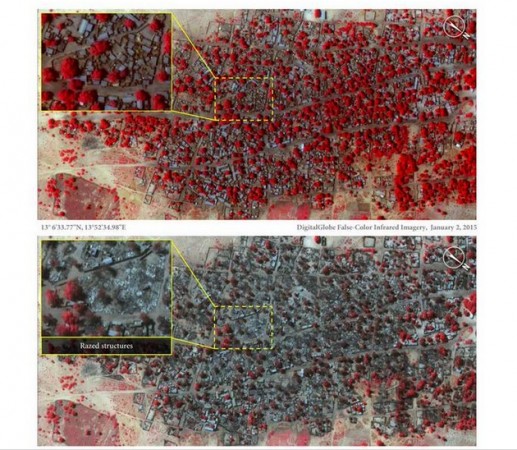 The Nigerian town of Baga and other villages were almost 'wiped off the map' during the Boko Haram attacks earlier this month, with the scale of the devastation recorded through satellite images; the militants even reportedly killed a woman in labour, while her baby was being born.
Amnesty International, a human rights group, had called the attack as the deadliest in Boko Haram's history, and it has now analysed satellite images to reveal the extent of destruction.
Satellite images of two neighbouring towns, Baga and Doron Baga before and after the attack in the first week of January reveal that the terror group left more than 3,700 structures damaged or completely destroyed.
"These detailed images show devastation of catastrophic proportions in two towns, one of which was almost wiped off the map in the space of four days," Daniel Eyre, Nigeria researcher for Amnesty International, said.
"Of all Boko Haram assaults analysed by Amnesty International, this is the largest and most destructive yet. It represents a deliberate attack on civilians whose homes, clinics and schools are now burnt out ruins."
The images show only two of the many towns and villages that Boko Haram attacked on 3 January. About 620 structures were damaged or completely destroyed by fire in Baga, while in neighbouring Doron Baga, 3,100 structures were burnt down.
The images from the two days (2 and 7 January) also show that fishing boats along the shore disappeared, testifying that many locals fled by boats on Lake Chad.
As many as 2,000 people were feared killed in the attack on Baga and neighbouring towns, with reports suggesting that bodies still remained strewn in the bushes.
During interviews with survivors, Amnesty also found that the militants killed a woman giving birth as they shot indiscriminately at civilians.
"Half of the baby boy is out and she died like this," a witness said.
"They killed so many people," another survivor said. "I saw maybe around 100 killed at that time in Baga. I ran to the bush. As we were running, they were shooting and killing."
#Nigeria: Satellite images show horrific scale of Boko Haram attack. http://t.co/kjB6urMca0 #BagaKillings pic.twitter.com/QW3BnQwMXI

— AmnestyInternational (@amnesty) January 15, 2015