India captain Virat Kohli has said he loves the energy of Kerala and being in God's own country is nothing short of a "blissful" experience for him.
Kohli had arrived in Thiruvananthapuram on Tuesday along with the rest of his teammates for the fifth and final ODI of the ongoing series against the West Indies.
The record-breaking Delhi batsman has pointed out that Kerala is back on its feet after the devastating floods that rocked the Southern Indian state earlier this year.
Kadakampally Surendran, the Minister for Co-operation, Tourism & Devaswom in the Kerala government, shared a copy of the note that Kohli had left at the hotel where the Indian team has been put up.
The note read: "Being in Kerala is nothing short of bliss. I love coming here and love the energy of the whole place. The beauty of Kerala is something to be experienced and I would recommend to everyone that they come here and experience the energy of God's own country.
Kohli added: "Kerala is surely back on its feet and absolutely safe to come to. Thanks to this amazing place for making me feel happy every time I am here."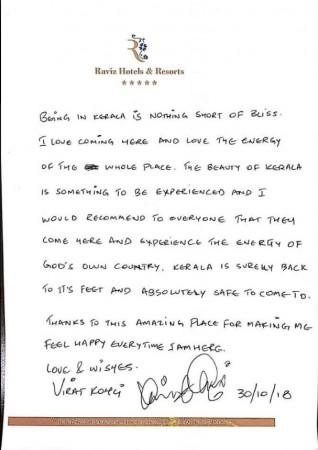 Kerala, one of the most sought-after tourist destinations in the country, was ravaged by worst flooding in the state since 1924. Rainfall that began in the month of July and intensified in August led to more than million people displaced, close to 500 dead and unprecedented loss of property.
The state was struggling to grapple with the devastation as lack of food and water in severely affected districts became a huge cause for concern. Funds started pouring in for Kerala from across the world but the aftermath of the floods were such that the finance minister from the state, Thomas Isaac said the central government's aid of Rs 100 crore wasn't close to being enough.
Kohli's heartfelt message should come as a welcome boost to the state that been through trying times in the last few months.
An Indian win on Thursday will make the occasion even memorable as Thiruvananthapuram plays host to the decider of what has been a highly-competitive ODI series.
India are heading into the match on the back of a thumping 224-run win over the West Indies in the fourth ODI in Mumbai on Monday. However, Kohli's men will be wary of the visitors, who have exceeded expectations by putting pressure on the top-ranked ODI side.