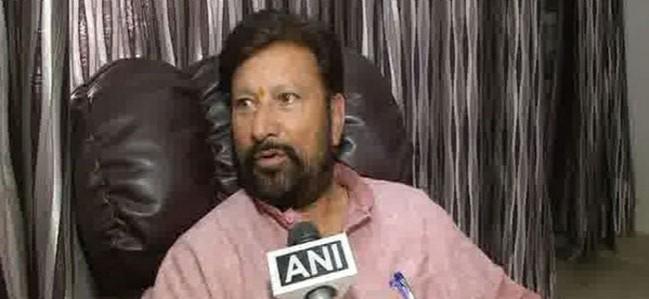 Issuing a dire warning to Kashmiri journalists, Bharatiya Janata Party (BJP) leader and former minister in the Mehbooba-led government Chaudhary Lal Singh said that journalists were misrepresenting the facts in Kathua rape case.
Lal Singh alleged that the media was creating a 'wrong narrative' around the case. Referring to the killing of Rising Kashmir' chief editor Shujaat Bukhari, he said: "Are they waiting for a similar incident that has happened with Basharat (a reference to Bukhari)?. It is better to control yourself now before the situation gets worse."
He said that the journalists "need to draw a line so that the brotherhood in the state remains intact and we also join the journey of development." He also demanded a CBI probe into the case, addressing a press conference in Jammu.
Earlier, Lal Singh was ousted from the cabinet for rallying in support of the eight people accused of brutally raping and murdering an eight-year-old from a nomadic tribe.
The victim was kidnapped on January 10 and kept in a small village temple. She was allegedly raped and murdered by the accused men. Once the body was discovered by a local on January 17, a Special Investigation Team probe was ordered leading to the arrest of the eight.
The case pushed the Centre to pass a law death penalties for child rapists under the Protection of Children from Sexual Offences Act (POCSO Act).
The former minister is not new to controversies. In 2016, he received a lot of flak when he threatened a delegation of Gujjar farmers, reminding them of the massacre of Muslims in the state following the 1947 partition.
Lal Singh's brother, Rajinder Singh was arrested from Rajasthan by the Kathua police when he abused former Jammu and Kashmir Chief Minister Mehbooba Mufti during a rally in Hiranagar.