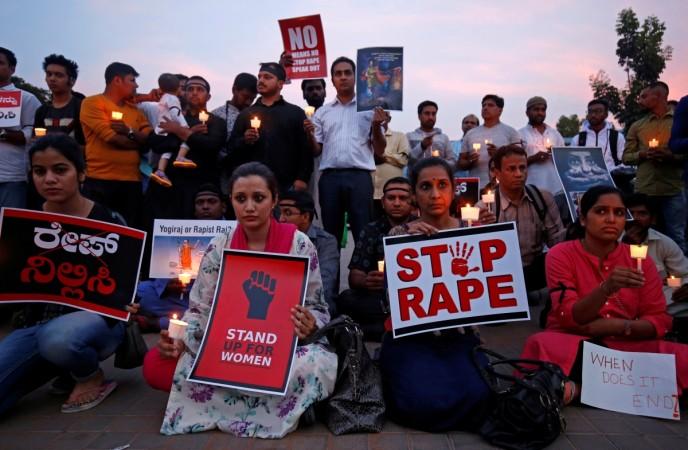 The Union cabinet has approved an ordinance on the POCSO Act, under which those accused of raping children of up to 12 years of age can now be awarded a death penalty. Until now, the minimun punishment for such crimes was seven years in jail and the maximum punishment was a life-term.
Union Cabinet approved an Ordinance to be promulgated to provide for stringent punishment for perpetrators of rape particularly of girls below 16 years age and below 12 years of age. Death penalty has been provided for rapists of girls below 12 years of age. pic.twitter.com/QXCv0P3pFP

— ANI (@ANI) April 21, 2018
The ordinance will be now sent to the President Ram Nath Kovind for his approval. The cabinet has also said that measures will be put in place so that the investigation and trial in rape cases are faster.
As per the amendment, the rape of a girl under the age of 16 will lead to a punishment to 20 years from the previous 10 years. This can be extended to life imprisonment.
Minimum punishment in case of rape of women has been increased from rigorous imprisonment of 7 years to 10 years, extendable to life imprisonment; in case of gang rape of a girl below 12 years, punishment will be life imprisonment or death sentence.

— ANI (@ANI) April 21, 2018
While the decision has been lauded by several people, activist Trisha Shetty has said that death penalty is not the solution and that a speedy investigation and trial is required.
"What happened in Kathua falls under the rarest of rare cases. But a death penalty will not serve as a deterrent. In 90% of the rape cases, people who are raping children are close relatives/friends so a death penalty will increase the risk of children's' lives," Shetty told News18. "We need swift justice, not a death penalty. The government needs to make sure that the fast track courts are really working.We re-victamise children by sending them to government hospitals."
The amendment was made in an emergency meeting of the cabinet after India has been rattled by a series of rapes and murders of children below the age of 12, the most gory and gutwrenching being that of an eight-year-old girl in Kathua, Jammu and Kashmir.
The brutal gang rape and murder of the girl brought the people of the nation together in protest cutting across all religions, castes and creed. Hundreds of people took to the streets to demand justice for the little girl.
However, amid such outrage several more such cases have been reported in the last few days.
A four-month-old baby was found raped and murdered in the basement of a building in Indore, Madhya Pradesh Thursday, April 19. The police have identified a suspect on CCTV footage and are said to be interrogating him. The autopsy report has confirmed that the infant was raped and she bore injury marks on her private parts, the Times of India reported.
On April 6, the police are said to have recovered the body of an 11-year-old girl and the autopsy report had confirmed that she was raped several times before her death. Her body bore 86 injury marks and the police said that she might have been brutally tortured before she was strangulated to death.
She is suspected to have been held captive for over eight days. "It seems a stick like object had been inserted in her private parts. Like other injuries, the wound in her private parts is of a few days old. The girl was subjected to severe torture before being killed," the Times of India quoted a police official as saying.