Disturbing a man's sleep usually leads to that man waking up all cranky in the morning and then ending up having a day he wants to forget. That was the plan behind Iran's fans deciding to disturb the Portugal team, particularly Cristiano Ronaldo, by making a racket outside their hotel on the eve of the Portugal vs Iran match, and that plan seemed to work with the Fifa World Cup 2018's most eye-catching player so far unable to find his mojo.
Having scored four goals in his first two games, you would have expected Ronaldo to continue his form in this final match of Group B, but the Real Madrid man was far from his best on Monday.
Maybe it was the lack of sleep or maybe it was the law of averages – although that law hasn't quite been applicable to this goalscoring machine over his career – but Ronaldo certainly struggled to find his rhythm against Iran.
Not only did Ronaldo miss a penalty, but he was also a little lucky not to receive a red card for an elbow on an Iran player as the match went into its climax, with the Middle Eastern side desperately looking for the goals they needed to progress into the last 16.
Although Portugal eventually ended up qualifying for the knockout rounds, they only did so by the skin of their teeth, with a late concession of a goal meaning they finished behind Spain – on goals scored alone, after both sides ended up with the same points and same goal difference.
What that finish means is that they now face a trickier last 16 tie against Uruguay, who flexed their muscles against Russia earlier on Monday and certainly look like a team capable of going deep in this Fifa World Cup 2018.
It might have all been different had Ronaldo got his scoring boots on – hey, maybe that lack of sleep meant he left his favourite boots back in the hotel room.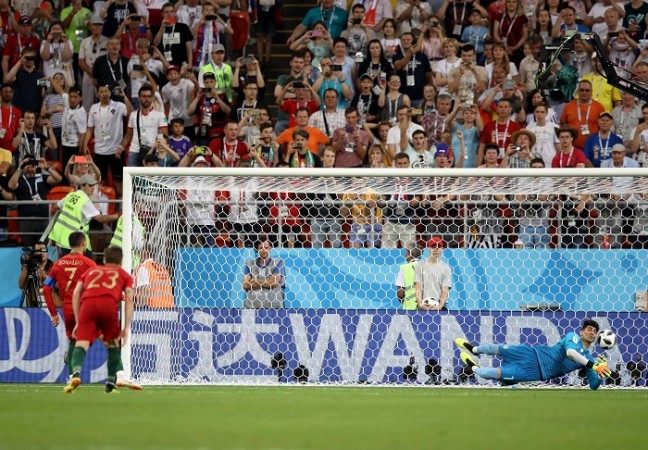 In a tournament where Lionel Messi missed a crucial penalty, right after Ronaldo had scored one under pressure, it was the turn of Messi's great rival to stumble.
Having won the penalty himself – courtesy a VAR review – all the money in the world would have been on the 33-year-old smashing the spot-kick home and giving Portugal the momentum they would have been able to run with.
Instead, Ronaldo, uncharacteristically, struck a weak penalty and with the Iran goalkeeper Ali Beiranvand guessing the right way, the result was a comfortable save.
That penalty miss ended up raising Ronaldo's frustration levels, and with Iran pushing for a result that might have knocked Portugal out of the World Cup, a bit of that frustration came out.
While looking to move into space, Ronaldo found Morteza Puraliganji blocking him on the Portugal left, and the skipper's reaction was to try and move the Iran defender out of his way. Only Ronaldo will know if the ensuing elbow was on purpose or just something that happened as he tried to swat Pouraliganji aside, but giving a red card for what was minimal contact and some Oscar-worthy play-acting from the Iran man, would have been a touch harsh.
Iran, of course, will feel differently – and Carlos Queiroz made it clear he felt it was a straight red card – but all of this might not even happened if Ronaldo was in the mood, and maybe he wasn't because of that Iran fan disturbance.
Uruguay fans, you now know what needs to be done.