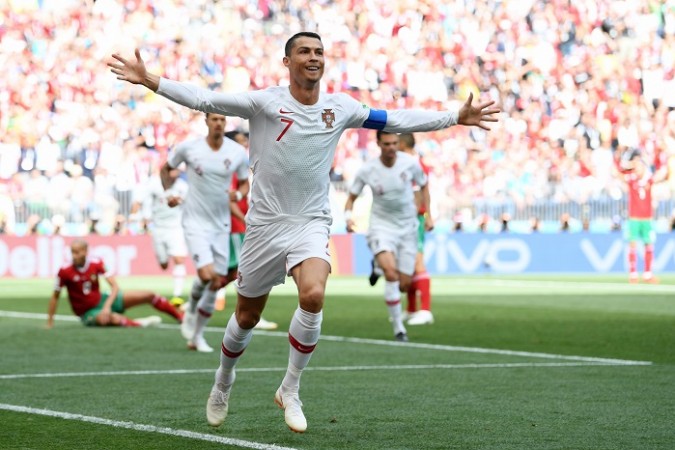 Not too long after leading Real Madrid to their third consecutive Champions League title, and fourth in five years, Cristiano Ronaldo said it might be time to name the grand European club competition after him, considering the success he has enjoyed. Well, going by his performances in the first two games of the Fifa World Cup 2018, maybe the Russian edition of the biggest football competition in the world might end up being all about the great man as well.
Ronaldo followed up a hat-trick against Spain by scoring the winner for Portugal, who beat Morocco 1-0 in Group B in Moscow.
Coming off a cannot-take-your-eyes-off-it 3-3 draw, Portugal needed a win in this match, just as Morocco, who were beaten in their first game by Iran, and they got that through an early goal from Ronaldo – a bullet header off a smartly taken corner.
While Ronaldo will take the headlines thanks to that goal – his fourth of the Fifa World Cup 2018, and already one more than he had scored in three previous World Cups coming into this one in Russia – what was disappointing to see was Portugal's tactics once they went into the lead.
Now, you can expect any team ceding possession and deciding to play on the counter-attack against Spain, but to do the same, and just sit back, against Morocco, all due respect to them, is very disappointing.
After all, Portugal are not some small side, who barely play football on the international stage. They are the European champions, who possess one of the greatest players of all-time in their team. Surely, they should have a lot more ambition than just defending and trying to catch Morocco on the counter.
Now, their supporters will say, it is a tactic that works and there is no need to change it, especially when it usually ends up giving Portugal three points. However, football shouldn't be just about the victory, about three points, even in a high-stakes tournament like the World Cup.
Football cannot be about the No 4 ranked team in the world deciding to just sit back and defend against the No 41 ranked side in the world, even if it means getting the desired result.
This is a tactic that worked really well for Portugal in Euro 2016, but, at least, most of those games were against stiff opposition. As good as Morocco are – and they were extremely unlucky not to come away with anything for the second straight game – they are no France or Spain, and Portugal have a responsibility to play better football.
They have quality in most parts of the field – Bernardo Silva is a fleet-footed, gifted playmaker, while Joao Mario is someone who can dominate midfield as well, alongside Joao Moutinho and William Carvalho. Cristiano Ronaldo is, of course, Cristiano Ronaldo, so there is no reason Portugal cannot show more ambition.
Maybe, as the World Cup progresses, we might get to see a more proactive, rather than a reactive, Portugal side, one that shows more attacking intent, but considering how well this soak-up-the-pressure, defensive strategy has worked for Fernando Santos, expect them to bore their way through this World Cup, with only Ronaldo's brilliance the bright spots in the games so far and the ones to come.