So often a big game on the big stage, promises so much and then ends up delivering a damp squib, with the match ending 0-0 at halftime, and a late extra time goal sending one of the two teams into delirium. Particularly in the World Cup, too many times the big games have proven to be such a big disappointment, mainly because there is so much at stake.
On Friday, however, it was different.
Maybe it was because it was the first game of the Fifa World Cup 2018 for both teams, and while making a strong start is important, a bad early result still gives you the chance to catch-up later.
Or maybe, it was because these are two teams perfect for each other – one that likes to kill you with possession and quick interchanges and the other that loves to counter at a searing pace.
The two Iberian rivals met in a World Cup classic in Sochi on Friday, with one of the all-time greats and a man who is a living legend in the Spanish capital putting on a show to remember.
Cristiano Ronaldo delivered a masterclass, but the winner was the game itself, as Spain and Portugal served up one of those matches you will be talking about 30 years from now.
Much was said about Spain's plight coming into this match, after the man that got them into this World Cup was sacked with 48 hours to go. Fernando Hierro was named as a replacement, and the new manager made one reasonably surprising decision in his starting lineup, when he chose Koke over Thiago Alcantara in the middle.
That selection, though, had nothing to do with the first goal, when Ronaldo cleverly invited a challenge from Nacho, duly went down, before picking himself up to smash home the penalty.
What the early goal did, however, was wake Spain up and when they do get their game going, there really is nothing better to watch, especially with that brute of a striker Diego Costa up front.
If Portugal have Ronaldo for single-mindedness, Spain have their own in Costa, who swatted Pepe aside before making a fool of a couple of Portuguese defenders to slot the ball home. The goal was everything you want to see in a centre-forward – power, strength, skill and, finally, composure in front of goal.
The pendulum had firmly swung over to the Spanish side now, with Isco extremely unlucky not to make it 2-1, as his shot, which hit the underside of the cross-bar only went halfway past the goal-line, but not all the way.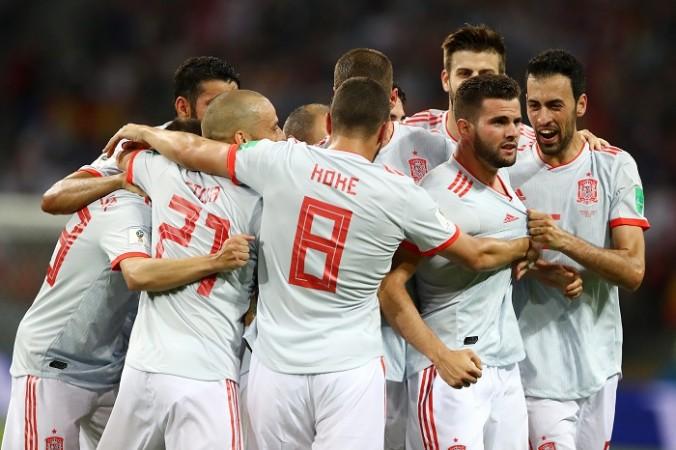 After that near miss, the pendulum decided it was time to go to the Portugal side, with David de Gea forgetting what it is like to save a simple shot from Ronaldo.
With Ronaldo all smiles at halftime, it was up to Spain to wipe that smile off his face, and boy did they do that.
Spain, with or without a head coach, are one of the best teams in the world for a reason, and they showed why in that second 45.
Costa got them back level with a poacher's goal after a nice header down from Sergio Busquets, before Nacho, the man who gave that silly penalty away, got his name on the list of goal of the tournament contenders with a volley and a half.
The last word, however, would be Ronaldo's as it so often is. The man who shows no signs of stopping, stepped up to take a free-kick from 25 yards, and delivered the perfect one, the one that climbed over the wall and then dipped to smash into the net.
More of the same for the rest of the World Cup please. Let every single game be like this. The art of defending can go have a cup of tea.