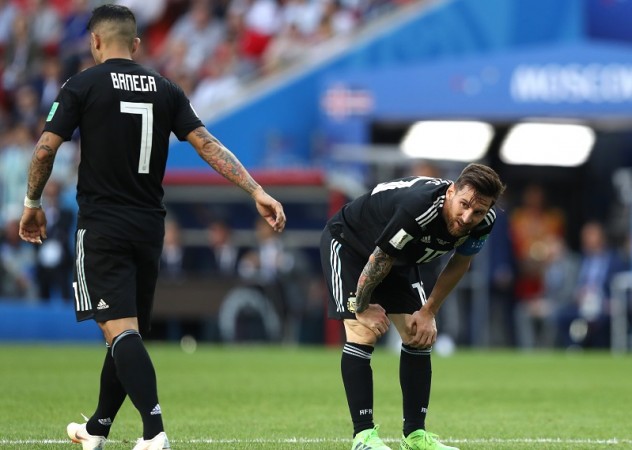 Iceland might be the smallest country by some way to play in the Fifa World Cup, but they aren't a country to bow down to footballing royalty. They know their limitations, but boy do they know how to make the most of their talents, something, maybe, Argentina can learn from.
For the longest time, Argentina, despite their resources, despite their talent, despite having one of the greatest of all-time in their lineup, have been unable to forge together and become a proper team, one that runs like a smooth, well-oiled machine, one that plays for each other and one that knows how to get the job done.
Up against the debutants in Iceland in a packed Spartak Stadium in Moscow, Argentina, despite a dream start, choked a little under the spotlight, with their greatest man Lionel Messi also failing to live up to the expectations.
The good news is there is time, two more games to make up for this underwhelming performance, but signs point to another difficult, turgid campaign, a campaign that might get them deep into the Fifa World Cup 2018, but not one that will see too many fans jump off their seats in joy.
When Sergio Aguero scored an outstanding goal, turning and smashing the ball into the top corner with his weaker foot in the 19th minute, you felt, "wow, maybe, this is the World Cup that Messi's supporting cast comes to the party."
However, a quick concession of an equaliser and then being frustrated by a stubborn Iceland defence put paid to those hopes, so much so that even Lionel Messi, THE Lionel Messi, missed a penalty, striking one at a comfortable height for the goalkeeper Hannes Halldorsson to save.
Once that penalty failed to go in, you could almost see the desperation in Messi's eyes, as he saw the negative headlines, and desperation very rarely brings you the right results.
What Argentina needed was a composed head, not just from their captain, but from the entire unit, but despite that early Aguero brilliance, it went missing for the rest of the game.
As much as this game was about Argentina disappointing, it was also the continuation of the fairy tale story that began in Euro 2016. Iceland, with a population of 334,000, continue to defy logic.
They had little to nothing of the ball, but they were outstanding in defence and composed (yes, that word again) when they did have possession, with Argentina almost panicking every time Iceland sprung forward.
Add the Viking Clap that rang around the stadium every few minutes, it only strengthened the joy that Iceland are bringing to this World Cup.
The underdogs will continue to defy logic, no doubt, but Argentina will need to go back to the drawing board, with Messi, in particular, requiring just to relax and let the game come to him, like he so often does in a Barcelona shirt.