India opener Prithvi Shaw has played down comparisons with Sachin Tendulkar and Virender Sehwag, saying he can't be mentioned in the same breath as the greats of the game.
Shaw though pointed out it's natural for people to make such comparisons but insisted he is not going to be bogged down by the weight of expectations.
The 18-year-old Shaw, who had been making a name for himself even at the school level, got his Test career off to a solid start, winning a Man of the Series award in his maiden assignment with Virat Kohli's Team India.
Shaw scored 237 runs, including a ton on Test debut, from three innings at an average of 118.50 as he starred in India's 2-0 whitewash of the West Indies at home.
"I can't compare myself with Sachin sir or Sehwag sir. They [people] will [compare]. People are looking at the way I am playing my shots. But I am trying to keep the my feet on the ground," Shaw told Star Sports India.
He added: "Obviously, Sachin sir is my idol. I used to watch him a lot. He has given me batting tips as well when I was small — 10 or 11 years of age. It's been a great journey till now. Expectations are going to be higher now. I will take it as a challenge, I won't be scared.
"Expectations are always there. Even at the school level, the U16s and the U19s, whenever I scored a fifty, people expected a hundred, a double. I don't really think about that too much. I just try to express myself, play as long as possible and on the merit of the ball."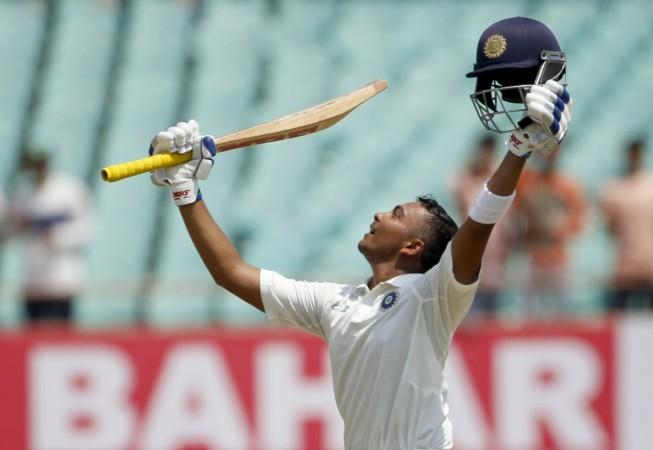 With a prodigious talent and evident hunger to score big, Shaw has drawn comparison to Tendulkar, who had started out as a dreamy-eyed boy before becoming one of the greatest to have played the game.
Shaw's fearless approach at the top of the order is being compared to that of Sehwag, who seldom thought twice about going after the bowlers. Notably, the teenage opener's strike rate in his maiden series was a staggering 94.05.
Can see a bit of Tendulkar, Sehwag, and Lara in Shaw: Shastri
Head coach Ravi Shastri continued heaping praise on Shaw, this time, likening the teenager to three greats of the game — Tendulkar, Sehwag and Brian Lara.
"When I saw him first, there is a bit of Sachin, there was a bit of Viru there. When he walks there is a bit of Lara there. That's a deadly combination. If he keeps his head on his shoulders and keep being solid with his work ethics, I think he has a bright future," Shastri said after Sunday's win.
Meanwhile, Shaw said he is looking forward to contributing to his team in their upcoming tour of Australia, starting November 21 in Brisbane.
"I will go back and play the Ranji Trophy. We will get some practice sessions over there. When I get there, I will get to know how the wicket is behaving," Shaw said.
He added: "It's the first time, I am going to be in Australia. Don't really know the conditions over there. Obviously, we have got so much of experience in the dressing room, legends in the dressing room. They will definitely share their experience with me. I will try to play my natural game there as well."
Despite some competition for the opening slot, it is safe to say Shaw has sealed his berth with the impressive show against the West Indies. The teenager's contribution at the top, given his love for pace and bounce, is going to be crucial to India's chances in the four-Test series, starting December 6.