India captain Virat Kohli has spoken against comparing Prithvi Shaw to anyone, let alone Sachin Tendulkar and Virender Sehwag as the teenage opener is being likened to the batting greats after his century on Test debut.
Kohli said the team management acknowledges Shaw's "supreme talent" and his ability to play at the highest level but insisted that the Mumbai sensation needs space to fulfil his potential.
Shaw, who had been making heads turn by scoring big runs at the domestic level and on A tours, lived up to the hype on Test debut against the West Indies in Rajkot last week.
Despite losing opening partner KL Rahul early, Shaw went on to score a ton on debut — 154-ball 134 and set up India's biggest win in the longest format — an innings and 272 runs.
Shaw wasn't overwhelmed by the occasion as he punished the West Indies bowlers even if they missed their lines and lengths by small margins.
A combination of aggression and flamboyance in his batting even prompted head coach Ravi Shastri to compare his style with that of Tendulkar and Sehwag.
"We shouldn't compare him to anyone yet. We shouldn't put him in a space where he feels the pressure of any kind and he should be left in a space where he enjoys his cricket and slowly grows into a player we all believe in," Kohli told the media on the eve of the second Test in Hyderabad.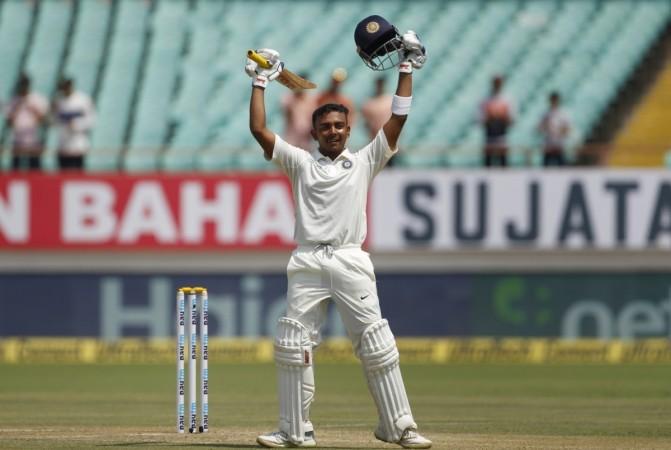 "I don't think he should be rushed into anything yet because you need to give a youngster a space to grow, in his own abilities. This guy is supremely talented and he has got great ability as everyone saw."
"We definitely think he (Shaw) has it in him to play at the highest level and he can repeat what he did in the first game. He is a very keen learner, a sharp guy. He understands situations well. We are all very happy for him."
Young cricketers are supremely confident: Kohli
Kohli also credited the exposure tours with India A and U-19 teams and the Indian Premier League (IPL) for preparing young cricketers to deal with the pressure at the highest level.
Before making his India debut, Shaw was already a household name as he had led the Indian team to U-19 World Cup glory earlier this year. He also impressed in Delhi Daredevils colours in IPL 2018, scoring 245 runs from nine matches at a stunning strike rate of 153.12.
The experience of having rubbed shoulders with the best in the business was evident as Shaw went about his business against the West Indies in Rajkot with considerable ease.
"Definitely it could be one of the reasons [(early exposure] because they are already exposed to the environment that the international game would replicate. But there's always the pressure of playing for the country," Kohli added.
"But I am sure it is not as intense as 10-15 years back, when you didn't have any exposure in this kind of cricket and suddenly you are put out there in a Test match making your debut for India the highest or toughest thing there could be."
"So I agree with the fact that they have played in situations in the IPL where they play in front of so many people that they are not nervous anymore at the big stage.
"...I think they are not overawed by the scenario and I think that's always going to be an advantage because the guys coming in can start doing the job from game one which both these young guys have done that and Hanuma Vihari as well. They are supremely confident guys, those who are coming up [the ranks]."
Shaw will once again open the batting with Rahul, who will be hoping to make up for the failure in Rajkot, in the second Test, starting October 12.
However, in-form Karnataka opener Mayank Agarwal and pacer Mohammed Siraj have been made to wait as India have named an unchanged squad.