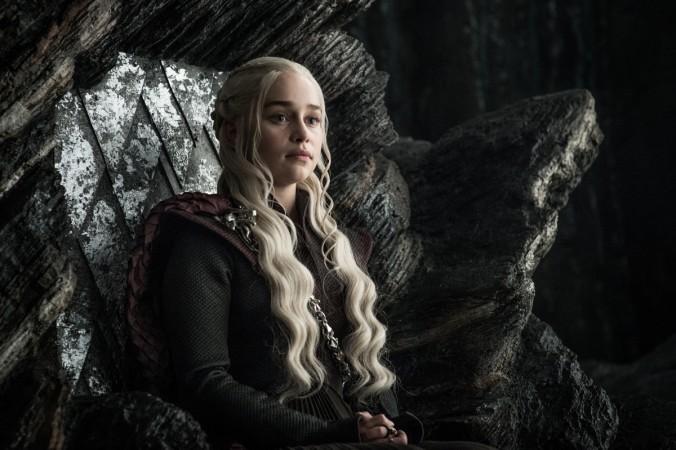 Game of Thrones fans have been busy speculating the spoilers about the upcoming season ahead of the season premiere. But actress Emilia Clarke has taken a step ahead and tried teasing about the final season.
The 31-year-old actress has taken to Instagram to share a behind-the-scenes sneak peek video. And, in the clip, the actress attempts to show the set of the HBO drama to the viewers.
She captioned the post: "Come meet me on the Game of Thrones set!! That's right don't choke on your cornflakes this ain't not hoax—you, me and a behind-the-scenes sneak peek."
In the video, Clarke, who is seen dressed up as Daenerys Targaryen, says, "You might know me as Khaleesi, Mother Dragons, Breaker of Chains, or anything of the above. I want to take you to Westeros. Because I hate to break it to you, but it's the final season of Game of Thrones.
"So I've teamed up with Omaze to give one lucky winner the chance... to come and visit the set and have lunch. But right now, I wanna give you, the viewer, an exclusive, behind the sneak peek."
She also admits that the producers really did not want her to do this, "Let me level with you guys, the producers don't really want me doing this, in fact, they don't really know I'm doing this. They also don't know I swiped the key."
Eventually, she fails to provide a sneak peek despite trying her best. Clarke then takes the viewers to see the Iron Throne, but it turns out to be only a green screen. She then returns to her trailer and tries to read a couple of lines from the script. But, that too is bleeped out. The camera then pans to the pictures of her former husband in the show Khal Drogo, played by Jason Momoa.
This is not the end. The video has Jon Snow's cameo as well. Yes, actor Kit Harington appears in the clip just to tell Clarke that producers sent him to inform her "to shut it down."
In a hilarious take, Clarke tries to dismiss whatever Harington says. She adds, "he's a bit boring, you don't want, yawn, six-pack, whatever."
So, the mother of dragons could not reveal much in the video as everything has been kept as a strict security to avoid the leak of spoilers.
However, the video has been made by Omaze campaign in support of the Royal College of Nursing. One person will get a chance to really go and visit the Game of Thrones' set in Belfast alongside Clarke. The winner will get flight tickets to Northern Ireland, a stay in a four-star hotel, a lunch with Clarke, and a tour of the set.
Game of Thrones season 8 production is currently underway. The popular HBO series is all set to return in 2019.