With fast-paced life in the urban regions, many people with poor lifestyle choices, particularly in terms of eating and less physical activities, are facing the early onset of diabetes and heart-related ailments. Now, we are seeing such cases as early as 30-40 age group and for some, even less.
If you are planning to buy a thoughtful gift to your loved one this Diwali, here is a list of top-rated smart fitness bands across several price bands.
Apple Watch Series 4:
Apple's latest Watch Series 4 is the most advanced smart wearable in the market. With watchOS 5 onboard, the Watch Series 4 brings advanced activity and communications features, state-of-the-art health capabilities, including a new accelerometer and gyroscope, which are able to detect hard falls, and an electrical heart rate sensor that can take an electrocardiogram (ECG) using the new ECG app, which has been granted a De Novo classification by the FDA. Apple plans to get similar regulatory approvals in other regions from respective government agencies.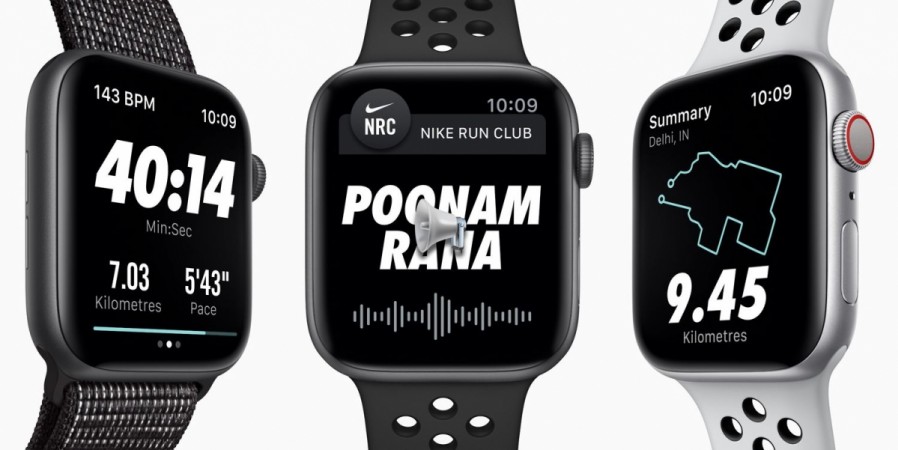 Yes, even the India-bound Watch Series 4 has the same hardware seen in the Apple's smart wearable in America and once the company gets the local health agency's nod, it will be activated with a minor software update.
It flaunts visually appealing curvy lozenge-like structure with a sleek body (just 10.7 mm thickness) and comes with more than 35 per cent increased display compared to the predecessor. The Watch Series 4 looks stunning with near edge-to-edge screen and thanks to the new interface watchOS 5, it offers more information with richer detail including new Yoga fitness tracker in the Workout app.
Also read: Diwali 2018 gift guide: Top 8 ultra-premium smartphones worth buying this festive season
The speaker is also said to be 50 per cent louder, optimised for phone calls, Siri and Walkie-Talkie features. The microphone has been relocated, to reduce echo for better sound quality. The device includes the next-generation Apple S4 dual-core chip, delivering twice the speed while maintaining the same all-day battery life. It also boasts new generations W3 wireless chip for stronger Wi-Fi and Bluetooth connectivity with companion accessories. Apple offers the Watch Series 4 in two sizes, 40mm and 44mm with prices starting at Rs 49,900.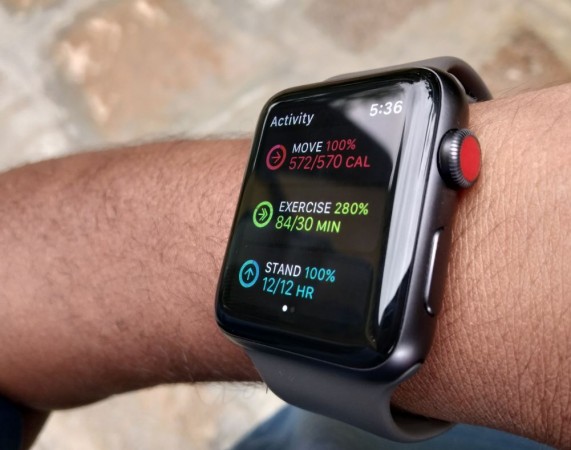 Readers can also go for the Apple Watch Series 3 (review), as it now more affordable than before. It also comes premium build quality, feature-rich health and fitness tracking capability including advanced heart rate scanner, activity rings (move, stand and exercise), in addition to the LTE connectivity support and a full day's battery life.
Samsung Galaxy Watch:
Samsung's new Galaxy Watch comes with advanced health management feature. It offers a new stress management tracker, which automatically detects high levels of stress and offers breathing exercises to help keep users centred and focused.
In addition, a newly advanced sleep tracker monitors all levels of sleep, including Rapid Eye Movement (REM) cycles, to help users adjust sleeping habits and get the rest they need to take on their day.
With sleep and stress under control, the Galaxy Watch also helps users achieve other health and wellness goals, including fitness. It also supports 21 new indoor exercises, tracking a total of 39 workouts that allow consumers to personalise and change up their routines. Since balanced nutrition is as important as exercise, Samsung claims that the Galaxy Watch makes it easier than ever with intuitive calorie tracking and personalised alerts.
Furthermore, users can stay on track of their meals using Bixby Vision on their Galaxy device. To take a photo of each meal and instantly log nutritional information in Samsung Health and on Galaxy Watch for better calorie management.
The new Galaxy Watch comes in two sizes—46mm and 42mm-- with familiar circular dial design we see in the 2017-series Gear Sport but differ in battery capacity. The new models come in 472mAh and the 270mAh cells, respectively. Despite the difference in battery capacity, they are capable of offering close to 80 hours of battery life.
As far as the durability is concerned, it comes with military certification both in terms of security (Knox) and also the build quality-- with Corning Gorilla Glass DX+ and industry-leading water resistance with a 5 ATM rating, meaning it can sustain underwater pressure up to 50 meters.
Also, the Galaxy Watch supports LTE connectivity similar Apple Watch series 3 (& later versions), meaning the user can make a call or reply messages directly from the smart wearable without having the companion phone near them.
Fitbit Ionic:
Fitbit Ionic flaunts sleek design and comes with several featuring including coaching, workouts, tracking, multi-sport modes and smart track automatic exercise recognition. Thanks to built-in GPS, it lets the user see pace, distance and other key stats on display, while also recording elevation climbed, split times and a map of your route. It also comes with integrated Bluetooth, Wi-Find, a GPS antenna in the unibody frame create a much stronger connection with satellites in space and more accurate tracking.
Also read: Diwali gift guide: Best mid-range phones to buy this festive season
Like other high-end smartwatches, Fitbit Ionic also shows notifications (like texts call sand calendar alerts) and access to apps, onboard music and built-in payments options. The user can also create a personalised playlist of songs (close to 300). The large watch face is on-trend with a bright display and sleek metallic accents, which makes it a visually appealing smartwatch.
As said before, it also boasts dynamic personal coaching feature with just tap the wrist. It offers complete on-screen guidance during every move and routines that adapt based on your feedback.
Fitbit Ionic also comes with Pure pulse continuous heart rate feature and tracks resting heart rate and active rate and use this information continuously for better tracking of calorie burn, optimize intensity during workouts and measure the users' health and fitness over time.
It's smart-track feature use multi-sport modes such as run, bike and other types of work-outs in real-time and put stats on display. It comes with water-proof body case and this means, users can take it a dip in the swimming pool. It has special apps to track swim workouts with stats like lap counting, duration and calories burned.
Cardio fitness level gets a better understanding of your fitness level and learns how you can improve over time with a personalized cardio fitness score, the company claims. It is available on Amazon for Rs 22,999. Consumers can also go Fitbit Versa Health & Fitness smartwatch, which costs around Rs 16,999.
Amazfit Cor:
I have used Amazfit Cor for more than two weeks and was very impressed with its capability. It features an ergonomically designed curved case, which covers your wrist with a 1.23-inch LCD screen, the brightest we have seen in the affordable price range. It also comes with stainless steel case having 5ATM ratings, meaning it can survive high underwater pressure up to 50 meters (or 164 feet).
It is compatible with most of the Apple (iOS 9.0 or later) and Android (v4.4 or later) phones in the market. You just have to install Mi-Fit app and you are good to go. It has a very long lasting battery. Once fully charged it can run for around two weeks if not more.
In addition to steps count, heart rate monitor, sleep tracker, Amazfit Cor (review) also flashes email/SMS notifications, phone call alerts, which I found to be very useful when travelling. I was able to see who messaged or called me and if I needed to reply urgently I would take the phone to do it or else reject it. It also features stand-up reminder, which the fitness bands asks me, whenever I am idle for too long (over an hour), to get up and take a walk to get physical exercise to the body.
Also read: Diwali gift guide: Top 5 budget phones to buy this festive season
Most importantly, it will help track your sleep pattern, which is the most important aspect of a person's well being. If humans don't have adequate sleep, the immunity power will come down and become vulnerable to illness.
Mi Band 3:
Xiaomi's Mi Band 3 is most cost-effective fitness tracker in the market. Xiaomi Mi Band 3 comes with a big upgrade over the Mi Band 2 (review) and yet costs same as the predecessor. It comes with larger 0.78-inch OLED touch-screen display, improved alerts and 50m water resistance.
Thanks to the big screen, Mi Band 3 can now display contents of notifications from the companion smartphone, in addition to information such as time, date and steps count. It flaunts a sleek, minimalist design language and navigating through the features is as simple as it gets. For instance, users can swipe up and down to scroll through menu items and left and right for more options.
Other new features include a built-in stopwatch, a phone locating function, and an independent vibrating alarm function that works even when your smartphone is turned off. Interested consumers can head to Mi.com and Amazon.in to buy the Mi Band 3 for Rs 1,998.
Stay tuned. Follow us @IBTimesIN_Tech on Twitter and on Google News for the latest updates on Diwali smart gadgets gift guide.