Apple launched the Watch Series 3 in India last year but it took some time to bring the cellular model for plausible reasons, as there was a need for carrier partners with good network infrastructure and tariff plans. The new model finally made its debut this May with special offers on Airtel and Reliance Jio and it seems like it was totally worth the wait.
I have been using the Apple Watch Series 3 Cellular for more than three months and have to say, I am mighty impressed with features. Here's my take on it.
Build quality and display:
The new Watch Series 3 Cellular looks the same as the generic model and the only difference is the crimson-hued Crown. It also features side button below it, when pressed will arrange recently opened apps in a distinguishable vertical stack.
I have 42mm case model for the review. It comes with an aluminium case and ceramic back. On the front, it sports OLED Retina display with 1000 nits brightness.
Note: 272x340p resolution in 38mm model and 312x390 p resolution in 42mm model.
It also comes with IonX glass cover on the top, which is very sturdy. I had a little slip-up while tying the strap around my wrists and it slipped through my fingers grip. My heart stopped for a split second on hearing the Apple Watch hit the kitchen floor. To my surprise, it survived without a scratch.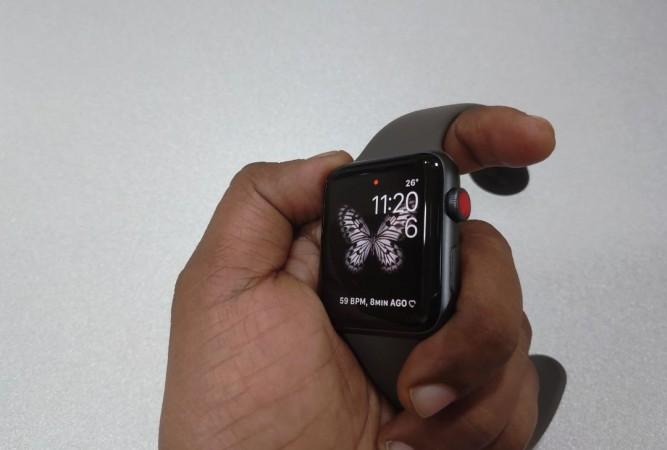 It also comes with a water-resistant coating and is capable of surviving 50 meters underwater. I am not too keen on deep sea diving, but I kept it under tap water. It had no negative effect on its working. It's great to have this feature and will definitely find traction among surfers and outdoor enthusiasts.
As far as the readability is concerned, Apple Watch screen is bright and vibrant. I had no issues to use the apps or read messages or go through statistics on the Activity tracker even under bright sunny conditions.
User-interface:
Apple Watch Series 3 runs on watchOS 4 series (currently running v4.3.2). It is one of best user-interface I have come across in a smart wearable. It is easy to understand and use. It hardly took a few minutes to pair it with the iPhone and set up the Watch's basic settings. This includes adding details such as the height, gender and weight for the Activity feature. I was also able to learn all the features within a day.
In addition, the Force Touch and Crown makes the interaction with the Apple Watch even easier to make quick actions and scroll. The Watch Apps are specially designed for the small screen and it offers quick action and if need be, it also suggests smart reply options for messages.
Like iPhone, Apple Watch Series 3 supports Siri digital assistant. Owners can use voice commands to perform actions and it can be invoked by long pressing the Crown.
Value-added features:
I always use mass transportation to commute between home and office. So, I keep my phone in the backpack and listen to music via wireless earphones. I usually receive calls without knowing who the caller is and often times, it is tele-callers who I don't feel like talking to on the bus.
However, when I started using the Apple Watch, I have been able to screen the callers and this ensured that I could reject them on the screen on my wrist. Whenever I get a seat in the bus, I tend to open my iPhone to change tracks on music playlists and I don't know how I always end up scrolling through social media sites causing me immense stress on my eyes.
With the arrival of Apple Watch, I simply scroll the tracks on the Watch screen to find the perfect track and be done with it. Hence, I have reduced the screen time on the iPhone during the travel and given myself a short and much required time for some shut-eye.
The new Workout app comes with revamped user-interface, which also offers direct music control option and can measure calorie burn counts for new types of exercises. It offers outdoor running to yoga and Pool Swim. And now, it tracks the popular fat burning HIIT cardio workout by using custom motion and heart rate algorithms to accurately measure active and total calorie burn.
It also offers Pool Swim workouts that automatically track laps when the user takes rest, measuring pace for each lap and distance for each stroke type. The heart rate monitor also gives deeper insights by offering average and peak heart rate during the exercise. A lower resting heart rate and shorter recovery time details will mean that we have made improvements after starting the fitness regime.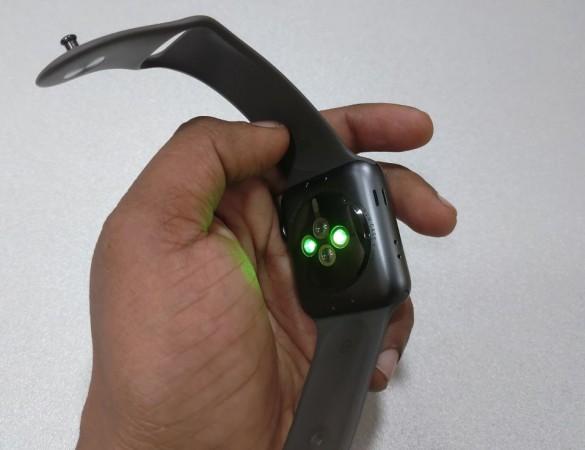 I loved the watchOS' ability to motivate me to complete the activity rings (move, exercise and stand). I never felt those messages as nagging as it was always subtle. It had a positive effect on me to develop a strict routine of completing the task even at 12'0 clock midnight.
For the first month, I was bit irregular to complete all the three rings, but in the second month, I recorded more than 31 days streak of completing all the three activity rings and was able to collect quite a number for badges along the way. I really feel proud of the achievement and also progress I made in improving my fitness regime.
I also tried using Nike+ Run Club app on the Apple Watch. After every session of the run, it offers different celebrities' voice-over with encouraging words. I really loved Kevin Hart's messages; it cracks me up every time. It made me forget the pain after a long excruciating run.
Standalone telecommunication feature:
I was really excited to test the calling feature of the Apple Watch Series 3 Cellular model and it did not disappoint me at all. I always used to carry my iPhone during my jogging, mostly for music, to attend the emergency calls and messages.
I use large protective cover-case on my iPhone and this made it clunky to carry around in the track pants or on the shoulder strap. But, when I started out with Apple Watch Series 3 Cellular, I never had to carry the iPhone and I felt relieved of the extra weight.
Apple Watch Series 3 Cellular had everything—my favourite workout music playlist (Apple Music only) and the hands-free capability to receive calls on my wireless earphone and if wanted, I can even scribble short message replies too.
Have to say, I had no issues initially, but after long usage, the calls used to drop. I will not blame the Apple Watch Series 3 because it happens on cellular phones, particularly in India, where call drop rates are higher than most developed countries. What mattered to me most is the sound quality and the Apple Watch aced it. Even the person listening to my voice (via Apple Watch mic) on the other side too was able to hear me good.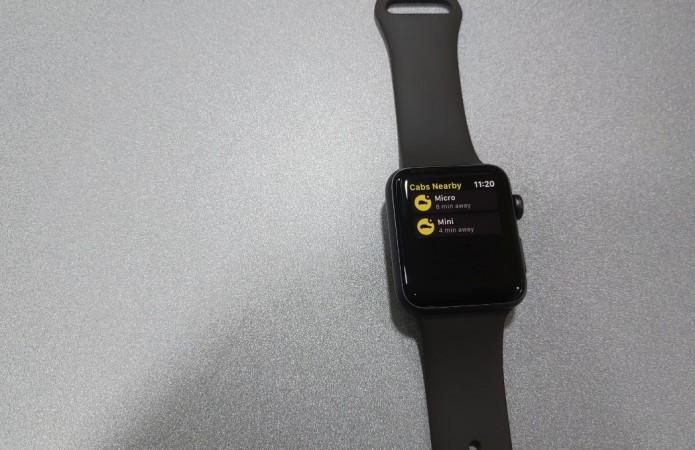 Apple Watch Series 3 Cellular also offers users to book cabs on Uber and Ola in India. This is a boon to users facing low battery life on their iPhone.
For those unaware, Watch Series 3 Cellular comes with an e-SIM (embedded-SIM). It is one-hundredth the size of a traditional SIM and is integrated right into it. Users need not even have to subscribe to a new SIM, as it shares same as the one in your iPhone and to capture radio signal, they developed custom plate right below the display.
Another impressive aspect of the Apple Watch is wireless device-to-device connectivity. After pairing for the first time, it automatically connects earphones instantly without any delays.
This is all thanks to Apple W2 chip in the Series 3, which delivers up to 85 percent faster Wi-Fi and up to 50 percent more power efficient for both Wi-Fi and Bluetooth, compared to Apple Watch Series 2.
Battery life:
For a small gadget, Apple Watch Series 3's one day (up to 18 hours) battery life is appreciable. We can't expect more from a device, which houses so much sophisticated hardware packed in to a small enclosure. Thanks to Apple S3 dual-core CPU, it is able to deliver 70 percent more performance, faster app launch times, and an overall smoother user interface compared to its predecessor.
The Watch Series 3 was able to perform all activities such as continuous monitoring of my heart beat rate, movements (steps, running, flights of stairs), calorie count during exercises and running, checking latest city weather at timely intervals and at a glance feature to reveal time, weather, take calls, reply messages and do more stuff.
Its wireless charger is also really good and the Apple Watch Series 3 gets fully charged under two hours.
Final thoughts:
After using it for than three months, I have no hesitation to say Apple Watch Series 3 Cellular is most idealistic smart wearable in the market right now. It can work as a standalone communication device as it helped me optimise my time spent on the iPhone screen to reject unwanted calls and understand mails, phone messages with a short summary (+ subject line).
I am mighty impressed with the fitness activity feature. It's almost impossible to fool the Watch, as the user has to perform high intensity tasks to up the heart beat and earn active calories count. There's no way around it. The Barometric Altometer of the Apple Watch Series 3 is so accurate in counting the number of flights I take every day at the office and home.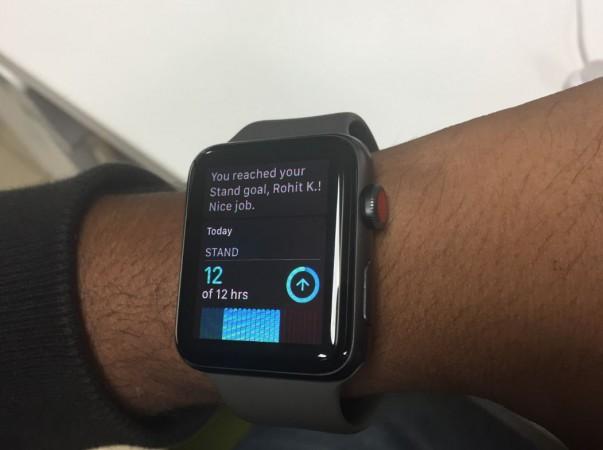 The Watch is also able to pick the sudden spike in resting heart-rate and alert the owner to get medical help immediately.
Apple Watch Series (with future software updates) is able to detect subtle/high changes in heartbeats and warn the user of cardiac arrhythmias, or abnormal heart rhythms. And also, Apple Watch will also be able to help diabetic device owners to keep a tab on their health via connected blood sugar monitor.
I am very impressed with the Apple Watch Series 3 Cellular model and am curious how Apple will be able to push the envelope in its successor and if recent reports are to go by, the edge-to-edge display and longer battery life will be a welcome upgrade.
I am also pleased to know that Apple is bringing the walkie-talkie feature to the Watch Series 3 with upcoming watchOS 5 update. I will be testing it out and post a follow-up review of the device with new software next month.
Pros:
Premium build quality

Really good design (subjective to consumers), but have to say it made me change team round-dial to team quadrilateral

One of the most intelligent fitness activity tracker

Standalone communication device capability

Exceptionally durable glass cover

High water-repellent property

Most accurate biometric sensors
Cons:
One-day battery life under heavy usage. But, it's not all a deal breaker. For all the functionalities it offers, Apple Watch 3 Series cellular is still a great buy for health and fitness conscious people.

It would be great if more third-party music apps such as Saavn, Spotify and others be made available on Apple Watch for direct streaming. [Note: Third-party music apps work flawlessly on Apple Watch 3 provided the latter is paired with the iPhone]
Key specifications of Apple Watch Series 3:
Models
Apple Watch Series 3 GPS
Apple Watch Series 3 GPS+ Cellular (LTE)
Display
Second generation OLED Retina display with Force Touch

2x brighter (1000 nits) than previous generation
Ion-X glass

Resolutions:

38mm: 272x340p
42mm: 312x390p

Second generation OLED Retina display with Force Touch

2x brighter (1000 nits) than the previous generation
Sapphire crystal (stainless steel and ceramic cases)
Ion-X glass (aluminium cases)

Resolutions:

38mm: 272x340p
42mm: 312x390p

OS
WatchOS 4.3.2
WatchOS 4.3.2
Chipset
Apple S3 dual-core processor + W2 wireless chip
Apple S3 dual-core processor + W2 wireless chip
Storage
8GB
16GB
connectivity
Wi-Fi (802.11 b/g/n; 2.4GHz), Bluetooth 4.2
4G LTE and UMTS, Wi-Fi (802.11 b/g/n; 2.4GHz), Bluetooth 4.2
Battery
Built-in rechargeable lithium-ion battery

Up to 18 hours
Magnetic charging cable
USB power adapter
Supports AirPower mat

Built-in rechargeable lithium-ion battery

Up to 18 hours
Magnetic charging cable
USB power adapter
Supports AirPower mat

Sensors and add-ons
Composite back, GPS, GLONASS, Galileo & QZSS, Barometric Altimeter, Water resistant up to 50 metres, heart rate sensor, Accelerometer, Gyroscope, Ambient light sensor
Ceramic back, GPS, GLONASS, Galileo & QZSS, Barometric Altimeter, Water resistant up to 50 metres, heart rate sensor, Accelerometer, Gyroscope, Ambient light sensor
Price (MRP)

Apple Watch generic: Rs 32,380
Apple Watch Nike+: Rs 33,470

Apple Watch generic: Rs 39,080
Apple Watch Nike+: Rs 39,130
Stay tuned. Follow us @IBTimesIN_Tech on Twitter and on Google News for the latest updates on Apple.