Diwali, the festival of lights, is upon us and it is the time of the year when people splurge of new jewellery and expensive clothes to gift themselves and to their loved ones. In recent times, premium phones have become a new choice as gifts to family's old and young members. It has more value-addition than other categories of gifts as mobile phones can bring people closer to each other even if they live thousands of miles apart.
However, finding the perfect phone that too premium are quite an arduous task as there are several brands in the market and they don't come cheap. To help you make an informed decision, we have hand-picked eight flagship phones that promise to offer the best user experience.
Apple iPhone XS or XR series: Most powerful phones
Apple's latest iPhone XS (& XS Max) and the iPhone XR (first impression), which come with proprietary A2 Bionic is the most advanced and powerful mobile chipset in the market. The benchmark scores are way ahead of rival Android phones.
I have used all the three Apple mobiles and mighty impressed with all the aspects. I never faced any lagging issue whatsoever be it while playing graphics-intense games, Augmented Reality(AR) apps or and any power-intensive apps.
Even the camera features such as the adjustable depth control, Slo-mo video recording and stereo video recording and playback are magical.
Now, with the release of iOS 12.1, users can make real-time depth control while taking the portrait mode photos, the smooth blur effect transformation of the background and the subject in the front is mesmerising.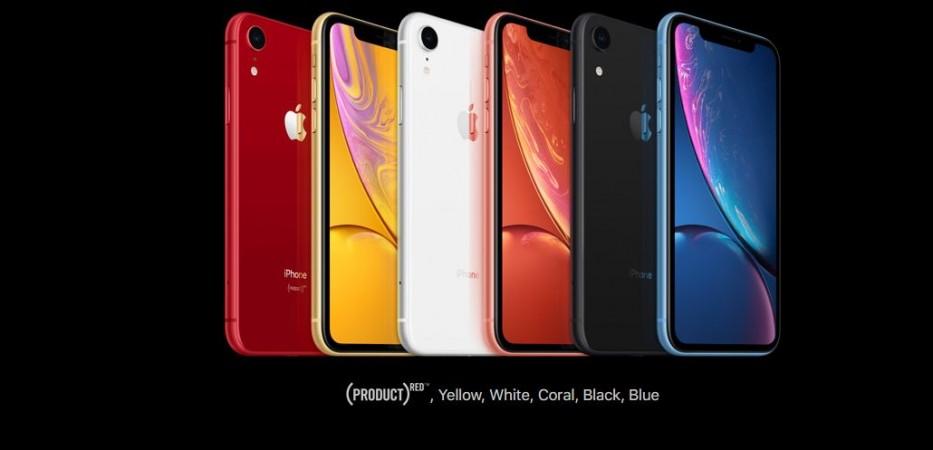 In terms of build quality, Apple has done a remarkable job. It has used ultra-premium surgical grade steel frame around the edges for the iPhone XS (review) and the XS Max and for the XR, it has incorporated impressive aerospace aluminium material. All the models come with superior quality glass on top of the display and on the back offering stunning look to the mobiles.
All the three Apple mobile models—the iPhone XS, iPhone XS Max(review) and the iPhone XR—are available with up to Rs 10,000 discount on several authorised brick-and-mortar retail shops. E-commerce firms are offering more cash back, in addition to lucrative exchange deals.
Samsung Galaxy Note9:
Samsung's Galaxy Note9 made its debut in India in late August and comes with best spec-sheet on par if not better than any Android flagship phone in the market. It houses a powerful proprietary Exynos 8910 chipset, a wonderful dual-camera system and a big battery. But, it has one key feature, which no other premium phone can boast off—the S Pen—stylus.
It makes Samsung Galaxy Note9, the most versatile mobile phone in the market. With S-Pen, users can express their creativity and communicate on the phone than ever before. S Pen offers an authentic handwriting experience—be it drawing, taking notes, and other different forms of communication.
It also offers Screen-Off Memo feature, wherein user can just pull the S-Pen and start writing notes on the screen without needing to physically unlock the screen and open an app. It can be used navigate, translate and organize notes through Samsung Notes, and even send personalized texts through Samsung Live Message.
Also, for the first time ever, the company has integrated a Bluetooth modem right inside the stylus. With this, device owners will be able to use S Pen to control music tracks and volume, take photos, flip camera view from the main rear-side camera to front-snapper mode for selfies without having to physically touch or open the smartphone. The company has claimed that third app developers will also able to code functionalities for the S Pen and be able to add more capabilities to the stylus later in the year.
However, the S Pen, which now has a Bluetooth modem inside, it has to get charged to work. That's won't be an issue at all for the consumers, as it gets automatically charged wirelessly inside the phone and if the company is to be believed, it needs just 40 seconds of charging is enough to power the S Pen for one hour. Price starts at Rs 67,900 and is available with cash back offers on several e-commerce platforms.
Google Pixel 3 & Pixel 3 XL:
2017-based Pixel 2 (& 2 XL) was the best point-and-shoot camera phone and now, its successor Pixel 3 series take the legacy forward with upgraded hardware.
On the front, Pixel 3 and the Pixel 3 XL feature two 8MP shooters, one with F1.8 aperture and another with F2.2 aperture.
On the back, they house 12.2MP (with F1.8 aperture) single lens snapper backed by Google state-of-the-art Artificial Intelligence (AI)-powered camera software. Some interesting modes include-- Top Shot, which uses AI to help the user capture the perfect photo every time.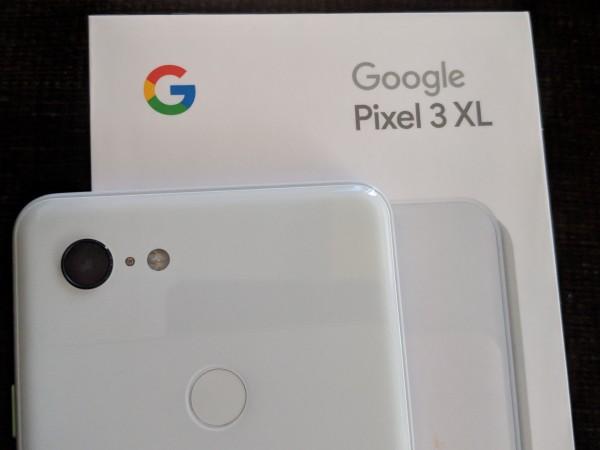 When you take a motion photo, it captures alternate shots in HDR+, then recommends the best one—even if it's not exactly when you hit the shutter, looking for those where everyone is smiling, with eyes open, and facing the camera.
Another notable feature is the Super Res Zoom, which uses a computational photography technique, traditionally used for astronomy and scientific imaging, that produces sharp details when you zoom. No other brand boasts this and will definitely set the new benchmark for the camera-oriented phone in the industry.
Night Sight mode, which will soon be coming to the Pixel 3 series via software update, will enable users to take bright, detailed, colourful shots in a low-light environment such as the campfire, in a moonlit forest, or a selfie at the dimly-lit club.
Google promises that Pixel 3 series' front dual-camera with Group Selfie mode, will give 184% wide-angle coverage more than normal selfies.
The new Pixel phones also come with Photobooth mode that uses AI to recognize that when they're smiling or making a funny expression, and ready for a selfie. It snaps the photo on its own so that you don't need to reach for the shutter button—a good option for candids.
Google has also incorporated improved Portrait Mode, which allows changing the blurriness of the background or changes the part of the picture in focus, after taking the photo. Google Photos can also make the subject of the photo pop by leaving them in colour while changing the background to black and white.
Google will soon release Night Sight feature through a software update. Once upgraded, the Pixel 3 series will be able to take photos of the subject with natural colours even in pitch dark night. Depending on the storage options, Pixel 3 series costs anywhere between Rs 71,000 to Rs 93,000 in India. Some e-retailers and even brick-and-mortar store chains are offering lucrative Diwali discounts. Do check them before buying the device.
Vivo Nex:
Vivo Nex is also one of the very few phones in the market that can boast of true Ultra FullView screen with 19.3:9 aspect ratio and does not have anything similar to iPhone X-like notch. It has a slightly thicker bezel at the bottom, but everything else on the front panel is a fully functional display.
In order to achieve an Ultra FullView screen, Vivo engineers have managed to incorporate motorised front-camera behind the screen and when trigged for a selfie, it will pop up in less than a second and retract in no time.

They have also installed an in-display biometric sensor saving a good chunk of physical space on the front panel.


Besides the ground-breaking design, Vivo Nex comes packed with top-notch internal hardware too. It houses Snapdragon 845 - Qualcomm's latest and most powerful processor to date. It is backed by 8GB RAM, 128GB storage, a 12MP+5MP dual-camera with 4K video recording, Portrait Mode and more, 8MP front snapper and a sumptuous 4,000mAh battery, which is more than enough to last a whole day under mixed usage. It costs Rs 44,990.
LG G7 ThinQ:
Except for the close resemblance to the Apple iPhone X, LG G7 ThinQ is one of the best flagship smartphones in the market. It boasts LG G7 ThinQ comes with military-level-durability MIL-STD-810G certification and is capable of handling wide-range of environment conditions that include: low pressure for altitude testing; exposure to high and low temperatures plus temperature shock (both operating and in storage); rain (including wind blown and freezing rain); humidity, fungus, salt fog for rust testing; sand and dust exposure; explosive atmosphere; leakage; acidic atmosphere, acceleration; shock and transport shock; gunfire vibration; and random vibration.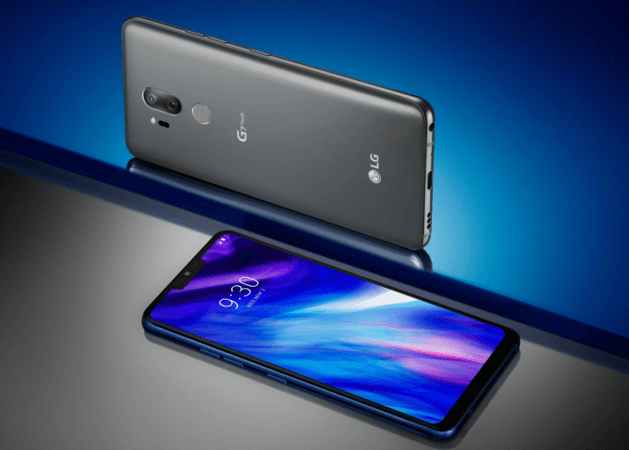 It also boasts 'Boombox Speaker', which is capable of producing more than 6dB base sound level, which is said to be twice the amount of bass and 10 times louder than other flagship smartphones in the market. The company adds that the sound will get amplified to higher decibels if the LG G7 ThinQ has placed on a flat surface or a box.
Under-the-hood, it comes with Android Oreo, Qualcomm Snapdragon 845 octa-core, 4GB/6GB RAM, 64GB/128GB storage and a 3,000mAh battery with Quick Charge 3.0 technology.
As far as the camera is concerned, it comes with dual cameras, one a 16MP super wide angle (F1.9 and 107-degree Field Of View: FOV) and another 16MP sensor with a standard angle (F1.6 and 71-degree FOV). On the front, it features a 8MP sensor with F1.9 aperture and 108-degree FOV.
LG G7 ThinQ comes with Natural Language Processing (NLP) unit to deliver intelligent voice-activated control and connectivity based on LG's own deep learning technology, DeepThinQ for device users.
It will also boast sophisticated Vision AI having three new intelligent camera features: AI CAM, QLens and Bright Mode that automates and enhances the smartphone's image-capturing experience.
The AI Cam mode is said to have the capability to independently analyze subjects in the frame and recommends the optimal shooting mode among eight categories: Portrait, food, pet, landscape, city, flower, sunrise, and sunset. It costs Rs 39,999 but can be bought for close Rs 27,000 on e-commerce sites during the Diwali festive sale.
Poco F1:
The new Poco F1(review) flaunts a sturdy polycarbonate shell on the back with a dual camera and a fingerprint sensor below it. On the front, it flaunts a 6.18-inch full HD+ display with iPhone X-like notch on the top housing an advanced 20MP camera with an IR sensor for face unlock capability. It can even work in a dark environment.
Under-the-hood, it houses Snapdragon 845 octa-core, Qualcomm's most powerful and fastest processor to date and it is backed by the Liquid Cool technology and the newly introduced DSP architecture with AI performance that's three times higher than the previous generation. Supported by up to 8GB LPDDR4x DRAM, Poco F1 can render the most demanding games at high FPS for an unparalleled gaming experience, the company claims.
As far as the camera is concerned, it comes with feature-rich 12MP (Sony IMX363, F1.9, 1.4μm) + 5MP AI dual camera, Dual Pixel Autofocus, HDR, Multi-frame Noise Reduction, more than 200 AI scene detection, AI Beautify and AI portrait mode.
On the front, it features equally impressive 20MP sensor with 1.8μm pixel size, 4-in-1 Super Pixel, F2.0 aperture, HDR, AI scene detection, AI Beautify, AI portrait mode and Infrared illuminator + infrared camera for the Face Unlock feature.
Poco F1 comes with big 4,000mAh battery, which is enough to last a whole day if not more under mixed usage. It also supports Quick Charge 3.0 technology.
Oppo Find X:
The highlight of the Oppo Find X is its display design and camera hardware. It flaunts an amazing designed 6.4-inch full HD+ AMOLED screen with 19.5:9 aspect ratio and a 93.8% screen-to-body ratio.
The company is banking on front-camera so much it has dropped the fingerprint sensor. Oppo Find X comes with state-of-the-art Face unlocking feature which is said to be far more superior to other rival brand and also physical fingerprint sensor. It uses 15,000 facial points to recognise the face and has False Rejection Ratio (FFR) score of 1 in million compared to the former, which has 1 in 50,000 (FRR).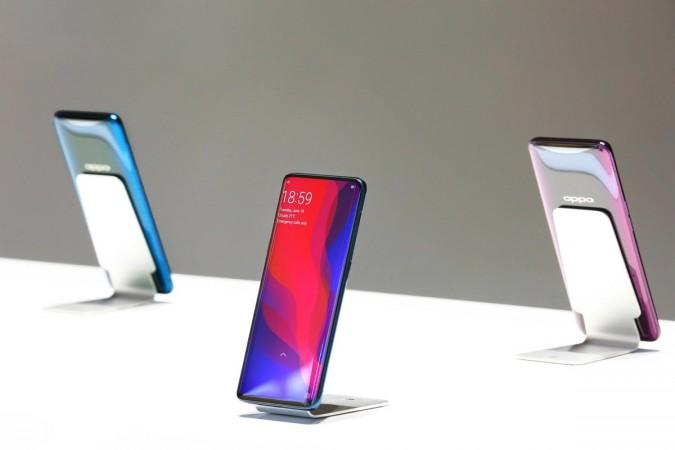 The new Find X comes with 25MP AI front camera with dedicated Flood illuminator, IR camera, Dot projector so that the phone will be able to recognise owner's face even in the pitch dark condition. It also supports Portrait mode with a different light setting to help capture different moods and worthy of sharing them on social media platforms. It also boasts Apple iPhone X-like Animoji capability and is being called as 'Omoji'. The front snapper will record the facial expression of the user and mimic it on animal babies– penguin, duck, and horse, and a hippo— characters available in the phone system. The user can then share the funny cartoons on social media channels.
On the back, Oppo Find X houses dual-cameras (16MP+20MP) with LED flash. Both front and back cameras are powered by Artificial Intelligence (AI)-based algorithm. For the former, it will be able to offer beautification mode to enhance the selfie in terms of adjusting colour tones of the skin, remove acne scars and more.
Once AI is enabled, the main camera will automatically detect the different type of scenes such as food, pet, landscape, city, flower, sunrise, and sunset, and make optimal changes in settings to get good quality images.
Other stipulated features include, Qualcomm Snapdragon 845 octa-core, 8GB RAM, 256GB storage and 3,730mAh battery, which is more than sufficient to keep the phone running for a whole day under mixed usage. It also boasts VOOC flash fast charging capability.
OnePlus 6T:
OnePlus 6T (review) sports a water-drop notch display. It boasts a new optical biometric sensor and is placed nearer to the base. But, unfortunately, the new sensor requires more space and the plan to incorporate bigger battery forced the company to ditch 3.5mm audio jack in the OnePlus 6T. Yes, it supports face recognition unlock feature similar to or if not better than the OnePlus 6.
Like the previous generation phone, the new OnePlus 6T will come with premium metal frames around the edge and on the back too, the shell will be made similar sturdy material and come with glossy glass cover on top. But, sadly, the device lacks wireless charging.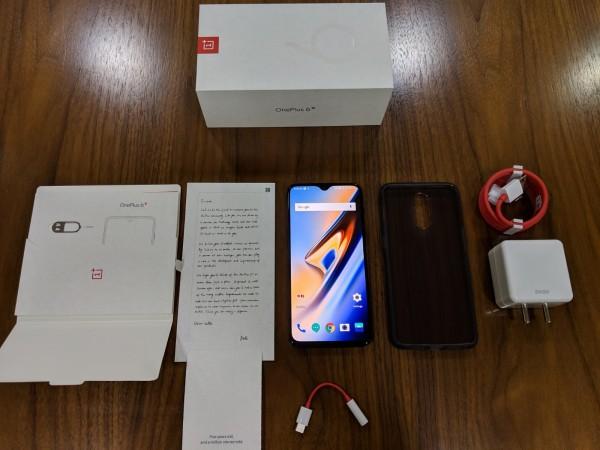 On the front, it sports 6.41 full HD+ Optic AMOLED screen with 2.5D Corning Gorilla Glass 6 series shield on top and to power the massive screen, it comes with 3,700mAh battery, 400mAh more than the OnePlus 6 (3,300mAh). It also boasts Fast Charging (5V 4A) technology.
Other stipulated features include Qualcomm Snapdragon 845 octa-core backed by Google's latest Android Pie-based OxygenOS 9 with 6GB/8GB RAM, 128GB/256GB storage, dual primary camera 16MP (with Sony IMX519 sensor)+20MP (with Sony IMX376K sensor) and an equally impressive 16MP (Sony IMX371 sensor) front snapper with Studio light effects and more.
Honourable mention:
Asus Zenfone 5Z(review) boasts Snapdragon 845 octa-core, Qualcomm's latest and most powerful CPU to date and yet costs much less than compared to similar flagships such as OnePlus 6 and Samsung Galaxy S9 series, among others.
Another notable aspect of the Asus phone is the photography hardware. It boasts 12MP+8MP dual-camera with super 0.03 second Tri-tech autofocus, dual-tone LED flash and Artificial Intelligence(AI)-powered photography system with AI Scene Detection in 16 types: food, sky, green field, plant, ocean, sunset, snow, flower, stage, dog, cat, people, text, tripod, QR code, night view, AI photo learning for grouping albums, Real-time Portrait, real-time Beautification and more. Additionally, it boasts Pixel 3 Master system with Super Resolution (48MP) image taking ability and more.

On the front too, it houses equally impressive 8MP sensor with F2.0 aperture, OV8856 sensor, 83-degree wide-angle lens, PixelMaster camera modes: Auto (with Night HDR and Portrait), Beauty, GIF, Animation, 8 various filters.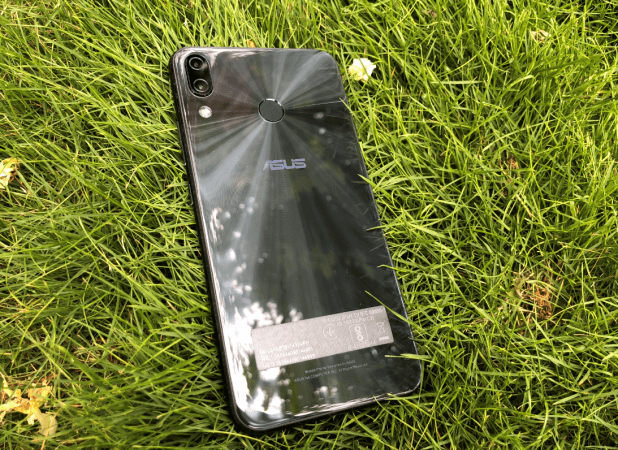 Other stipulated features include 6.2-inch full HD+ screen, Adreno 630 graphics engine, 4GB/64GB/8GB RAM, 64GB/128GB/256GB storage and a 3,300mAh battery, which is enough to keep the phone running for more than a day under mixed usage. It is available on Flipkart with lucrative deals.
Stay tuned. Follow us @IBTimesIN_Tech on Twitter and on Google News for the latest updates on Diwali gift guide.