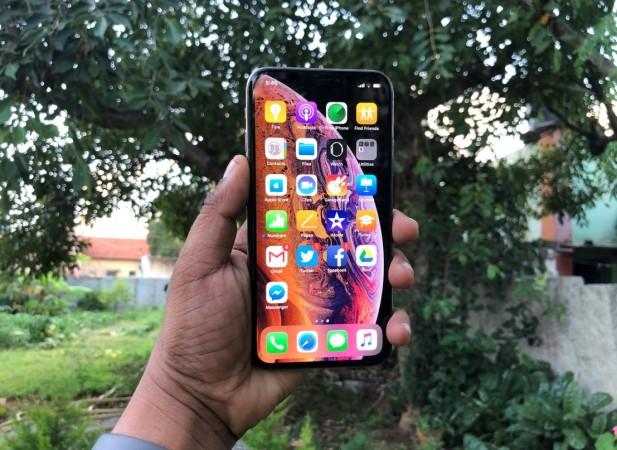 Apple iPhone XS series finally made its way to India on September 28. It comes in two variants –one a 5.8-inch iPhone XS and the larger 6.5-inch iPhone XS Max. They look the same as the anniversary iPhone X (2017), but under-the-hood they come with huge upgrades over the predecessor.
I have been using the standard iPhone XS model for more than a week and here's my take on the new Apple mobile.
Design, build quality and display:
As I said before, Apple iPhone XS is identical to the iPhone X in terms of design language. If placed one beside the other, it is impossible to differentiate between the two, unless you a have a gold colour model, which is unique to the former.
It comes with the familiar notch on the top of the display and features vertically aligned dual camera, which protrudes a bit on the back. The contours are lined with stainless steel on the rim and on the rear side as well. Also, Apple claims to have incorporated sturdiest glass cover (on both front display and rear side panel) for a phone in the industry.
The new iPhone XS is also more durable than predecessor; thanks to IP68 certifications. The Apple device can survive close to 2 meters underwater for up to 30 minutes. It can also be used if you are caught up in a sudden rain and have to really take the call, but not for long.
Apple iPhone XS has some minute changes, which can only be known upon closer observation. First, the company has added two additional antenna lines, one on top and another which cuts into the left speaker grille at the base.
Though there is visually oddity, I am really glad it has no effect on the sound quality. Apple iPhone XS series has an excellent stereo speaker system which is much better than the predecessor.
Another change is that the dual-camera module, though looks same as seen in the predecessor, is slightly bigger. We can know, by placing the 2017-series iPhone X's shell cover on the iPhone XS and it won't fit.
Apple iPhone XS has got a really good crisp screen and is unarguably one of the best in the market. It sports a 5.8-inch OLED display with a pixel density of 458 ppi (pixels per inch).
It comes with True Tone display and automatically adjusts the colour tone and intensity of the screen according to the surrounding ambience and I had a delightful time watching high-resolution videos on the iPhone XS.
Also, I never faced any stress in my eyes while viewing texts and also browsing under the direct sunlight and thanks to night shift feature, the iPhone automatically adjusts the colour temperature of the screen so that eyes don't feel stressed. It also enables a smooth transition to sleep.
Performance:
Apple iPhone XS comes with the proprietary 7nm class 6-core A12 Bionic chipset. It is integrated with the 8-core neural engine, 4-core graphics processor unit and the new image signal processor. It is capable of performing 5 trillion operations per second and we can see with how fast and responsive the iPhone XS is.
Apple's new iPhone didn't show the slightest sign of lag-ness be it while switching between multiple apps or playing graphics-rich games or when recording 4K videos or slo-mo clips. I also tried Augmented Reality app Night Sky and the iPhone XS worked really smooth. Have to say, the hype around A12 Bionic is real. It is undeniably the most powerful chip for a phone.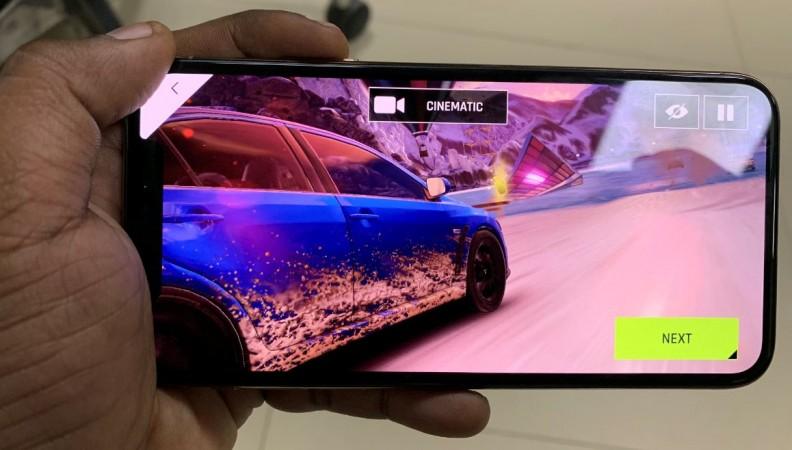 On AnTuTu benchmarking app, the iPhone XS scored a massive 2,91,112 points leaving all flagship Android phones in the dust. Second best score for a smartphone is 2,65,968 by OnePlus 6.
Face ID:
Apple's 2017-series iPhone X introduced the advanced 3D Facial recognition security system and since then, several brands came up with a similar feature, but none were able to match it.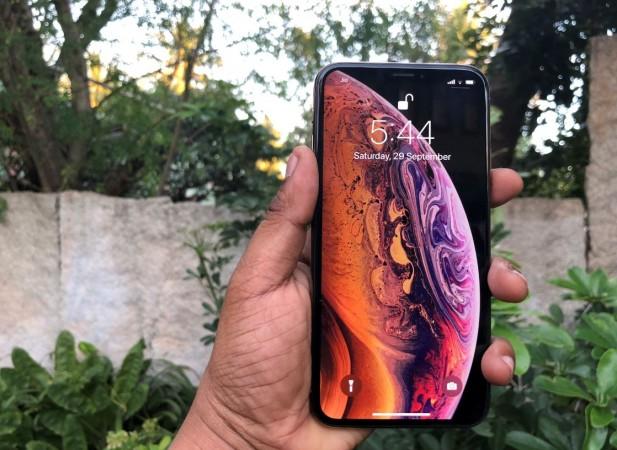 In the iPhone XS, the Face ID is super fast and has a very low False Rejection Rate (FRR). Not even one time did it fail to recognise my face. Also, I added an 'alternate appearance' without my glasses for more accuracy. I have no hesitation to say, iPhone XS is now the new gold standard for face-based biometric security for mobile phones.
Camera:
Besides the super powerful A12 Bionic chipset, another notable upgrade of the Apple iPhone XS is the photography hardware. Have to say, it truly lived up to the hype. There is a discernible improvement in picture quality compared to the iPhone X.
I loved the colour accuracy of the subject and background scene in the photos taken from the iPhone XS. The macro shots (close-up) look amazing too. Do check out the butterfly photo in the slide below.
Also, the video recording has also improved a lot, especially with stereo sound recording thanks to four hidden built-in mics.
Another praiseworthy aspect of iPhone XS is the adjustable depth-of-field feature of the Portrait mode. The separation of the subject and fading of the background while swiping from F16 to F1.4 is magical. But, it takes a bit of trial and error to get the hang of this feature and also you should learn to capture with a steady hand.
In low-light conditions, the iPhone XS with Quad True Tone LED flash takes top-notch quality pictures. Despite the light blaring on the subject, the photos still present it with near-real colours.
As far as the front-camera is concerned, iPhone XS takes decent selfies and the portrait images are praise-worthy too.
During the review period, there was a controversy online that the front snapper images tend to smoothen the skin tone of the subject. Yes, there is some skin lightning going on there, but it's not that much. I believe it's due to smart HDR effect. and if needed Apple can tweak it with a software update. In social media, things like these most often times gets totally exaggerated.
Rest assured the iPhone XS captures good selfies and you can post them on social media without any apprehensions, unlike other Chinese phones, which sometimes make you look like a completely different person.
Battery:
Before I talk on battery life, let me give my context on how much I use the smartphone daily. My usual daily routine starts at 5:30 am and I head to the office around 6:45 am. While commuting (usually takes 45 minutes) via bus, I make a point to go through latest news online, browse social media platforms (Facebook and Twitter) on the iPhone and in the background, I listen to music.
In the office, whenever I get notifications, I reply to them directly via Email or WhatsApp. Once done for the day, I take the bus back home, but due to peak rush hour, it takes longer to reach there. To kill the extra time I watch video clips on YouTube and Facebook on iPhone.
Once I am home, I avoid using the phone and use it only when there is really a need for an immediate reply. Before heading to the bed, I put the phone to the charging point.
During the entire week with my aforementioned routine, the new Apple iPhone XS consistently delivered a full day's battery life. I'd also like to add that for performance testing purpose, I played some graphics intense games such as PUBG, Asphalt and also used AR-based Night Sky for several minutes. Yet, it was able to run for the whole day with some juice left before I could head to bed. I believe the credit has to go to the A12 Bionic chipset.
During the testing period, media reports surfaced online claiming some iPhone XS (& XS Max) models were not properly charging when connected to the lightning cable. But, both our review models worked perfectly fine.
The iPhone XS screen worked every time I connected the power cable indicating it is charging. I even tried on multiple Apple lighting cables of the iPhone 6 and iPhone X too. It worked all the time. Also, when I connected the phone to my PC, a message pops up asking me to unlock the phone so as to verify the computer is trustworthy or not.
But, I am a bit disappointed that Apple, despite charging a hefty price for the iPhone XS, still doesn't bundle a fast charger with the retail box. Several rival brands offer them with the package not just with top-end models, but also with mid-range phones in India. Hopefully, the company listens to the critics and implement it in the next iteration.
eSIM:
Apple iPhone XS (also iPhone XS Max (review) & XR series) come with eSIM (embedded SIM) feature, but it is not functional yet. The company will be releasing the software to activate it in the coming weeks. Once activated, consumers will be able to store multiple SIM details in a single iPhone, but only two—one a physical SIM and one of the pre-select SIMs, will be active at all times.
Consumers can switch between multiple SIMs without having to open the tray and this has set a new norm in 2018. Most rival brands are likely to follow suit only in 2019.
In India, only Airtel and Reliance Jio offer the eSIM support. The latter will be the only service provider to offer eSIM even for pre-paid subscribers.
Final thoughts:
The new iPhone XS is a decent upgrade over the iPhone X. There is discernible progress in terms of the performance, photography experience especially the variable depth-focus change in the Portrait mode, and the faster Face ID.
The price of the iPhone XS is the major talking point for consumers, particularly in India. Many say Rs 99,900 that too for a base model is too expensive, but we have to understand, as a consumer, you are investing money on the iPhone XS for a long-term use.
With a powerful processor, Apple iPhone XS is sure to work smoothly for several years and if protected with proper screen guard it can certainly survive the daily wear and tear. Guess what? It is assured to get annual OS upgrade and several incremental firmware in between for four or five years.
[Note: 2013-series iPhone 5S recently received iOS 12 and we believe the iPhone XS series will get updates till 2023, unlike Pixel or Android phone, which gets a maximum of three years software support.]
Also, Apple iPhones no matter how old they get, command a higher resale value compared to any Android phones.
Who should buy the iPhone XS?
Apple iPhone X owners can skip the iPhone XS, but I recommend it for people who currently own iPhone 5S, 6 (& 6 Plus), 6S (& 6S Plus), 7 (& 7 Plus) series and also those who want to change from team Android to team Apple. This is a perfect time for the upgrade.
You will definitely find the new iPhone XS riveting; the full-screen gesture experience, super fast Face ID and lag-free gaming experience will surely blow your socks away. Even 2017-series iPhone 8 (& 8 Plus) series owners, if subscribed to Apple upgrade program, can go for it and believe me, you won't regret it.
Pros:
Apple 12 Bionic—Most powerful processor for a mobile in the industry
iOS 12—most secured mobile operating system and I loved the Screen Time feature
One of the best display for a smartphone in the market
Ultra-premium build quality
Good camera hardware
Day-long battery
eSIM, but have to wait a few more weeks for the iOS software update to get it activated
Cons:
I said this in the iPhone X review and reiterate it again for iPhone XS series. Not bundling a fast charger in the retail package is not cool, Apple.
The price of the iPhone XS series is a bitter pill to swallow for Indian consumers. But, we have to understand that there are two forces working against their favour---Rupee value depreciation against the US Dollar and the high customs duty on imported products in India is too high. But, we can't deny the fact the new iPhone XS is the most powerful compact mobile that money can buy in India. Also, as mentioned above, iPhone XS will serve you long.
If your planning to buy the bigger model, please read my in-depth Apple iPhone XS Max review to make an informed decision.
Follow us @IBTimesIN_Tech on Twitter and on Google News for the latest updates on Apple.
Key specifications of Apple iPhone XS:
Models

iPhone XS

Display

5.8-inch OLED Super Retina screen

HDR display
Resolution:2436x1125p
Pixel density: 458ppi (pixels per inch)
Contrast ratio: 1,000,000:1
True Tone Display
Wide colour display (P3)
3D Touch
Brightness: 625 cd/m2 max

OS

Apple iOS 12

Processor

7nm class 6-core Apple A12 Bionic CPU+ Neural Engine+ 4-core GPU

Storage

64GB/256GB/512GB

Main Camera

Dual 12MP wide-angle (F1.8) and telephoto (F2.4) cameras

Dual optical image stabilisation
2x optical zoom, 10x digital zoom
Wide colours capture for photos and live photos
Quad-LED True Tone flash with Slow sync
Portrait mode with advanced Bokeh and depth control (F16-F1.4)
Portrait Lighting with five effects (Natural, Studio, Contour, Stage, Stage Mono)
Smart HDR for photos

Video

4K video recording at 24fps, 30fps or 60fps
1080p HD video recording at 30 fps
Extended dynamic range for video up to 30 fps
Optical Image Stabilisation for video
2x Optical zoom; digital zoom up to 6x
Slow-motion video support for 1080p at 120fps or 240 fps
Time-lapse video with stabilisation
Stereo recording

Front camera

TrueDepth camera

7MP photos
F2.2 aperture
Retina Flash
Wide colour capture for photos and Live photos
Smart HDR for photos
Portrait mode with advanced Bokeh and Depth control
Portrait Lighting with five effects (Natural, Studio, Contour, Stage, Stage Mono)
Extended dynamic range for video at 30fps
Cinematic video stabilisation (1080p and 720p)
1080p HD video recording at 30 fps for 60 fps
Animoji and Memoji

Connectivity and Network

Dual SIM Dual Standby (physical SIM+ eSIM) Gigabit-class LTE, Bluetooth 5.0, 802.11ac Wi-Fi MIMO, VoLTE, NFC with reader mode, Wi-Fi calling, GPS/GLONASS/ Galileo/QZSS, GSM/EDGE, UMTS/HSPA+, DC-HSDPA, CDMA EV-DO Rev, A(select models)

In China: iPhones will come with two physical SIM support

Battery

Talk time: up to 20 hours

Internet use: up to 12 hours

Video playback: up to 14 hours

Audio playback: up to 60 hours

Fast-charge capable:

Up to 50% charge in 30 minutes

Add-ons

Rated IP68 (maximum depth of
2 metres up to 30 minutes) under IEC standard 60529, Face ID: Enabled by the TrueDepth camera for facial recognition, FaceTime video and audio calling via Wi-Fi/Cellular or any FaceTime audio-enabled device

Dimensions

143.6 x 70.9 x 7.7 mm

Weight

177g

Colours

Gold/Silver/Space Grey

Price (in India)

64GB: Rs 99,900
256GB: Rs 1,14,900
512GB: Rs 1,34,900