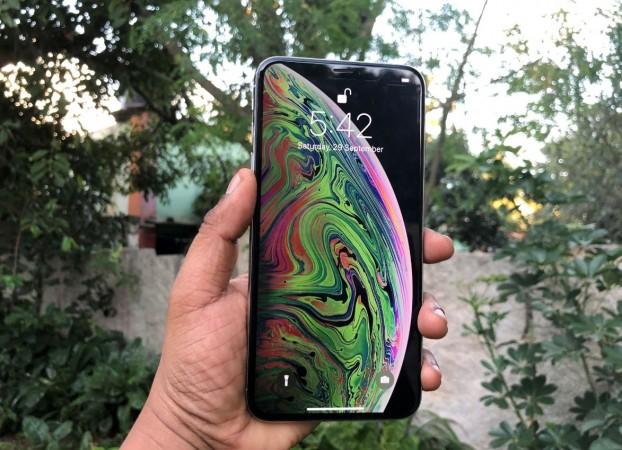 Apple iPhone XS (pronounced Ten S) series hit stores in India in late September. It comes in two models—a 5.8-inch iPhone XS and a massive 6.5-inch iPhone XS Max.
Like the previous S series of the past, both share the same design language of the predecessor iPhone X (review) but come with beefed up internal hardware. But, among the two new mobiles, iPhone XS Max, has the biggest upgrade in addition to mammoth screen size.
I have been using the iPhone XS Max for a little over a week and here's my take on the Apple's giant of an iPhone.
Design, display and build quality:
Like the smaller sibling iPhone XS, Apple's massive 6.5-inch iPhone XS Max comes with a vertically aligned dual-camera setup on the upper left corner and notch display on the front. Though the uni-brow on top is same as the iPhone XS, it looks small. It's actually a visual illusion created by the big screen.The dimensions of the notch are same as the smaller model.
Like the iPhone XS, iPhone XS Max comes with two additional antenna lines, one on top and another which cuts into the left speaker grille at the base.
Though it has asymmetrical speaker grilles, I am really glad it has no effect on the sound quality. Apple iPhone XS Max like the generic XS has an excellent stereo speaker system which is much better than the predecessor. Apple also confirms that there are four microphones hidden below the metallic case, which will aid in recording video with better audio absorption than ever before.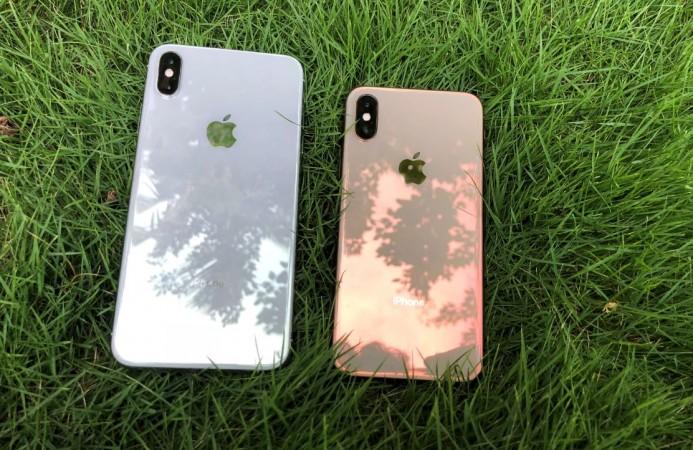 The iPhone XS Max looks humongous in my puny hands, but the joy of watching high-resolution video makes it worth every little bit. I am concerned that even the newly-introduced Screen Time in iOS 12, which initially had an impact on me to cut down on my obsession with social media websites on the original iPhone X, might not work on the iPhone XS Max. The big screen is bright, vibrant and it's perfect for reading e-books, watch TV series on Amazon Prime Video or Netflix.
Another interesting aspect of the iPhone XS series is that the bezels, except for the notch on top, are slim on all other sides. Several Android phones copied the notch design, but they haven't been able to fully replicate as the Apple has done with the iPhone XS (and the iPhone X before that) series. The copycats, all come with thick chin at the base, which for me is the real eyesore and utter waste of display real estate.
Apple has made a very good use of the flexible OLED screen by bending it at the base and offer near edge-to-edge display.
During the review period, a report emerged that the iPhone XS Max (& also iPhone XS) has the best mobile screen for human eyes. As per Taiwan-based Tsing-Hua University, the new iPhone XS Max's OLED screen had MPE (Maximum Permissible Exposure) score of 346 seconds, meaning users can continuously stare at the screen for that amount of time without having a damaging effect on the retina. This is 20% better than LCD-based iPhone 7, which by the way has a MPE score of 288 seconds. Having said that, we don't recommend people get too attached to the phone's screen.
As far as the build quality is concerned, it's one of the best in the niche premium segment. Apple iPhone XS Max comes with surgery grade stainless steel around the frame. On the back, Apple claims to put the sturdiest glass on top of the shell and even on the display as well.
The new iPhone XS Max is also more durable compared to the predecessor in terms of surviving in the water. It has IP68 ratings, meaning, it can work even underwater up to two meters for close to 30 minutes. It did live up to the reputation at least with against the rains in Bengaluru during the testing period. But, have to warn users that the iPhone has to be dried with the cloth and kept idle for a minimum of five hours before you start to use the iPhone XS Max again.
Performance:
Apple iPhone XS Max comes with proprietary 7nm class 6-core A12 Bionic processor same as the one found in the iPhone XS (& XR series). It comes integrated with 8-core neural engine and 4-core GPU. With such advanced technology, it is capable of processing five trillion operations per second, making A12 Bionic most powerful chipset for a mobile in the industry.
While playing power-intensive games or Augmented Reality (AR) apps, recording 4K videos or during the slo-mo video recording, iPhone XS Max showed no sign of lag-ness whatsoever.
On AnTuTu app, it scored 352,536 points. This is the highest score for any phone in the market. I believe this won't be broken by new Android phones coming in 2019. Qualcomm (Snapdragon) or Samsung (Exynos) or Huawei the (HiSilicon Kirin) have to come up something truly spectacular chipset to beat this score.
Camera:
Beside the processor performance, the camera has undergone a significant change for the good. Though the aperture and MP count remains same as the iPhone X, the new iPhone XS Max (& iPhone XS) have bigger sensors, meaning they can absorb more light. In reality too, it does justice with Smart HDR feature, which comes activated by default. It takes really good photos outdoors and even where there is a shadow, the details are captured with near-accuracy. Even in the low-light conditions, there is marked an improvement over the predecessor.
On the front too, the iPhone XS Max comes with a praiseworthy 7MP FaceTime camera. There were reports of skin smoothening, but have to say, it's not that much as exaggerated on social media sites. It probably has to do with the new Smart HDR, which tries to brighten the subject irrespective of the type of the object captured in the photo and they are closer to natural colour compared to hyper beauty enhancements, which happens in some Android phones.
Also, like the iPhone XS, the XS Max camera offers new Portrait mode with the adjustable depth-of-field feature. The iPhone's camera app does an amazing job; the separation of the subject and fading of the background while swiping from F16 to F1.4 is truly mesmerising.
Battery:
Apple iPhone XS Max comes with 3,200mAh battery. Though it does sound small compared to the rival brands, it was more than enough to last the whole day. Despite binge watching YouTube videos and multimedia content on social media sites (via mobile data) during my commute between my office and home (back and fro), which usually takes close to two and half hours, the iPhone XS Max had more than 20 percent before I retired to bed for the day.
However, I am really disappointed with Apple for packing the normal chargers with the iPhone XS Max retail box, instead of fast chargers. This is a cardinal sin considering the fact the company charges more than Rs 1 lakh (Rs 1,09,900) for the base variant. Several rival branded phones, which cost much less offer fast charger in the retail box.
eSIM:
The new iPhone XS Max (also iPhone XS & XR series) come with eSIM (embedded SIM) feature, but it is not functional yet. Apple will be releasing the software to activate it in the coming weeks. Once activated, consumers will be able to store multiple SIM details in a single iPhone, but only two—one a physical SIM and one of the pre-selected SIMs, will be active at all times.
Consumers can switch between multiple SIMs without having to open the tray and this has set a new norm in 2018. Most rival brands are likely to follow suit only in 2019.
In India, only Airtel and Reliance Jio offer the eSIM support. The latter will be the only service provider to offer eSIM even for pre-paid subscribers.
Final thoughts:
Having used the iPhone XS Max for a week, I am really impressed with three key aspects— big beautiful display, powerful processor and the camera. The big-screen model is undoubtedly the best iPhone to date.
Who should buy the iPhone XS Max?
It depends on what you own now. If you are using the iPhone X, then you can skip this unless you are subscribed to Apple upgrade program (some network carriers offer in India via buyback guarantee). Others who are still using the iPhone 6s (or 6s Plus)/ iPhone 7 (or 7 Plus)/ iPhone 8 Plus, can go for the iPhone XS Max.
Unfortunately, it doesn't come cheap and would be better if you go for EMIs in India or contract via network carriers in global markets.
I'd like to repeat what I said in the iPhone XS review; In India, there are two forces working against Apple fans---Rupee value depreciation against the US Dollar and the high customs duty on imported products in India is too high. Having said, the iPhone XS Max will serve you long compared to other Android phones in terms of long-term software support, user privacy security and performance.
Pros:
Big beautiful display
Ultra premium build quality
A12 Bionic—Most powerful chipset for a mobile in the industry
Significant improvement in the camera department over the predecessor
iOS 12 is one of the most secure mobile operating system
More than a day's battery life (active hours)
eSIM (It will be activated soon)
Cons:
With no fast charger, it takes annoyingly long to fully charge the iPhone XS Max (& iPhone XS). Hopefully, Apple adds quick charger in the next iteration's retail package.
Expensive price-tag. But, consumers have to know that they are investing their hard earned money on Apple products for long term use and it will serve you well compared to Android phones, which usually get two years of software update support and began to show signs of lag-ness after one year of the purchase. For instance, some high-end flagship Android phones launched in 2018 are yet to catch up with 2017-series iPhone X performance.
Key specifications of Apple iPhone XS Max:
Models
iPhone XS Max
Display
6.5-inch OLED Super Retina screen

HDR display
Resolution:2688x1242p
Pixel density: 458ppi (pixels per inch)
Contrast ratio: 1,000,000:1
True Tone Display
Wide colour display (P3)
3D Touch
Brightness: 625 cd/m2 max

OS
Apple iOS 12
Processor
7nm class 6-core Apple A12 Bionic CPU+ Neural Engine+ 4-core GPU
Storage
64GB/256GB/512GB
Main Camera

Dual 12MP wide-angle (F1.8) and telephoto (F2.4) cameras
Dual optical image stabilisation
2x optical zoom, 10x digital zoom
Wide colours capture for photos and live photos
Quad-LED True Tone flash with Slow sync
Portrait mode with advanced Bokeh and depth control (F16-F1.4)
Portrait Lighting with five effects (Natural, Studio, Contour, Stage, Stage Mono)
Smart HDR for photos

Video

4K video recording at 24fps, 30fps or 60fps
1080p HD video recording at 30 fps
Extended dynamic range for video up to 30 fps
Optical Image Stabilisation for video
2x Optical zoom; digital zoom up to 6x
Slow-motion video support for 1080p at 120fps or 240 fps
Time-lapse video with stabilisation
Stereo recording

Front camera

TrueDepth camera
7MP photos
F2.2 aperture
Retina Flash
Wide colour capture for photos and Live photos
Smart HDR for photos
Portrait mode with advanced Bokeh and Depth control
Portrait Lighting with five effects (Natural, Studio, Contour, Stage, Stage Mono)
Extended dynamic range for video at 30fps
Cinematic video stabilisation (1080p and 720p)
1080p HD video recording at 30 fps for 60 fps
Animoji and Memoji

Connectivity and Network

Dual SIM Dual Standby (physical SIM+ eSIM) Gigabit-class LTE, Bluetooth 5.0, 802.11ac Wi-Fi MIMO,VoLTE, NFC with reader mode, Wi-Fi calling, GPS/GLONASS/Galileo/QZSS
GSM/EDGE, UMTS/HSPA+, DC-HSDPA, CDMA EV-DO Rev, A(select models)
In China: iPhones will come with two physical SIM support

Battery

Talk time: up to 25 hours
Internet use: up to 13 hours
Video playback: up to 15 hours
Audio playback: up to 65 hours
Fast-charge capable:
Up to 50% charge in 30 minutes

Add-ons
Rated IP68 (maximum depth of
2 metres up to 30 minutes) under IEC standard 60529, Face ID: Enabled by TrueDepth camera for facial recognition, FaceTime video and audio calling via Wi-Fi/Cellular or any FaceTime audio–enabled device
Dimensions
157.5 x 77.4 x 7.7 mm
Weight
208g
Colours
Gold/Silver/Space Grey
Price (in India)

64GB: Rs 1,09,900
256GB: Rs 1,24,900
512GB: Rs 1,44,900
Stay tuned. Follow us @IBTimesIN_Tech on Twitter and on Google News for the latest updates on Apple.