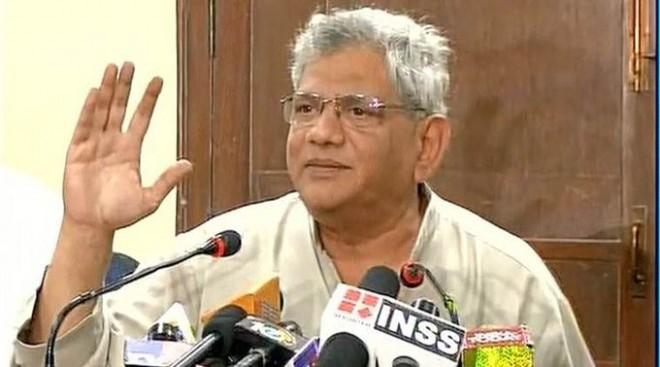 The demonetisation debate has thrown up several interesting comments so far, but probably the wittiest of them came on Wednesday from CPM leader Sitaram Yechury, who appropriated a common but false attribution to compare Prime Minister Narendra Modi to Marie Antoinette, the last queen of France before the French Revolution.
Modi has come under attack from many quarters ever since he announced on November 8 that currency notes of Rs 500 and Rs 1,000 in circulation at that time would not be considered legal tender after midnight that day. The Reserve Bank of India (RBI) has since released new Rs 2,000 and Rs 500 currency notes. You can see the features of the new Rs 2,000 currency note HERE, and those of the new Rs 500 note HERE.
However, despite issuing the new notes and banks working through holidays to help people get them in exchange for the older Rs 500 and Rs 1,000 currency notes, the common man has had to queue up for hours outside banks and ATMs, leading to hassles. The RBI has, therefore, asked people to make more use of alternative modes of payment, and Modi had said as much in his speech on November 8.
Yechury's jibe
The Opposition parties, however, are seeing this as a golden opportunity to gang up against the prime minister and his policy, with Left leader Yechury, on the first day of the Winter Session of Parliament, saying: "Now we have Modi Antoinette. 'If you don't have paper, use plastic.' What is the coverage of your plastic money?"
The jab was clearly a reference to Marie Antoinette, who is often believed, on learning that the local peasants had run out of bread, to have said: "Qu'ils mangent de la brioche." Since brioche is a kind of bread that has a high amount of butter and eggs, it is often considered a pastry or cake.
Historically inaccurate
The utterance "Qu'ils mangent de la brioche" comes from the multi-book autobiography of philosopher Jean-Jacques Rousseau, and he attributes it to "a great princess," not naming her anywhere. The fact that the first six books of the autobiography were written when Marie Antoinette was only nine years old makes it near-impossible for her to have said those words.
The phrase began to be associated with her only after novelist Jean-Baptiste Alphonse Karr in the March 1843 edition of the monthly journal Les Guêpes, and the myth has become perpetuated since then.