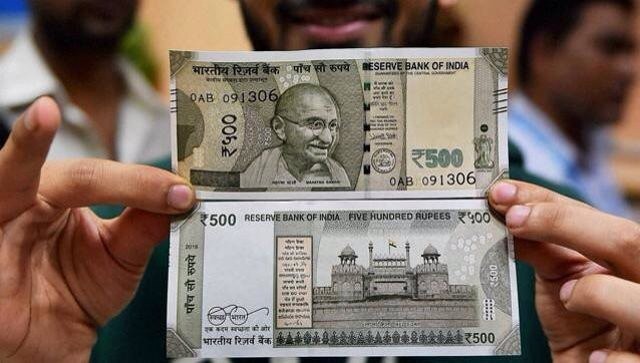 Following the announcement on November 8 by Prime Minister Narendra Modi that Rs 500 and Rs 1,000 currency notes in circulation at the time would no longer be legal tender after midnight that day, the Reserve Bank of India (RBI) had said it was releasing two new currency notes of higher denomination.
The first of these was the Rs 2,000 currency notes, which became available in banks for exchange right from November 10. The second of these, the new Rs 500 note, has now been released and has started reaching banks, from where it can be obtained either by currency exchange or by withdrawal.
Because these are new currency notes, they have features that are different from the earlier currency notes. The features of the Rs 2,000 had been elaborated earlier. Here are the salient features of the new Rs 500 currency note:
The basics:
1. The size is 66mm x 150mm
2. The colour is stone grey
3. The highlight is the Red Fort -- the heritage site with the Indian flag -- on the reverse
On the obverse:
1. See-through register in denominational numeral
2. Latent image with denominational numeral, which can be seen when the banknote is held at a 45 -degree angle at eye level.
3. Denominational numeral in Devnagari
4. Colour-shift windowed security thread with inscriptions 'भारत', RBI and denominational numeral. The colour of the thread changes from green to blue when the note is tilted
5. Guarantee clause, the RBI governor's signature with the promise clause and the RBI emblem towards the right
6. Mahatma Gandhi portrait and electrotype watermarks
7. Number panel with numerals growing from small to big on the top left side and bottom right side
8. Denominational numeral with rupee symbol, in green-to-blue colour-changing ink
9. Ashoka Pillar emblem on the right
10. & 11. For the visually impaired: Circle with Rs 500 in raised print on the right, and five bleed lines on left and right in raised print
On the reverse:
1. Year of printing of the note on the left
2. Swachh Bharat logo with slogan
3. Language panel towards the centre
4. The Red Fort image
5. Denominational numeral in Devnagari on the right
You can check all the features out right here: