The Chinese police have become way cooler than their counterparts around the world. After the "smart" CCTV cameras installed all over the country, they have got a new technology to nab criminals faster than ever before.
Also read: Chinese Police Officer Brutalises Woman to Death, Treads on Her Hair; Photos Go Viral
The police in China have been given a brand new eyewear that combines Google Glass with facial recognition technology. It can scan individuals even in crowded places, with cutting-edge biometric technology that can identify a person in seconds.
It will display the subject's name, gender, ethnicity, address and criminal record as soon as an officer clicks his picture. Sounds like a real-life version of Black Mirror and Ironman's J.A.R.V.I.S, right?
Officers in Zhengzhou are already using this technology to scan travelers at busy train station entrances. The glasses operate in real time to compare the snaps with records stored in the police headquarters' database, reported AFP, citing People's Daily.
The glasses have already helped in the arrest of seven people, including those charged with hit and runs and human trafficking.
Human rights activists have claimed that the immense bank of data will be misused by the government, but it has not stopped China from taking massive steps forward in public surveillance.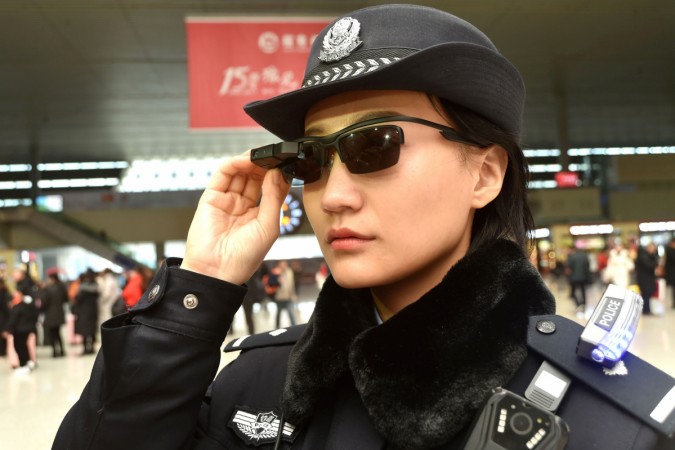 The Chinese government is working on developing its vast network of CCTV cameras which are powered by artificial intelligence (AI). Currently, there are more than 170 million cameras in the country and 400 million more are set to be installed in the next three years.
Also read: Chinese Activists Go on Trial for Protesting Media Censorship; Lawyers Claim Human Rights Violation
The police in Shanghai have also used these cameras to display traffic rule-breakers on big screens on bus stops and publicly shame them.
South China Morning Post reported on February 5 that thousands of police officers already have access to "panoramic-view body cameras" with face recognition enabled. These cameras, developed by Beijing's Nebula Science and Technology, can record images for up to 720 degrees in high definition.
In 2017, it was reported that the Chinese police force uses a technology known as the "Police Cloud" which stores personal information, including travel records, medical histories, biometrics, national ID numbers, family relations, religious inclinations and shopping records.
Another rumored technology is the Social Credit Score (SCS), which lets people rank one another on their trustworthiness.