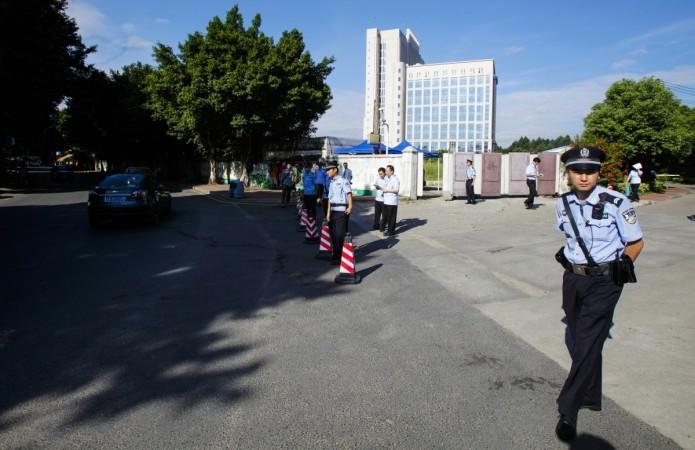 Chinese rights activist and writer Guo Feixiong will go in for trial on Friday, 15 months after he was arrested for his protest against media censorship in the country.
Feixiong, whose original name is Yang Maodong, was charged for 'gathering crowds to disturb public order' after he organized protests outside the office of the Southern Weekly newspaper last January. Activist Sun Desheng, who was part of the protest, was also arrested.
Feixiong and Desheng have been in detention since August 2013, when they were arrested, and have faced several human rights violations and ill-treatment at the hands of the police, who have been cracking down heavily on rights activists in the country.
Feixiong, 48, has reportedly been confined in an overcrowded cell for 15 months straight without being allowed outside even once.
"He has been detained now for 469 days straight, and has no access to outdoor exercise, which is clearly in breach of the rules governing detention centers," Feixiong's defence lawyer Zhang Lei told Radio Free Asia.
According to Article 25 of the Detention Center Regulations, detainees can be allowed to come out of their cells to exercise every day, Human Rights Watch reported.
On the other hand, Desheng was reportedly forced to wear manacles and leg irons usually reserved for serious criminals, his lawyer said.
"He has been subjected to ill-treatment in the detention center, and he has been wearing manacles and leg irons for more than a week now...even to meet with his lawyer," Desheng's lawyer Chen Jinxue said. "He has also been unable to receive clothing and bedding inside the detention center."
Apart from this, the two have been denied access to food sent by relatives and to any reading material. They were also not allowed to use pen and paper, as per the report.
For Feixiong, this is not the first time he has faced police brutality from close quarters. During an earlier 5-year stint in jail for illegal business activities, Feixiong was reportedly electrocuted in his genitals while he was hung from the ceiling, was interrogated for 13 straight days without sleep and was shackled to a bed for 42 days, reports The Guardian. He was released in 2011.
Human rights activists have condemned the arrest of the activists and their treatment.
"Beijing's assault on civil society seems to know no bounds as peaceful activists are increasingly subject to criminal prosecutions," Sophie Richardson, China Director of Human Rights Watch said.
"Refusing to set them free, despite allegations of torture, prolonged pre-trial detention, and deprivation of their right to legal counsel, indicates that the government is sliding further back from keeping its promises to 'protect human rights," Chinese Human Rights Defenders' international director, Renee Xia, said.