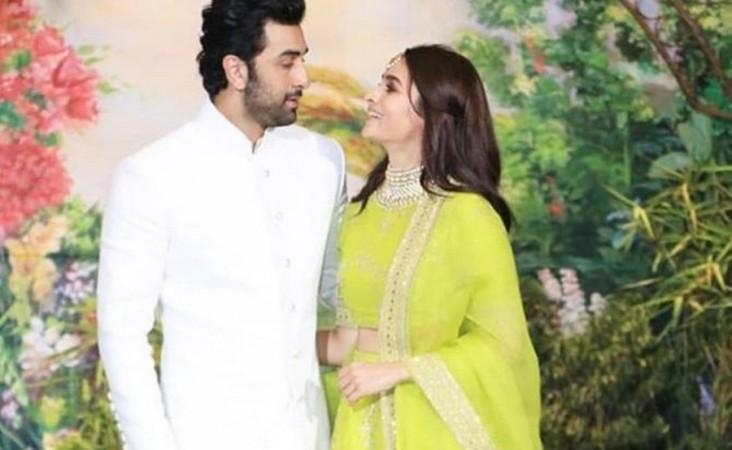 Alia Bhatt is head over heels in love with Ranbir Kapoor and his latest song Kar Har Maidaan Fateh from Rajkumar Hirani's upcoming film Sanju, a biopic on Sanjay Dutt. She is completely hooked to the song since it was released online and seems to be listening on loop ever since.
The Raazi actress shared a screenshot of her music playlist while listening to the song and captioned it "on repeat." The song, which is about courage, hope and family support, showcases Sanjay Dutt's battle against drug addiction. Ranbir Kapoor perfectly emoted the difficult phase of Sanju baba's life but Manisha Koirala's short glimpse as Nargis Dutt took the viewers by storm.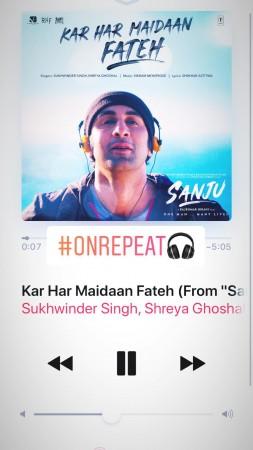 Meanwhile, the love story of Alia and Ranbir seems to be blossoming with each passing day. They have been often spotted by the paparazzi on dinner dates and casual outings in the city.
Earlier, there were rumours that Alia and Ranbir were dating but none of them had come out in open to speak about it. Their joint appearance at Sonam Kapoor's reception made the tongues wagging about their relationship and eventually it turned out to be true.
A few weeks ago, Ranbir Kapoor had confessed to dating Alia in an interview and said that it was too new to talk about it. It is being said that Ranbir gave Alia a Yeh Jawaani Hai Deewani style proposal last year on the New Year's Eve.
When Alia was recently asked about her marriage plans, she said that people expect her to get married at 30 but she might surprise herself and get married before that as well.
She also revealed that she has not set any deadline to get married to the person she loves and wants to live with adding that she doesn't believe in live-in relationships.
"Yes, I have not set any deadline, because it doesn't really matter. I may be like, 'Listen, I love you, so let's get married and live together but I will still work.' So, I may get married just to live with that person. It's also because I don't want to be in a live-in relationship. I don't want to live with someone until I get married. So, it may happen for that reason," the 25-year-old actress told Hindustan Times.
She was also pretty much sure about having babies after marriage.
"Nothing is cast in stone, right? So, if I feel that I am in a position where I want to take such a step, then I will. I have always believed that I would get married because of kids. So, if I am like, 'This is the time I want to have my children and am also ready to have babies,' I will get married," she added.