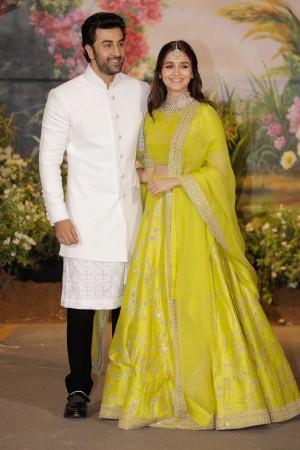 Ever since Ranbir Kapoor confirmed his relationship with Alia Bhatt, the couple are setting social media on fire. From sharing pictures from their Brahmastra preps to being spotted together on the sets, the internet is going crazy over the new-bloomed Bollywood romance.
But if you thought that Ranbir and Alia in the same frame are adorable, wait until you see the Raazi actress with Ranbir's niece Samara.
After Samara was spotted on the sets of Brahmastra recently, she joined Alia Bhatt and the Kapoor family on a dinner date. Twinning in white, Samara and Alia looked beautiful in their date outfits. The two joined the Sanju actor, his mother Neetu Kapoor and his sister Riddhima Kapoor Sahni for a Saturday night family dinner.
In the picture, Samara smiles walking beside Alia while the 25-year-old actress looked in a protective mode. Behind the women in white, Ranbir and Neetu looked in between a conversation while Neetu smiled and Ranbir paying all attention to her. Riddhima walked along with her mother and brother.
It is safe to assume that not only have Neetu and Riddhima approved of Ranbir's new girlfriend, they are extremely fond of her as well. The Sanju actor's family has been sending the Raazi actress lots of love. While Ranbir's mother Neetu Kapoor cannot stop commenting on Alia's photos, the actor's sister Riddhima Kapoor Sahni also sent Alia some love in form of a beautiful bracelet recently.
That's not all! Neetu Kapoor was also spotted bonding during the 'Brahmastra' shooting schedule in Bulgaria. She was also a part of Alia Bhatt's birthday celebrations earlier this year.
While the Alia and Ranbir look happy in love, the couple is taking things slow. Ranbir told GQ magazine recently, "It's really new right now, and I don't want to overspeak. It needs time to breathe and it needs space," he said.