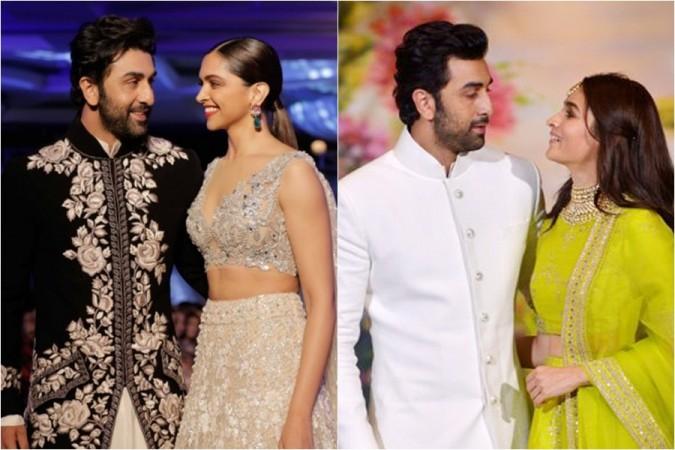 Ranbir Kapoor has finally admitted that he is currently dating his Brahmastra co-star Alia Bhatt in a recent interview. And his ex-girlfriend Deepika Padukone knew about their relationship before Ranbir recently made it official.
Ranbir and Deepika were in a relationship, but things took a nasty turn and they broke up. While Deepika went into depression after the split, Ranbir found love in Katrina but even his new relationship was short-lived.
But today, Deepika and Ranbir share a great bond of friendship and have decided to let bygones be bygones after their bitter split. In fact, Ranbir told Deepika that he is dating Alia and she was very happy for him. Deepika is currently rumoured to be dating Ranveer Singh but is yet to make it official.
"RK and Deepika continue to be close friends, and keep each other's secrets. He told her about it and she was very happy for him and Alia. It's rare to find such friendship between exes," Ranbir and Deepika's common friend was quoted as saying by Pinkvilla.
Rumours of Ranbir and Alia dating started doing the rounds of the tinsel town ever since they began shooting for their upcoming film Brahmastra, which is being directed by Ayan Mukerji.
Later, the lovebirds were spotted on several occasions, enjoying late night dinner and private outings. They grabbed eyeballs when they made joint appearance at Sonam Kapoor and Anand Ahuja's wedding reception. Even Rishi Kapoor's recent tweet about the Bhatt family and praising them sparked speculations whether the veteran actor was acknowledging Ranbir-Alia's relationship.
When Ranbir was asked whether he was dating Alia, he told GQ, "It's really new right now, and I don't want to over speak. It needs time to breathe and it needs space. As an actor, as a person, Alia is – what's the right word? – flowing right now. When I see her work, when I see her act, even in life, what she gives is something that I'm aspiring to for myself. It's new for us, so let it cook a bit."
Back in 2011, Ranbir had confessed that he indeed cheated Deepika on Katrina Kaif out of immaturity. After going through bitter break ups and emotional turbulance, Ranbir values relationships more now and thinks that he is more balanced today.
"It always comes with a lot of excitement. It's a new person, it comes with new beats. Old tricks become new tricks again – you know, being charming and romantic, all of that. I think I'm more balanced today. I value relationships more. I can appreciate hurt and what it does to a person much more than I could a couple years back," Ranbir said in the interview.
Well, the dust around whether Ranbir and Alia are dating is finally settled down for good.