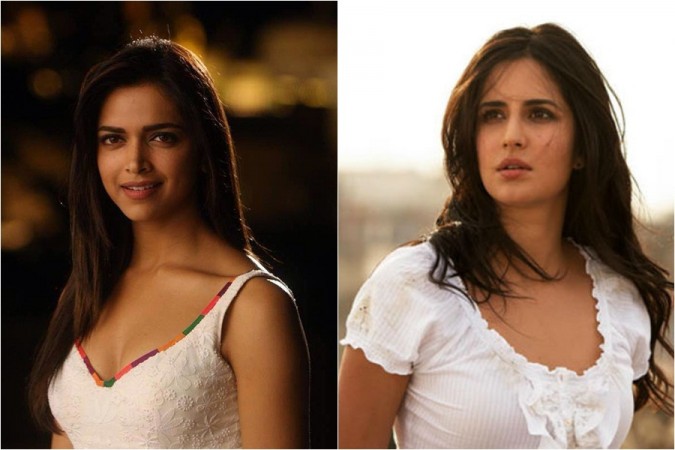 Deepika Padukone's intimate relationship with her ex-boyfriend Ranbir Kapoor has always been the talk of the town. Unfortunately, things didn't work out between the two and their romantic love affair remained short-lived. Her bitter past will keep popping up like a bad penny and the Padmaavat actress seems to be pretty aware of it.
While Deepika and Ranbir had decided to let bygones be bygones and share a great bond of friendship with each other, it looks like the former is still holding grudges with the latter's ex-girlfriend Katrina Kaif.
ALSO READ: After Ranveer Singh, Deepika Padukone makes a big confession about her rumoured boyfriend
Recently, when Deepika appeared in a celebrity chat show 'BFFs with Vogue' with her sister Anisha Padukone, host Neha Dhupia decided to dig a bit into the actress' past and asked a daring and pertinent question whether she would invite Katrina Kaif to her wedding. And the actress replied with a firm 'No' and there's no guessing why.
"During the Say It Or Strip It segment, Neha asked Deepika if Katrina would be invited to her wedding, and the Padmaavat actor replied with a firm 'No'," a source was quoted as saying by mid-day.
It was a difficult phase for the actress after she parted ways with Ranbir. She went into depression but her family supported her during her turbulence time and helped her get over it. During that time, Ranbir found love in Katrina Kaif and it became one of the most talked about topics in the tinsel town. And yet again, things didn't fall into place for Ranbir as Katrina waved a bitter goodbye to him.
ALSO READ: Deepika Padukone has been "engaged successively for last 4 years," says her sister Anisha
Back in 2011, Ranbir had confessed that he indeed cheated Deepika on Katrina in an interview with Cosmopolitan.
"Yes, I have cheated, out of immaturity, out of inexperience, out of taking advantage of certain temptations, out of callousness. You realise it now, when you grow up and you value it more why be in a relationship, why be committed to someone when you cannot be committed?" Ranbir was quoted as saying in the interview.
While all three of them - Deepika, Ranbir and Katrina, have had been through a rollercoaster ride of emotions in their relationships, but it looks like their bitter past will keep following them like a shadow and haunt them for the rest of their lives.