After Tamasha, ex-lovers Deepika Padukone and Ranbir Kapoor reunited for Mijwan Fashion Show 2018 Thursday, April 19, and became the center of all the attraction. The duo turned showstoppers for ace designer Manish Malhotra and recreated their magic when they walked hand-in-hand on the ramp.
While the fans were quite elated to see Deepika and Ranbir together and sharing a great chemistry at the fashion show, some people started teasing Deepika's rumored boyfriend Ranveer Singh asking him 'where was he' at that time.
They started tagging him on Instagram and asked questions like, "Bhai where is you.. I don't understand, you should be here with her."
Calling Deepika as Bhabhi, another Ranbir fan wrote, "lagta hai Ranveer Singh rone wala h kyuki Ranbir bhai Bhabhi ko wps set karne wale h."
Some people pointed out how Deepika couldn't stop blushing and said that she looks more happy with Ranbir Kapoor than Ranveer Singh. One die-hard Ranbir fan even wished Kapoor to make babies with Deepika as they looked outrageously gorgeous together on the ramp.
"O my god! She can't stop smiling, I don't know why I feel that she still loves Ranbir Kapoor, she doesn't look that much happy with anyone else, but I also think Ranveer Deserves deepika, He looks really stunned with deep and it looks like he has got yhe whole world with him when he is deep," an Instagram user expressed his opinion.
I wish Ranbir Kapoor makes babies with Deepika Pudkone. This is like so outrageously gorgeous.

— Pari (@Parii56) April 20, 2018
Another Ranbir fan took a moment to say that Deepika lost him hinting toward their break up a few years ago. "He's a gorgeous guy with a lovely heart and he loves her till the death . Hopefully she will have a brain and goes back to him," the user commented.
But there were many fans who wished to see Ranveer and Deepika together the next time she walks on the ramp. "Ranveer me jo manly baat hai na woh kisi ranbir me kavi nehi tha..aur kavi nehi aa sakta..ranveer is best," a user commented.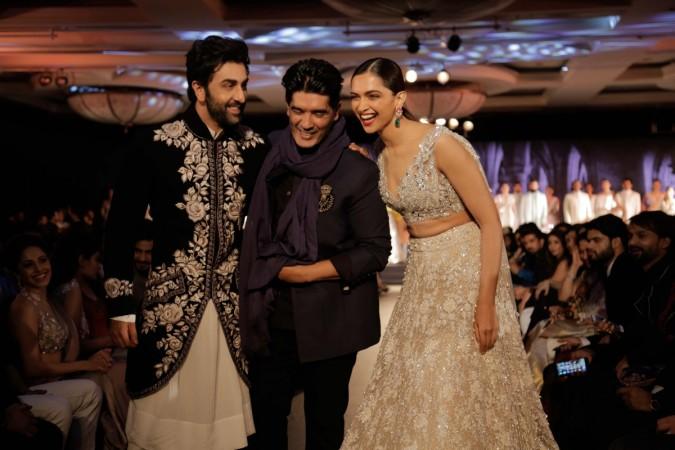 "Shud have been ranveer instead of ranbir...ranveer is a charmer!!" another user expressed his views while the other user, "She will look more beautiful with Ranveer Singh."
Well, it looks like Deepika and Ranbir public appearance has waged a war among their fans on social media. Who do you think will look better together - Deepika and Ranbir or Deepika and Ranveer? Do let us know in your comments.