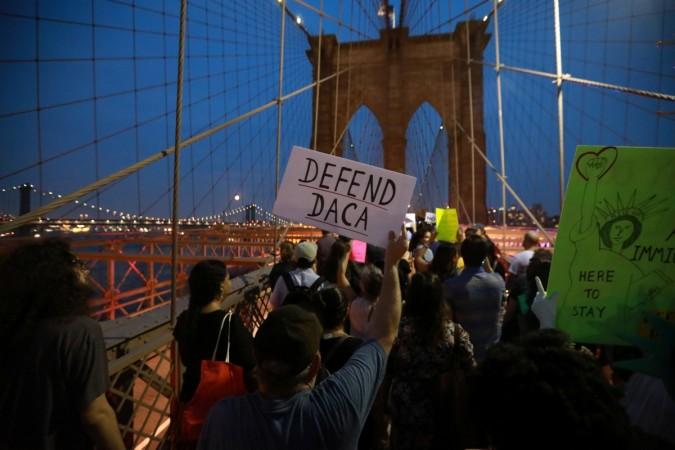 Donald Trump is known for his controversial statements and for not being very subtle about them. The US president declared Monday, April 2, the Deferred Action for Childhood Arrivals (DACA) "dead," putting about 800,000 immigrants, including 8,000 Indians, at risk of being deported.
The US president took to Twitter and said: "DACA is dead because the Democrats didn't care or act, and now everyone wants to get onto the DACA bandwagon."
The DACA regulation protects about 800,000 undocumented immigrants in the US, who were brought into the country as children. While about 8,000 of them are said to be from India, others are from countries like Mexico, Peru, Honduras, and Guatemala.
The debate on DACA has been ongoing for a while now, and the Trump administration announced September 5 last year that it had decided to revoke the program.
"I am here today to announce that the programme known as DACA (Deferred Action for Children Arrival) that was effectuated under the Obama Administration is being rescinded," the Press Trust of India had quoted US Attorney General Jeff Sessions as saying.
However, the move was halted by judges who said DACA couldn't just be rescinded and legal challenges must be looked at.
Trump has often been called anti-immigrant, and he took things a bit too far when he recited "The Snake," a ballad by Al Wilson, while discussing immigrants.
In a speech to conservatives at a convention outside Washington on February 23, Trump spoke about his anti-immigration stance and why he wanted to restrict immigrants.
While that would have been quite routine, Trump pulled out a piece of paper from his pocket and read "The Snake," a ballad about a reptile who repays a woman that nurses it back to health with a fatal bite.
"Think of it in terms of immigration," the Agence France-Presse quoted Trump as telling the attendees.
"I saved you, cried the woman. And you've bitten me, heavens why? You know your bite is poisonous and now I'm going to die. Oh, shut up, silly woman, said the reptile with a grin. You knew damn well I was a snake before you took me in," he read. And continued his speech thus: "And that's what we're doing with our country, folks — we're letting people in, and it's going to be a lot of people. It's only going to be worse."
He added: "These are animals. They cut people. They cut them. They cut them up in little pieces, and they want them to suffer. And we take them into our country."
The revocation has turned into quite a row and hundreds of people in the US came out on the streets in protest. The District of Columbia and 15 other states then sued the Trump administration to block Trump's plan to cancel the protection to immigrants and deport them.
The lawsuit was filed in the Eastern District of New York and the plaintiffs are New York, Washington, Connecticut, District of Columbia, Massachusetts, Hawaii, Delaware, Illinois, New Mexico, Oregon, North Carolina, Iowa, Pennsylvania, Vermont, Rhode Island, and Virginia.
New York Attorney General Eric T Schneiderman called the move "cruel, shortsighted, inhumane" and added that the decision reflected Trump's bias.
Schneiderman also explained that DACA protected about 42,000 New Yorkers and "they are the best of America."
"Dreamers play by the rules. Dreamers work hard. Dreamers pay taxes. For most of them, America is the only home they've ever known. And they deserve to stay here," he noted.