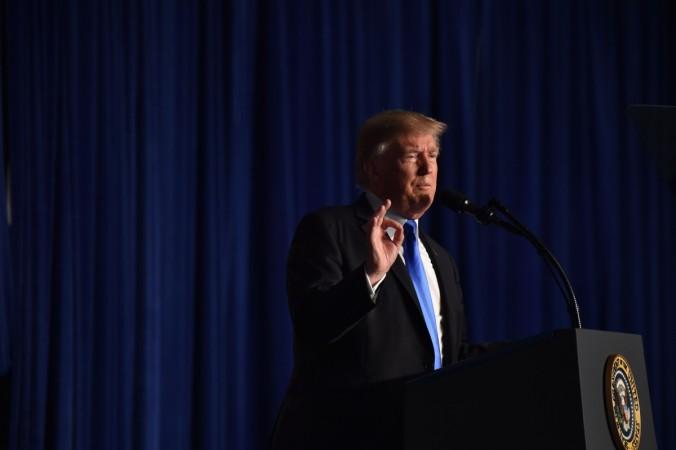 US President Donald Trump is known for his controversial statements and for not being very subtle about it. But he might have taken it a bit too far reciting the 'The Snake,' a ballad by Al Wilson while discussing immigrants.
Though Trump's comment has shocked many, this is not the first time he has made the comparison. He often spoke about it during his presidential campaign as well as in a speech early in his presidency.
In a speech to conservatives at a convention outside Washington on Friday, February 23, Trump spoke about his anti-immigration stance and why he wanted to restrict immigrants. While that would have been quite routine, Trump pulled out a piece of paper from his pocket and read "The Snake," a balled about a reptile who repays a woman that nurses it back to health with a fatal bite.
"Think of it in terms of immigration," the Agence France-Presse quoted Trump as telling the attendees.
"I saved you, cried the woman. And you've bitten me, heavens why? You know your bite is poisonous and now I'm going to die. Oh, shut up, silly woman, said the reptile with a grin.
You knew damn well I was a snake before you took me in," he read. And continued his speech thus: "And that's what we're doing with our country, folks -- we're letting people in, and it's going to be a lot of people. It's only going to be worse."
He added: "These are animals. They cut people. They cut them. They cut them up in little pieces, and they want them to suffer. And we take them into our country."
Trump also spoke about the US visa lottery system and said that other nations send bad people to America. "We pick out people. Then they turn out to be horrendous. And we don't understand why. They're not giving us their best people, folks [...] I don't want people who drive a car at 100 miles an hour down the West Side Highway, and kill eight innocent victims and destroy the lives of 14 more."
He also said that people sent by other countries only understand toughness, due to which the Border Patrol has to be "ruthless."
Trump has often been called anti-immigrants by several citizens as well as Democrats, but his comments seem to have irked even some Republicans this time.
"Trump's snake story is vicious, disgraceful, utterly racist and profoundly un-American," tweeted Steve Schmidt, a former campaign aide to president George W Bush.
Trump talks DACA
Trump also spoke about the Deferred Action for Childhood Arrivals (DACA) and said that Democrats were not responding to his admin's efforts to reach a deal. "The Democrats are being totally unresponsive. They don't want to do anything about DACA, I'm telling you," AFP quoted him as saying.
In September 2017, Trump had said that DACA, launched by former president Barack Obama would be revoked. The DACA regulation protected about 800,000 undocumented immigrants – known as "dreamers" in the US, who were brought into the country as children.
Out of these at least 8,000 are said to be Indians and the revocation puts them at the risk of being deported. After the announcement, hundreds of people protested the decision.
The Department of Homeland Securities then said that it would no longer accept new applications under DACA and those with work permits could continue to stay in the US until the expiration of the permits. The immigrants, whose permits expire on March 5, 2018, can apply for a two-year renewal by October 5, but if they fail to do so, they will be considered to be living in the US without a permit and could be deported.