As many as 8,000 Indians living in the US now face deportation after Donald Trump administration announced on Tuesday, September 5, that the Deferred Action for Childhood Arrivals (DACA) amnesty, introduced during Barack Obama's tenure, was being revoked.
"I am here today to announce that the programme known as DACA (Deferred Action for Children Arrival) that was effectuated under the Obama Administration is being rescinded," PTI quoted US Attorney General Jeff Sessions as saying. After the announcement, hundreds of people protested the decision.
The DACA regulation protected about 800,000 undocumented immigrants in the US, who were brought into the country as children, out of which at least 8,000 are said to be Indians. Others are said to be from countries like Mexico, Peru, Honduras, and Guatemala to name a few.
While Trump had earlier hinted at the revocation through a tweet, which said: "Congress, get ready to do your job - DACA!" it was made official only on Tuesday. "The Department of Justice has advised the President and the Department of Homeland Security that DHS should begin an orderly, lawful wind down, including the cancellation of the memo that authorised this programme," Sessions added.
Sessions has on numerous occasions opposed DACA saying that the US cannot admit anyone into the country, just because people want to live there, reported Financial Express. "That is an open border policy and the American people have rightly rejected it. Therefore, the nation must set and enforce a limit on how many immigrants we admit each year and that means all cannot be accepted," he noted.
However, he went on to explain that the immigrants were not "bad people" and that the nation does not "disrespect or demean them in any way. It means we are properly enforcing our laws as Congress has passed them."
Meanwhile, the Department of Homeland Securities has said that it would not accept new applications under DACA anymore and those with work permits can continue to stay in the US until the expiration of these permits. The immigrants, whose permits expire on March 5, 2018, can apply for a two-year renewal by October 5, failing which they will be considered to be living in the US without a permit and could be deported.
After the Trump administration announced the decision, Obama slammed the move and labelled it "wrong," "self-defeating" and "cruel."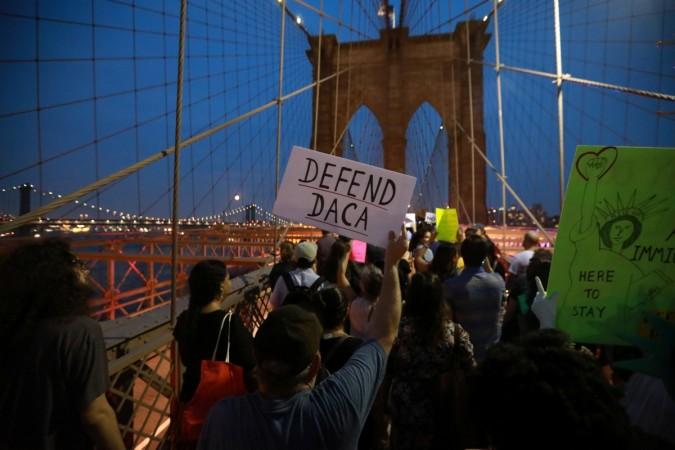 "To target, these young people is wrong, because they have done nothing wrong. It is self-defeating because they want to start new businesses, staff our labs, serve in our military, and otherwise contribute to the country we love. And it is cruel," PTI quoted the former president as saying.
"What if our kid's science teacher or our friendly neighbour turns out to be a Dreamer? Where are we supposed to send her? To a country, she doesn't know or remember, with a language she may not even speak?" Obama questioned.
He also lashed out at the Trump administration and said that the decision was not "required legally" and that it was a "political decision."
"Whatever concerns or complaints Americans may have about immigration in general, we shouldn't threaten the future of this group of young people who are here through no fault of their own, who pose no threat, who are not taking away anything from the rest of us.
"They are that pitcher on our kid's softball team, that first responder who helps out his community after a disaster, that cadet in ROTC who wants nothing more than to wear the uniform of the country that gave him a chance. Kicking them out won't lower the unemployment rate, or lighten anyone s taxes, or raise anybody's wages," Obama noted.