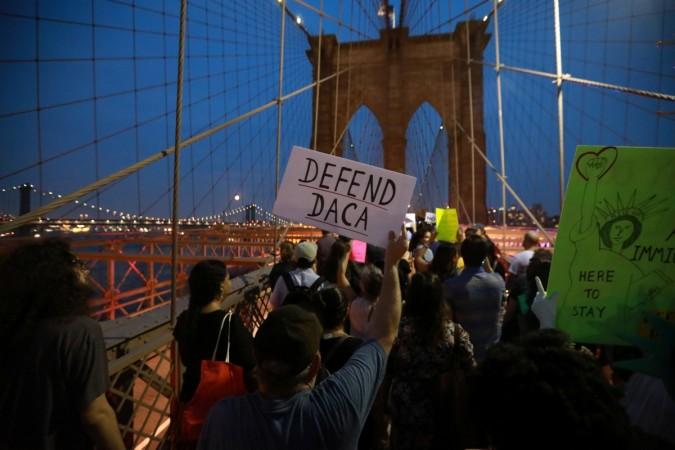 Even as numerous people in the US came out on the streets to protest against the Trump administration's move to revoke the Deferred Action for Childhood Arrivals (DACA) amnesty, it looks like the revocation is turning into quite a row. Now, 15 states and the District of Columbia have sued the Trump admin to block President Donald Trump's plan to cancel the protection to immigrants and deport them.
The lawsuit was filed on Wednesday, September 6, in the Eastern District of New York and the plaintiffs are New York, Washington, Connecticut, District of Columbia, Massachusetts, Hawaii, Delaware, Illinois, New Mexico, Oregon, North Carolina, Iowa, Pennsylvania, Vermont, Rhode Island, and Virginia.
"Ending DACA, whose participants are mostly of Mexican origin, is a culmination of President's Trump's oft-stated commitments — whether personally held, stated to appease some portion of his constituency, or some combination thereof — to punish and disparage people with Mexican roots," the lawsuit said, according to the Associated Press.
The DACA regulation protected about 800,000 undocumented immigrants – known as "dreamers" in the US, who were brought into the country as children, out of which at least 8,000 are said to be Indians. Others are said to be from countries like Mexico, Peru, Honduras, and Guatemala to name a few.
While the Trump administration has often considered them to be illegal immigrants, New York Attorney General Eric T Schneiderman called the move "cruel, shortsighted, inhumane" and added that the decision reflected Trump's bias against Mexicans and Latinos.
Schneiderman also explained that DACA protected about 42,000 New Yorkers and "They are the best of America." "Dreamers play by the rules. Dreamers work hard. Dreamers pay taxes. For most of them, America is the only home they've ever known. And they deserve to stay here," he noted.
Holly Cooper, co-director of the Immigration Law Clinic at the University of California Davis School of Law, too seems to believe that this is a result of Trump's bias. "Given his past history, pretty explicit statements against people of color and immigrants and people of certain religions, you have a lot of evidence to work with to make this case," she said.
The Trump administration's decision was announced by US Attorney General Jeff Sessions on Tuesday. "I am here today to announce that the programme known as DACA (Deferred Action for Children Arrival) that was effectuated under the Obama Administration is being rescinded," the Press Trust of India quoted him as saying.
The Department of Homeland Securities has said that it would not accept new applications under DACA anymore and those with work permits can continue to stay in the US until the expiration of these permits. The immigrants, whose permits expire on March 5, 2018, can apply for a two-year renewal by October 5, failing which they will be considered to be living in the US without a permit and could be deported.
After the decision was announced, former president Barack Obama – DACA was introduced during his tenure – slammed the Trump administration and called the move "wrong," "self-defeating" and "cruel."
"To target, these young people is wrong, because they have done nothing wrong. It is self-defeating because they want to start new businesses, staff our labs, serve in our military, and otherwise contribute to the country we love. And it is cruel," Obama had said.
"What if our kid's science teacher or our friendly neighbour turns out to be a Dreamer? Where are we supposed to send her? To a country, she doesn't know or remember, with a language she may not even speak?"
He also said that the move was not "required legally" and that it was a "political decision."