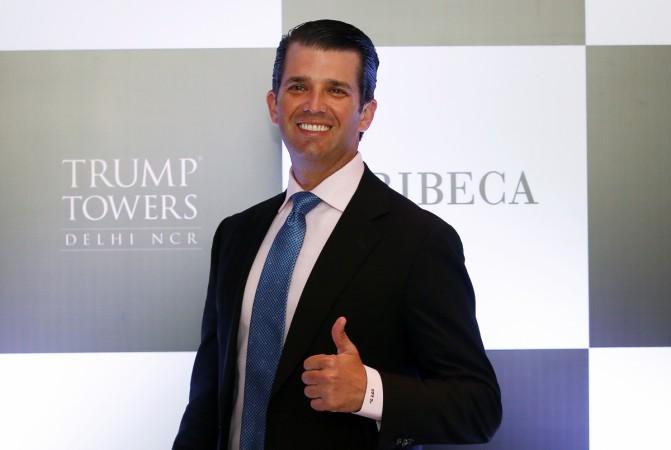 US President's eldest son Donald Trump Jr. is in India on an "unofficial" visit to promote Trump family's real estate business. But speaking to a TV channel on Tuesday, he said that the Trump empire is losing deals in India due to his father's restrictions.
He was referring to his father's "self-imposed" rule under which no deal would be struck as long as Trump Sr. was the president.
He had earlier explained that while the current projects in India would be completed, the Trump empire would not launch new projects in the country, for the next five-seven years. With this, the 40-year-old has also hinted that Trump Sr. may run for a second term of presidency.
"Few years ago, I said it would become our largest (market) because I really believed in the market... I think it will continue to be the same when I am able to get back in the market and focus on the business side, on new deals again in the future, once my father is out of office," Reuters quoted Trump Jr. as telling CNBC-TV18.
Trump Jr had earlier also said that the business has faced quite some losses because of his father's election and explained that at least six projects had been stalled after his father had been elected as the president.
"We were discussing about 12-15 deals in India. Of these, five to seven deals could have happened, but couldn't due to my father's presidency," the Times of India quoted the 40-year-old as saying.
Trump Jr. also said that he has visited India several times and faced several issues while learning business. "I have been coming to India since I was in the late 20s. Now I am 40. It has taken a decade to create relationships in India. The irony is that, having taken so long to get this far, we can now only complete existing projects and not venture into new ones," he added.
City of Joy Kolkata catches Trump Jr.'s attention
While Trump Jr may have visited India several times, this was his first trip to Kolkata and he clearly loves the city. "Kolkata is a great city; it is clean, there are lots of open spaces and parks," he said, adding he was struck by its warmth. "I have received an amazing welcome. Even the construction workers (at Trump Tower Kolkata) greeted me. I will return to this city," he said.
He also said that he loved how even the poor people in Kolkata had a smile on their faces. "I think there is something about the spirit of the Indian people that's unique here to other parts of the emerging world," Trump Jr. told CNBC-TV18. "I don't want to be glib but you can see the poorest of the poor and there is still a smile on a face."
"It is a different spirit than that which you see in other parts of the world where people walk around so solemn," Trump Jr. added. "I know some of the most successful people in the world and some of them are the most miserable people in the world."
Trump Jr. has Modi's back?
Even though the Modi government may have faced a backlash from several quarters, Trump Jr. seems impresses with the reforms and said they were corrections in the right direction.
"Reforms (during Modi's regime) are corrections in the right direction," Mint quoted Trump Jr.as saying.
He also said that India is now more investment-friendly as the government keeps its promises, which attracts investors. "It will probably make things difficult for real estate developers to function in many respects, but good, it was time (to implement those changes)", he added.