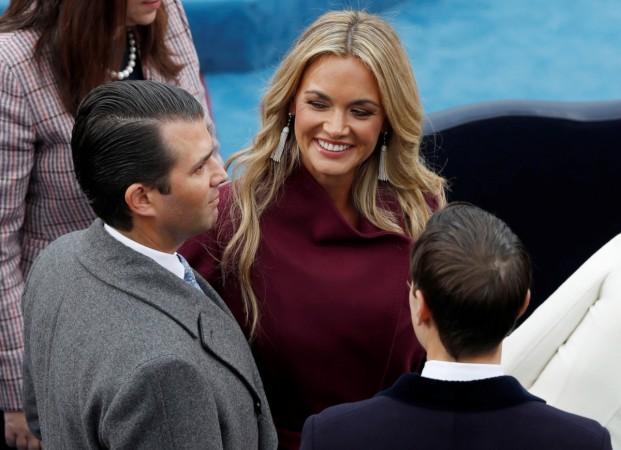 Vanessa Trump, wife of Donald Trump Jr. and daughter-in-law of US president Donald Trump, was rushed to a Manhattan hospital on Monday, February 12, after she opened an envelope addressed to her husband. The envelope contained white powder and a letter that described Trump Jr as a terrible person.
Vanessa is said to have opened the letter at around 10 am and called 911, reported the New York Post. She was then taken New York-Presbyterian Hospital as a precaution and was accompanied by her mother Bonnie Haydon and another person.
After the call was made the NYPD's elite Emergency Services Unit, a hazmat team, the department's Intelligence Bureau, the Secret Service, the Department of Environmental Protection and the FBI's Joint Terrorism Task Force reached the scene to investigate the matter. However, the investigators later said that the white powder was corn starch.
White House spokeswoman Sarah Huckabee Sanders spoke about the incident at her press briefing and said: "I know the president spoke with her (Vanessa). Beyond that at this point, it's an ongoing and active investigation so I can't comment any further."
Later Trump Jr. also tweeted about the envelope and said that he was thankful that his wife and kids were safe.
Thankful that Vanessa & my children are safe and unharmed after the incredibly scary situation that occurred this morning. Truly disgusting that certain individuals choose to express their opposing views with such disturbing behavior.

— Donald Trump Jr. (@DonaldJTrumpJr) February 12, 2018
A special thanks today to the great men & women of the @NYPDnews @FDNY @SecretService @NewYorkFBI and the Joint Terrorism Task Force for their decisive action and incredible words of support to my wife and family. Their professionalism under pressure made a rough day manageable.

— Donald Trump Jr. (@DonaldJTrumpJr) February 12, 2018
Ivanka Trump too tweeted about the scare and said that no one deserved to be scared that way.
Thinking of @MrsVanessaTrump & wishing I was by her side today. No one deserves to be frightened this way. There is no excuse.

— Ivanka Trump (@IvankaTrump) February 12, 2018
The US authorities have been on alert since 2001, when many media outlets and lawmakers received envelopes laced with anthrax. Five deaths were reported at the time, reported Reuters.