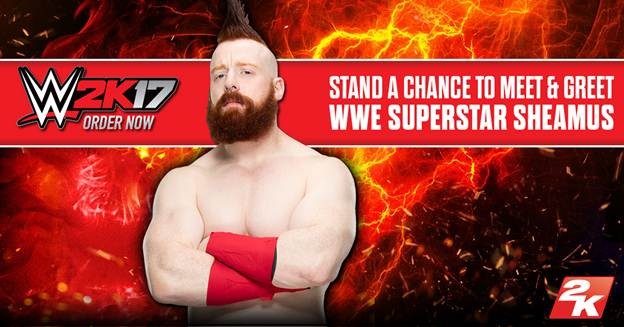 Developer 2K is trying to draw more players to the newly-released WWE 2K17, the simulation professional wrestling video game. Players who order the game in India will get to meet WWE superstar Sheamus.
Sheamus, a four-time world champion, is expected to be in Mumbai on October 22, Games The Shop, India's leading specialist retailer, said on October 19. Lucky winners would be announced via e-mail.
WWE and WWE 2K fans will be able to meet him at the Inorbit Mall, Malad (W) on October 22. Sheamus is expected to visit the mall at 4:30pm.
WWE 2K17 was released on October 11 for PS3, PS4, Xbox 360 and Xbox one. The PC edition is yet to get the game.
2K submits patch for approval
2K has confirmed that WWE 2K17 will be getting a patch update soon. The developer said it has submitted patches to Sony and Microsoft for approval. It promised players that it would be posting the final patch notes before it goes live.
WWE 2K17 has only received only one patch, and that was huge day one development.
We are submitting patches to Sony and Microsoft today for approval and will post final patch notes and estimated timing before it goes live.

— WWE 2K17 (@WWEgames) October 19, 2016
WWE 2K17 PC edition down the road
2K has also clarified that the rumours of the PC edition getting released on October 30 are not true. It not only called it unreal but assured PC gamers that they will come to know about the PC version "down the road."