Congress leaders Shashi Tharoor, Abhishek Singhvi, Randeep Singh Surjewala and Ahmed Patel have slammed US President Donald Trump for his jibe at Prime Minister Narendra Modi over India building a library in Afghanistan.
Addressing media on Wednesday, Trump had said that he was "constantly telling me he built a library in Afghanistan. You know what that is? That's like five hours of what we spend. And we're supposed to say, 'Oh, thank you for the library.' I don't know who's using it in Afghanistan."
The government responded to Trump on Thursday and gave a measured reply. It said, "India firmly believes in the critical role that developmental assistance can play in transforming human lives."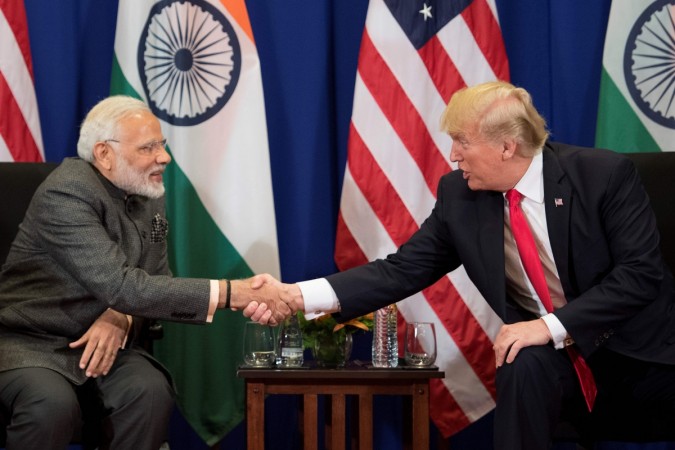 In politics, PM Modi is an arch rival for Congress leaders like Shashi Tharoor, Abhishek Singhvi, Randeep Singh Surjewala and Ahmed Patel, who often take a dig at him on various issues. But Trump's barb at the PM did not go down well these leaders, who slammed the US President.
Shashi Tharoor, who is the author of the book titled "The Paradoxical Prime Minister Narendra Modi And His India", tweeted, "The derisive comment by @realDonaldTrump on India building a library in Afghanistan is a stinging indictment of the BJP govt's failure to convince the US of our bonafide credentials in Afghanistan. We've spent $3 billion (our largest aid programme anywhere)but US doesn't know."
The Thiruvananthapuram MP added, "We brought 24/7 electricity to Kabul, built the Zaranj-Delaram Highway, restored schools & hospitals, built the Selma Dam &the National parliament. And Modi tells Trump about a library? What a travesty& injustice. We should be proud of our role in Afghanistan&teach US abt it."
Congress spokesperson Abhishek Singhvi blasted Trump by tweeting, "Trump's confidence in blunderland amazing! confidently mistakes afghan parl for a "library"! pulls out troops bt berates India 4not putting more boots on grnd! brags crudely abt US spending more thn India—misleading cos India's gigantic amts all 4devt aid &us 4mili purposes! (sic)."
Randeep Singh Surjewala asked Trump to stop giving lectures to India. The Congress leader tweeted, "Dear Mr. Trump, Stop mocking India's PM India dosn't need sermons from the U.S on Afghanistan Under Dr Manmohan Singh, India helped build Afghan National Assembly Humanitarian needs to strategic economic partnership, we are one with our Afghani brothers & sisters."
Ahmed Patel also expressed his displeasure. The Congress treasurer tweeted, "Tenor & tone of the US President describing the Prime Minister of India is not in good taste & is completely unacceptable. Hope our Govt responds firmly & reminds America that since 2004, India has built extensive roads, tdams in Afghanistan & pledged over $3 billion in assistance."
India has been witnessing a bitter fight between the BJP and Congress parties for last few years. The verbal war has turned its ugliest best in the campaigns for recent assembly elections.
While Congress leaders pointed out at the government's failure in various aspects, the BJP leaders have complained of Congress compromising on National security and interest for the power. Amidst this chaos, the Congress leaders' gesture has really surprised many people across the country.