The drama over the Gujarat Rajya Sabha election seems to be persisting, with mystery shrouding the identity of the 44th vote that reportedly got Congress veteran and Sonia Gandhi's close aide Ahmed Patel elected to the Upper House of Parliament.
This, even as Congress ousted several of its MLAs in Gujarat for cross-voting during the election, which almost cost Patel his seat.
It now seems that if the mystery over the 44th vote persists, Congress will be in the dark over yet another ally it has lost.
The numbers
The calculations in the run-up to the elections were simple. The Gujarat Assembly had 182 legislators, of whom six had quit, leaving 176. To win, the contestant had to get (176 ÷ 4) + 1 votes, which comes to 45 when rounded off.
However, the EC invalidated the votes of Congress MLAs Bhola Bhai Gohel and Raghavji Bhai Patel — ostensibly because they had shown their vote to BJP national president Amit Shah, who was also contesting the Rajya Sabha elections.
This meant that the winning number was (174 ÷ 4) + 1, which comes to 44. And that is exactly how many votes Patel got, just scraping through with a win.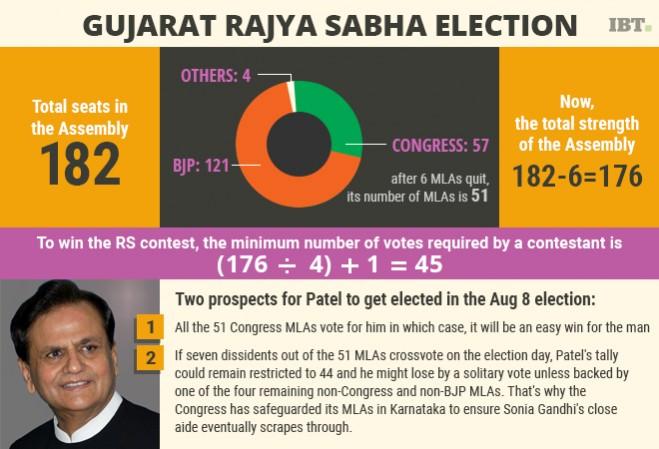 The discrepancy
However, this is where Congress needs to do some digging and find out who its ally is and who has changed sides.
There has been dissent within Congress itself, which had flown down 46 of its MLAs from Gujarat to Karnataka after the BJP poached some of their colleagues. And then, during the election, 43 of them voted for Patel.
However, he needed at least one more vote. The Nationalist Congress Party (NCP) had two legislators, out of which one is said to have voted for Patel. On the other hand, the lone Janata Dal-United) JD-U MLA is also said to have voted for him.
The mystery
If this was the case, then Patel should have ended up with 45 votes, and not 44. Clearly, one of these parties, or their legislators, is not telling the truth.
And herein lies the problem for Congress. While NCP has been making overtures to BJP in Maharashtra, JD-U has already joined hands with the saffron party in Bihar.
It is now up to Congress to ascertain who its true ally is, and plan its future poll stratagem accordingly. After all, the Gujarat Assembly election is just months away.