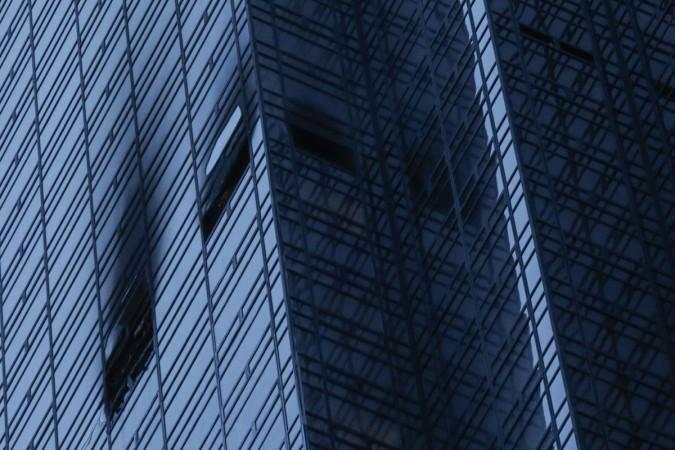 Saturday night was not a good sight for New Yorkers as the skies watched the Trump Tower on fire. A massive fire took down the 50th-floor of the building, killing a resident and leaving six injured, CNN reported.
The firefighters arrived at the blazing building at 5:30 PM EST and it was not until 9 PM EST that the New York Fire Department reported that the fire was under control, CNN reported. Speaking to the media, New York Fire Commissioner Daniel Nigro said the cause of the blaze is unknown. But he added that the residential floors "are not sprinkled."
"The fire was a difficult fire. The apartment was quite large and 50 stories up," he told the media, Chicago Tribune reported. ""It's a well-built building. The upper floors, the residence floors, are not sprinklered," he added.
The publication explains that fire sprinklers were not required in New York City high-rises during the time Trump Tower was built, in 1983.
Over the years, laws changed and builders were told to install the sprinklers retroactively in commercial skyscrapers. These were introduced to newer constructions whereas older residential properties did not require sprinklers' installation unless the high-riser was to undergo major renovations.
CBS New York reports that the victim was 67-year-old Todd Brassner. He was rushed into Mount Sinai West hospital after he was saved from the burning apartment. Six firefighters also suffered injuries.
New York Times reported that residents weren't informed to evacuate the building after it caught fire. A resident shared her experience with the publication.
Lalitha Masson, a 76-year-old resident, deemed it "a very, very terrifying experience."
"When I saw the television, I thought we were finished," she said. "I started praying that this was our end. I called my oldest son and said goodbye to him because the way it looked everything was falling out of the window, and it reminded me of 9/11." She lives on the 36th floor with her husband, Narinder.
She added that she did not get any announcement about leaving the building and that when she called the front desk, no one answered the call.
Following the fire, US President Donald Trump took to Twitter and tweeted about the fire. He thanked the firemen and women for doing a great job. His son, Eric, also tweeted about the fire, thanking the team of firefighters for bringing the fire under control.
Fire at Trump Tower is out. Very confined (well built building). Firemen (and women) did a great job. THANK YOU!

— Donald J. Trump (@realDonaldTrump) April 7, 2018
Thank you to the amazing men and women of the NYFD who extinguished a fire in a residential apartment at @TrumpTower. The @FDNY and @NYPD are truly some of the most incredible people anywhere! ????

— Eric Trump (@EricTrump) April 7, 2018