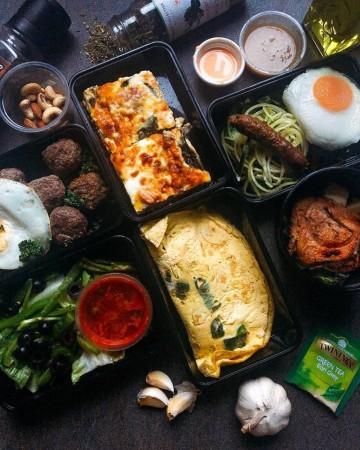 An expert has revealed the "number one diet for 2018" that will help all health-conscious people shedd the extra weight they gained during the year-end festivities.
ALSO READ: Drunk man ends up injuring his bowel after inserting a sex toy in his anus
After consuming calorific Thanksgiving meals, Christmas feasts and consuming beverages during the New Year, most people will think about following a diet to turn get back in shape, but they will take long to decide exactly which diet will be effective for them.
According to Josh Axe, DNM, DC, CNS, the best diet you should follow in 2018 is the keto diet.
ALSO READ: Eating less meat and lack of exercise makes young adults prone to depression
"The keto diet, also known as the high-fat, low-carb diet, will be he fastest growing of 2018 ... and possibly the next 10 years," Axe was quoted as saying by mydomaine.com.
"Originally created in the 1920s, the ketogenic diet is rapidly gaining popularity in the weight-management world. And for good reason," he says.
ALSO READ: Combat premature greying of hair with these tips
"If done correctly, research suggests shifting your body into a ketogenic state can not only fuel a healthy weight, but it can also lead to a host of other health benefits," he added.
About keto diet:
The keto or ketogenic diet is a low-carb diet and 80 percent of its calories come from the fat it contains while carbohydrates provide around 5-10 percent calories.
This diet will provide one with a good dose of healthy fats and oils that will provide enough energy and calories to the body to function properly through the day.
ALSO READ: Were deities fashionable? Mysterious 'handbags' spotted in ancient sculptures across the world
"Ideally, the ketogenic diet should include three different types of fats: saturated fat (from animal products like fatty meat, butter, and potentially, full-fat dairy), monounsaturated fats (from olive oil or avocados), and polyunsaturated fats (from fish, certain oils, and small amounts of nuts and seeds)," Axe stated.
"Some of the reasons that the ketogenic diet is unique and so effective are that it helps reduce hunger and cravings, helps balance hormones, improves energy levels, supports cognitive performance, and provides protection against disease long-term. This means that keto diet is basically the opposite of what most people think of as 'dieting'," he added.
ALSO READ: Doctor cures patient's depression by prescribing her orgasms
How keto diet works on your body:
Keto diet is known to result in more mental clarity, lower brain fatigue or brain fog and even curb the urge to eat more. Hunger can be controlled if one follows the fat-rich keto foods along with vegetables and moderate amounts of proteins.
Our body produces molecules called ketone bodies when it carries out the metabolic process called Ketosis by burning the stored fat to generate energy. It also aids in triggers energy and boosting the mood by providing fuel to the brain.
ALSO READ: Include this in your diet to shed weight faster
"Despite being so high in fat and not requiring calorie counting, research shows the ketogenic diet is effective at promoting weight loss and improvements in several cardiovascular risk parameters. Furthermore, studies show that ketogenic diet has therapeutic effects and can help to protect against seizures/epilepsy, Alzheimer's disease, diabetes, and even cancer," he revealed.
"It's worth pointing out that the ketogenic diet is not necessarily something that should be followed for a lifetime—it can serve as a temporary solution for helping to treat a health problem or for improving weight loss. I recommend that people follow the diet for about three to six months before adding more carbohydrates back into their diet," he added.