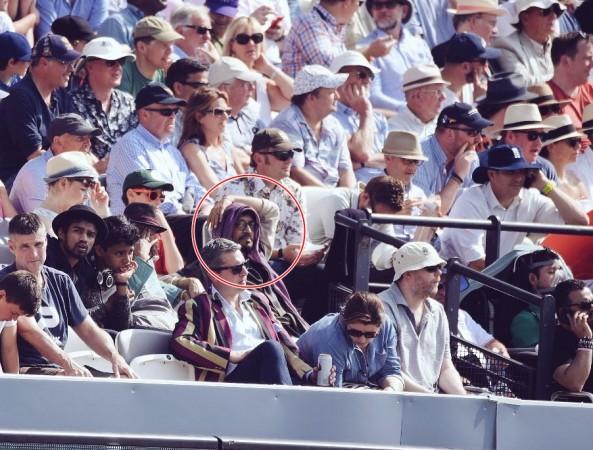 Irrfan Khan is currently in London for the past two months for the treatment of his rare disease - neuroEndocrine tumour. According to Nivan Times, the actor is being treated at The Princess Grace Hospital in London where he has been undergoing chemotherapy twice a day.
While everyone is praying for his health, a picture showing the Hindi Medium actor enjoying a Test match between England and Pakistan at Lord's cricket ground is now going viral on the internet.
The picture was tweeted by Pakistani sports anchor Zainab Abbas in which Irrfan Khan was apparently spotted sitting at the stand among a sea of spectators wearing a towel on his head. The image was originally shared by cameraman Furqan Bhatti of a news website.
International Business Times India could not independently verify the authenticity of the picture. But one of the spectators who supposedly attended the match has confirmed that the man in the picture was none other than Bollywood actor Irrfan Khan. He claimed that Irrfan was sitting right in front of him and a few people even asked him for a picture but he refused, adding that the actor looked very weak.
"He was sitting in front of me.. A few people came and asked him for a picture but he refused..i think because of his health. He looked really really weak," a user commented on the picture.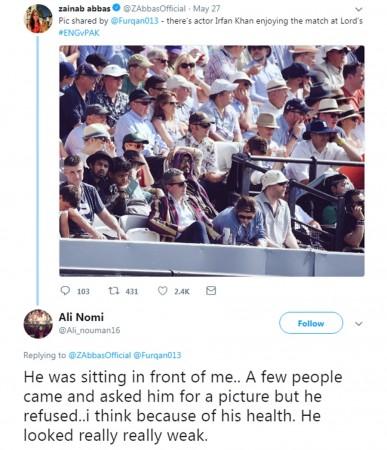 Another user was glad to see Irrfan hale and hearty amid his deteriorating health reports. "Omg! If this is actually today's image, thank you so much for this! There haven't been any major updates on Irfan Sir's health after that 1 statement before he went for the treatment. Good to seem him finally! Thank you so much for sharing this," he wrote.
Director Shoojit Sircar had recently said that he is in touch with Irrfan Khan and his wife Sutapa Sikdar and said that the actor has been responding well to the treatment.
The actor will probably miss the promotions of his upcoming film Karwan also featuring Dulquer Salmaan and Mithila Palkar due to his treatment schedule. A couple of weeks ago, he had tweeted a poster of the film and wrote, "Beginnings have the innocence that experience can't buy. My best wishes to @dulQuer , @mipalkar for joining the karwaan. ' Two karwaans ' .... Mine and the movie !! @MrAkvarious @RSVPMovies @RonnieScrewvala."