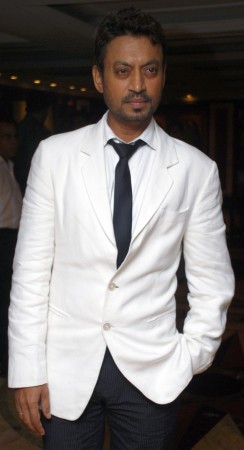 Irrfan Khan's recent revelation about being diagnosed with neuroendocrine tumor has sent the entire film fraternity and fans into a state of shock and worried about the actor's health. While Bollywood celebrities and fans are praying for his speedy recovery, doctors have said that Irrfan's rare disease is curable and can be surgically removed.
When asked to comment on Irrfan Khan's case, Dr Saumitra Rawat, HOD, Surgical Gastroenterology & Liver Transplant, Sri Ganga Ram Hospital, told ANI, "It depends on the location of the tumor, its size, and what is its mitotic index. Depending on where the tumor is localized, you can take it out surgically and the chances of cure are very high. Once the procedure is done, the patient is required to have regular check-ups for any recurring tumors."
Giving some insights about the nature of the disease and medication, Dr Rawat, told ANI, "Neuroendocrine tumor is an abnormal growth of Neuroendo cells which are present in bodies. When there is an abnormal growth, then it forms a tumor - Normally seen in intestine, pancreas, lung, thyroid and other parts of the body."
The 51-year-old actor had revealed about the disease on Twitter and requested his fans to continue sending their wishes. He also mentioned that 'neuro' is not always about the brain and requested people not to speculate about his health on social media.
"Life is under no obligation to give us what we expect" - Margaret Mitchell. The unexpected makes us grow, which is what the past few days have been about. Learning that I have been diagnosed with NeuroEndocrine Tumour as of now has admittedly been difficult, but the love and strength of those around me and that I found within me has brought me to a place of hope. The journey of this is taking me out of the country, and I request everyone to continue sending their wishes. As for the rumours, that were floated NEURO is not always about the brain and googling is the easiest way to do research ;-) To those who waited for my words, I hope to be back with more stories to tell," read the statement.