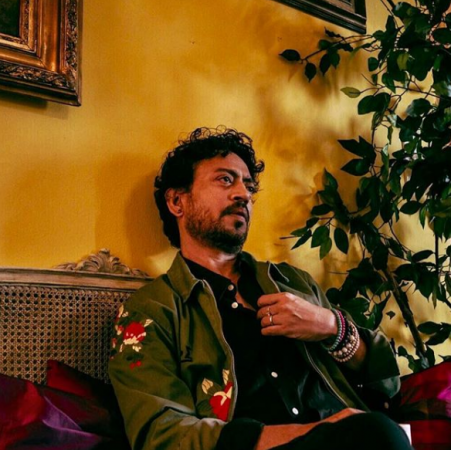 Irrfan Khan's tweet about his 'rare disease' on Monday (March 5) left Bollywood and his fans shocked and worried. Blackmail actor wrote on Twitter: "Sometimes you wake up with a jolt with life-shaking you up. The last fifteen days, my life has been a suspense story. Little had I known that my search for rare stories would make me find a rare disease."
While we should give Irrfan the privacy and time to figure out what's happening with him, a few are speculating and circulating 'unconfirmed' rumors that suggest that he has been diagnosed with brain cancer.
Like really? What if this is not the truth? Don't you think it's absolutely insensitive and unfair to contemplate about someone's health like this? Why worry his fans who enjoy and love his films with such an information?
NewsX reports that that the actor had to be taken to a Mumbai hospital immediately after he was identified with Glioblastoma Multiforme (GBM) Grade IV, also called 'Death on Diagnosis'. Irrfan had been having convulsion attacks along with slurring of speech, reported NewsX.
This is misleading. And the actor has clearly asked for time and requested 'not to speculate' as he will himself share the story once the results are out. Trade Analyst Komal Nahta too tweeted that the reports are untrue.
Although IrrfanKhan is unwell, all malicious news being spread about him and his condition since an hour or two are untrue. Likewise, all other horrendous news relating to his hospitalisation are fake. By God's grace, Irrfan is in Delhi and that's the only truth.

— Komal Nahta (@KomalNahta) March 6, 2018
In an official statement issued on his Twitter handle, Irrfan said: "I have never given up and have always fought for my choices and always will. My family and friends are with me and we are working it out the best way possible. In trying times, please don't speculate as I will myself share with you my story within a week- ten days when the further investigations come with a conclusive diagnosis. Till them, wish the best for me."
Bollywood celebrities too came together on social media and sent out their best wishes for his speedy recovery. Abhishek Bachchan, Suniel Shetty, Dulquer Salmaan, Ayushmann Khurrana and many others posted their wishes on Twitter.
Fans are shutting down the rumors too. One user commented: "I just can't imagine what he must be going through right now with ur stupid baseless proof less article spreading door to door. Why are u adding to his pain.. Without any confirmation, how can u float such articles abt #irrfankhan n cite private details."
Bhawana Somaya, journalist, wrote on Twitter: "And today is #WorldHealthDay how strange to learn about #IrrfanKhan today, please God work a miracle and make him alright like magic. If you wish it can happen"
And we should do the same. While Indian media is speculating his 'rare disease', international media is talking about his achievements, which I believe we should follow too.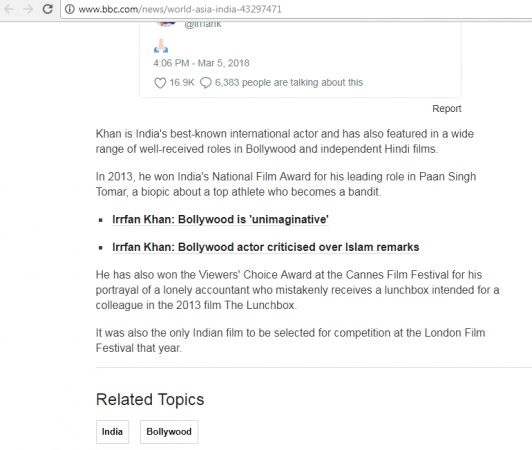 On the professional front, Irrfan Khan will be seen next in Blackmail, also starring Kirti Kulhari, and Arunoday Singh, which is directed by Abhinay Deo. After which, he would suppose to start shooting for Vishal Bharadwaj's next with Deepika Padukone, based on gangster Sapna Didi. But the shooting has been currently put on a hold, due to actors health issues.
news of #Irrfankhan's rare disease is not confirmed n u printed a whole article on first page..This is how u respect an ailing man's prayer for privacy n not to speculate anything...Do u even realise d shock waves his fans r going thru