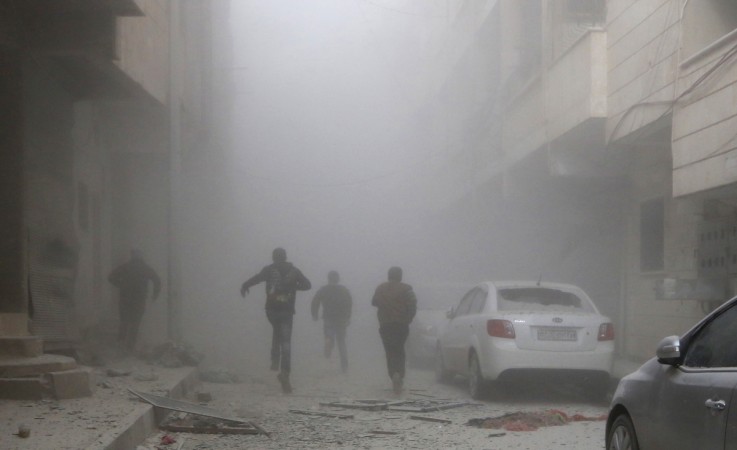 Dozens of civilians were killed in a series of Russian air strikes on the city of Raqqa in Syria, UK-based Syrian Observatory for Human Rights (SOHR) said Sunday. Lat week, Russia first announced that it would start withdrawing its forces from war-torn Syria, but later said it will continue to carry out air strikes against ISIS and other rebel groups in the middle eastern country.
The Russian warplanes conducted a series of air raids on ISIS stronghold Raqqa since Saturday, killing dozens of women and children. At least 55 people, including 13 children and 12 women, were killed in the latest air strikes. One of the killed women was pregnant.
Another 39 civilians, including five children and seven women, were killed when Russian warplanes raided several other areas in Raqqa. Five "police" of the "Islamic state" organisation were also killed in the attack, according to the SOHR.
Friday air strikes had killed at least 16 civilians, including eight children and five women, in several areas of Raqqa, including al-Sur, al-MoJamma' Square near al-Thakneh neighbourhood.
The SOHR had earlier said there was no confirmation whether the air raids were carried out by Russian, Syrian or International coalition' warplanes. However, it later confirmed that Russian warplanes carried out intensive air strikes in areas of Raqqa city.
The Russian air raids and missile strikes have killed at least 1,733 civilians and more than 1,183 ISIS militants between Sept. 30 last year and March 1. At least 1,492 rebels of Islamic factions like Jabhat al Nusra (al Qaeda in Levant) and the Islamic Turkestan Party, and fighters of Arab were also killed.
After five months of intensive air raids in parts of Syria, Russian President Vladimir Putin Monday announced "main part" of Russian forces in Syria to withdraw from Syria as the task "as a whole been completed."
However, a Russian defence official said: "The Russian aviation group has the task to continue carrying out strikes on terrorist facilities."
The five-year-long civil war in Syria has led to several casualties. According to the United Nations, over 250,000 Syrians were killed between March 2011 and until 18 months ago. However, NGO Syrian Centre for Policy Research (SCPR) recorded the toll at 470,000.
A ceasefire agreement that excludes ISIS and al Qaeda is under force in Syria since Feb. 27. Meanwhile, the United Nations is holding peace talks in Geneva to settle Syria's political turmoil that started five-year ago.