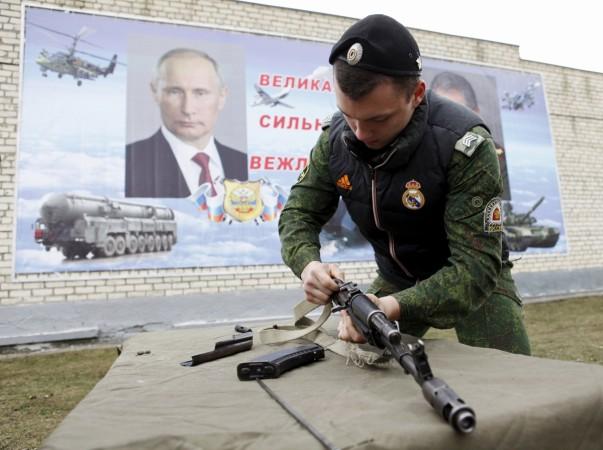 UPDATE 11:39 a.m. IST -- Russian forces have started to withdraw from Syria, the Russian Defense Minister said Tuesday.
"Technical personnel of the air base have started preparing the aircraft for performing a distance flight to home airfields in the Russian Federation," Sergey Shoigu said, according to Tass news agency.
Original story:
Russian President Valdimir Putin ordered his forces to start pulling out of Syria starting Tuesday, which also marks the fifth anniversary of the start of the Syrian civil war, stating Monday the "tasks" have been "generally fulfilled." He said Russian and Syrian forces had "turned the tide" in the fight against terrorist groups such as the Islamic State group and the al Qaeda-backed al-Nusra Front.
Russia had started conducting airstrikes in Syria on Sep. 30 last year, and has been accused of targeting U.S.-backed rebel groups fighting Syrian President Bashar al-Assad. The Russian air force had deployed Su-34 and Su-24M bombers, Su-25 attack aircraft, Su-30SM fighters and Mi-8 and Mi-24 helicopters in Syria.
"I think that the tasks set to the defense ministry are generally fulfilled. That is why I order to begin withdrawal of most of our military group from Syria starting from tomorrow," Putin said Monday, according to TASS news agency.
"With the participation of Russian military, Syrian troops and patriotic forces in Syria have managed to turn the tide in fight against international terrorism and take the initiative on practically all directions," he added.
Assad reportedly agreed on the withdrawal of Russian forces from Syria during a telephonic call with the Russian president. "The Syrian leader said he was ready to start a political process in the country as soon as possible," the Kremlin said, according to the agency.
Putin also reportedly spoke with U.S. President Barack Obama Monday, and both called for "an intensification of the process for a political settlement."
The White House, in a statement, said Obama " welcomed the much-needed reduction in violence" since the cessation of hostilities took effect in Syria.
Putin said he hoped the withdrawal of Russian troops will "be a good signal for all conflicting parties" in Syria and called for the peace process to be implemented. His announcement coincided with the resumption of U.N.-mediated talks between opposing Syrian parties Monday.