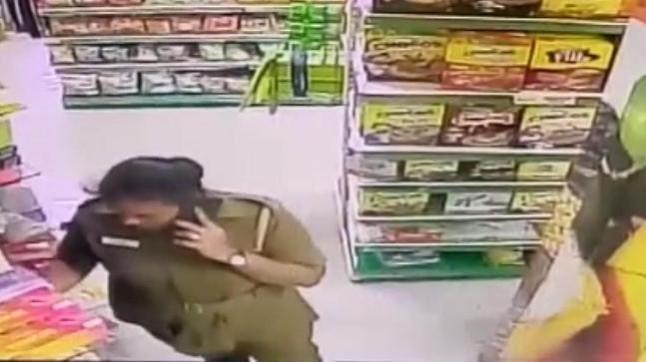 In a major embarrassment to the Chennai police, a woman constable was caught shoplifting from a supermarket in Chikpet, leading to an employee being hospitalised after he was beaten up for catching her.
The incident on Wednesday is the latest case of police brutality in the country and has thrown the spotlight on how police officers abuse their position and powers for their benefit.
Pranav, who worked at the supermarket noticed a woman constable picking up items from the shelf and stuffing it into her pockets, all while she was talking on the phone. Pranav confronted her and asked her to place the items back and write an apology note, but the incident did not end there.
Sometime later the husband of the constable barged into the supermarket along with a few others and attacked Pranav for resisting the shoplifting. Pranav was beaten very badly and rescued by his colleagues, and is now in a local hospital being treated.
The police have begun an investigation into the incident and refused to name the constable involved in the incident.
The news comes just days after the Chennai police were involved in another case of police brutality after a youth was attacked by a sub-inspector for not paying a bribe. Sub-inspector Ilayarja was accused of beating up 21-year-old Muhammad Haroon Sait during a routine police stop on Spurtank road in Chennai.
Sait was beaten with a lathi when he refused to pay a bribe the sub-inspector demanded since he did not have the original registration certificate for his vehicle, only a photocopy. After being beaten, he was taken to Chetpet police station and made to sit without being allowed to make a phone call. He alleged that the officers at the station harassed him for "speaking rudely to the sub-inspector", and was rescued by his uncle after his parents noted that he had not come home despite it being late.
The police have suspended the sub-inspector and are investigating the case.