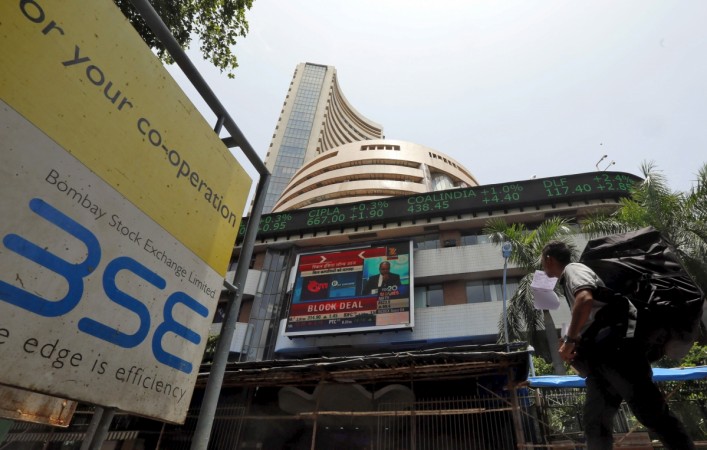 The BSE Sensex tanked 447.60 points, while the Nifty logged its steepest percentage fall since November 2016, ending below 10,000 mark. Broader markets undeperformed against the BSE Midcap and the BSE Smallcap indices losing over 2 percent each on Friday.
The BSE Sensex had declined about 232 points to 32,138.25 points in early trade on Friday on heavy selling in banking, financial, capital goods and FMCG stocks amid sustained foreign fund outflows and weak global cues.
The BSE 30-share barometer slumped 231.79 points, or 0.72 per cent, to 32,138.25. The gauge had lost 53.72 in the previous three sessions. The NSE Nifty was trading down by 96.70 points, or 0.95 per cent, at 10,025.20.
The Nifty tested 10,000-mark as well during the day's trade.
Financial daily Business Standard reported that the benchmark indices fell over 1 percent, extending losses for the fourth straight session, while the rupee hit its weakest point since early April amid concerns that the government's plan for a stimulus to halt an economic slowdown may have a negative impact on the fiscal deficit.
The rupee fell 31 paise to 65.12 against the dollar, its lowest level since May 23 in early trade at forex market.
Financial news portal Moneycontrol.com reported that a fall in the global markets after the US Federal Reserve's FOMC meet, along with geopolitical tensions on the North Korean front, dragged indices lower in the Indian markets.
The rupee fell to a four-month low in early trade on the back of heavy capital outflows over expectations of a rate hike by the US Federal Reserve. This came as a dampener to market sentiment.
All sectoral indices led by metal, bankex, PSU and realty were trading in negative terrain, falling by up to 1.56 percent.
In contrast, shareholders had gained a windfall last week as the Sensex held steady against global economic and geopolitical headwinds and nine of the top 10 companies by market capitalisation made huge gains for investors.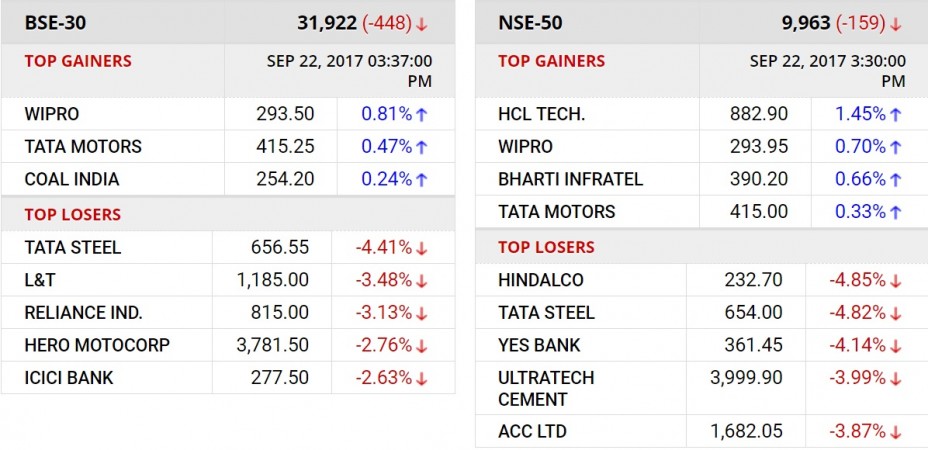 The Street could have been jittery over the economic prospects after the government announced plans to boost the economy, Moneycontrol said. The Indian government is considering a plan to loosen the fiscal deficit target so that it could spend an additional Rs 50,000 crore ($7.7 billion) in the financial year ending in March 2018.
Weak Asian cues after China's sovereign rating was downgraded by agency on fears over its ballooning debt and sustained foreign fund outflows, too negatively impacted market sentiment.
In the Asian region, Hong Kong's Hang Seng fell 0.78 per cent, Japan's Nikkei shed 0.29 per cent, while Shanghai Composite Index down 0.59 per cent in their late morning deals.
The US Dow Jones Industrial Average ended 0.24 per cent lower on Thursday.