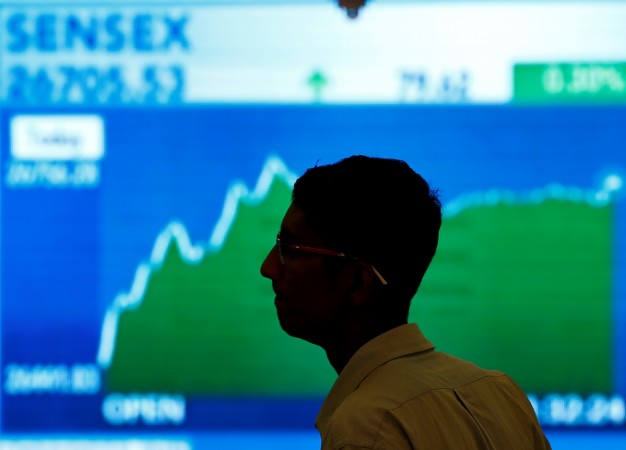 The Nifty 50 index hit an all-time high of 10,167 on Monday, surpassing its previous high of 10,115 made on August 1, 2017 in intra-day trade, as investors regained confidence after the weekend passed with no fresh news of geopolitical tensions between North Korea and the US.
Earlier, in morning trade, the Nifty 50 gained as much as 0.81 percent to a record high of 10,167.15 before closing at 10,153.10, up 67 points. The benchmark BSE index was 0.63 percent higher at 32,474.86, and the gains were broadbased as the S&P BSE MidCap Index rose 0.75 percent, while the S&P BSE SmallCap Index advanced 0.97 percent.
"There seems to be a global rally where liquidity is driving all markets. Markets have become much overbought," Sanjiv Bhasin, executive vice-president of markets and corporate affairs at IIFL told Indian Express.
According to last Friday's data, India's trade deficit widened to $11.64 billion in August from a month ago, and wholesale inflation jumped in August. These indicators suggest that the Reserve Bank of India may not cut rates at its next monetary policy meeting.
Many equity analysts believe that the Indian market has started to discount the geopolitical tensions as it rules out possibilities of a full-fledged war.
"Asian indices opened mildly positive as markets look forward to the new week after seeing geopolitical tensions being discounted and use it as buying opportunities. Strength in the US dollar saw the Japanese 'Yen' weaken and improve sentiment as ETF flows are to see renewed strength in buying Asian equities," Business Standard quoted a client note by India Infoline.
The Nifty index hit a record high, propelled by auto shares. On Monday trades, the Nifty auto index gained as much as 1.4 percent with Bajaj Auto and Tata Motors gaining 3.5 and 2.8 percent respectively.
"There is a feelgood factor as there could be more spending because of the ongoing festival season," Bhasin told IE.