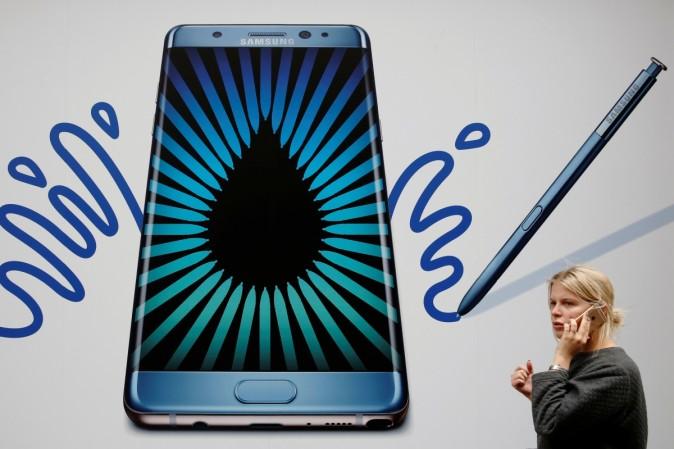 Earlier in the month, Samsung announced that the company would release a software update with an auto-kill switch to the Galaxy Note7 series devices on December 19 that will prevent US-based devices from charging and will eliminate their ability to work as mobile devices.
If you are still holding on to the Galaxy Note7, it's really harmful to keep using the phone, as it is found to have a defective battery that causes the device to explode without warning.
Also read: Cyber fraud alert! Delete these 4 apps on your smartphone immediately or risk getting hacked, warns Govt
As feature-rich device as it may be, but it's time to let go of the Galaxy Note7 and avail the exchange deal offered by Samsung or embrace a new brand altogether. There are several tier-1 brands which offer similar hardware if not more.
To provide a better perspective, we handpicked top seven best alternatives for the Galaxy Note7.
Samsung Galaxy S7 edge:
First on our list is the Galaxy Note7's smartphone brethren Galaxy S7 edge, which offer the same spectacular camera and software and it also comes in popular Blue Coral colour option, making the transition easier.
A key aspect of the Galaxy S7 edge is its curved dual-edge display, where the screen extends towards the right and left sides of the screen to provide immersive display viewing experience, and also house additional short-cut buttons for most used apps for easy access.
Read more: Complete specifications of Samsung Galaxy S7 edge
Google Pixel XL:
Google Pixel phone series got all the required ingredients to call itself true flagship phone. It has the most powerful Qualcomm processor, latest Android software and unarguably the best camera in the smartphone market.
But these are not the Pixel phone series' biggest asset; it's the Google Assistant which is the most intuitive voice-command feature seen in any phone in the market.
It is powered by Google's advanced AI (Artificial Intelligence) algorithm, which is said more superior to Apple's Siri and Microsoft's Cortana.
Also read: Top 5 Android phone brands that raised their game in 2016
Device owners can interact with their device in two mediums – texting and vocally – with Google Assistant. In layman terms, Pixel series users can communicate with Google Assistant like a normal one-on-one conversation with another person and can continue the conversation as long as they want.
Read more: Google Pixel phone series: X-factor that makes Nexus successor standout among rivals
OnePlus 3T:
It houses top-of-the-line hardware such as Qualcomm Snapdragon 820/821 quad-core processor, 6GB RAM, 64GB/128GB storage and 16MP primary camera.
Another interesting aspect of the OnePlus 3/3T series is its battery. It boasts Dash Charge technology, which can charge the phone from zero to 60 percent within 30 minutes, which is enough to play more than seven hours of full HD video.
Despite boasting such top-notch hardware, OnePlus 3T costs $439, less than half of what rival brands charge for their flagship phones.
Read more: Metal-clad OnePlus 3T with revised internal hardware launched [Key upgrades over OnePlus 3]
Moto Z Force:
As its predecessor, Moto Z series too boasts shatter-proof display upfront and houses pretty solid internal hardware backed with pure Android OS.
Another interesting thing about Moto Z Force is that it supports Moto Mods. Device owners need not have to worry about switching off the device or removing the shell on the back at all, as the magnet-based Moto Mods are a swappable case, which attaches to the smartphone's pogo pin connectors.
This innovative attachable modular structure concept allows users to add an array of value-added portable accessories ranging from ordinary such as battery pack to a cool video projector and camera lens.
As of now, Motorola offers Incipio battery packs, 'SoundBoost' with JBL speaker and a kickstand, a pico projector and a photography-centric Moto Mod accessory Hasselblad True Zoom.
Read more: Complete specification and price details of Moto Z and Moto Z Force
LG V20:
LG V20 comes covered with high-grade AL6013-series aluminium, which is said to be used in the making of airplanes, sailboats and mountain bikes. The use of the metal has taken away the rugged appeal, the company has taken measures to increase its durability by adding Silicone Polycarbonate (Si-PC) flaps on top and at the bottom.
SI-PC material is said to be used in manufacturing helmets and the ones used in V20 have passed MIL-STD 810G Transit Drop Test conducted by an independent laboratory that conforms to U.S. military standards.
Under-the-hood, it houses top-of-the-line hardware and it is the world's first non-Nexus (and Google Pixel phone series) to come with Android 7.0 Nougat out-of-the-box.
Read more: Complete price and specifications details of LG V20
Lenovo Phab 2 Pro:
If you are looking for a smartphone with a truly unique feature, Lenovo Phab 2 Pro is the one for you. It is Google's first commercial Project Tango AR phone.
Lenovo Phab 2 Pro AR-phone offers immersive e-shopping experience. For instance, Wayfair's in-house AR app allows shoppers to visualise furniture and décor in their homes at scale before making a purchase, tackling one of the largest barriers to online shopping -- the inability to get a good sense for a product's aesthetic, and how large or small the item is.
With AR technology, WayfairView app users can select furniture from an extensive 3-D catalogue and virtually preview items in any of their room through the lens of a Lenovo Phab 2 Pro smartphone.
Read more: Here's everything you need to know about Google Project Tango AR-phone Lenovo Phab 2 Pro
Apple iPhone 7 Plus:
Last but not least, the iPhone 7 Plus is also a good alternative to the Galaxy Note7 if you are fed up the Android ecosystem. Apple's device comes with a top-notch dual-camera on the back. It recently got updated to the iOS 10.1, which brought Bokeh effect and an array of camera features to play with.
Read more: Complete specifications and price details of Apple iPhone 7 series