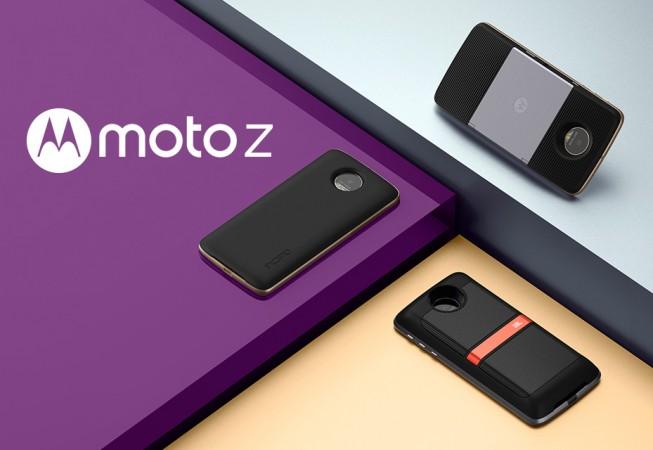 Smartphone-maker Moto, formerly known as Motorola, released the company's flagship handsets â€" the Z Droid and the Z Force Droid series â€" in its home market in the United States.
The new Moto Z Droid and Z Force Droid are exclusive to Verizon Wireless until this fall (Sept. 22). Later, they will be sold in all other network carrier stores under the generic Moto Z series moniker without the Droid tag.
Moto Z and Z Force series phones share most of the features, but differ in three key aspects. The former comes with Gorilla Glass 4 display shield, 13MP primary camera and a smaller 2,600mAh battery, while the latter boasts Motorola's proprietary ShatterShield display protection, 21MP snapper on the back and a bigger 3,500mAh cell.
The rest of the features such as display size (& resolution), mobile OS, RAM, storage and front camera remain the same. [See the full specification details below]
Price details:
The Moto Z Droid unlocked model's price starts at $624 (around â'¬563/Rs.41,830), while the Z Force Droid (unlocked) will set to you back by $720 (around â'¬649/Rs.48,265). Both the devices can also be bought for less, under contract for $28.79(roughly â'¬26/Rs.1930)/month (HERE) and $33.22(roughly â'¬30/Rs. 2,227)/month (HERE), respectively.
When will Moto Z series come to India?
From what we have gathered so far, Lenovo-owned Moto is expected to release the Moto Z series phones by the end of September or early October in India. The company also plans to launch Moto Mods accessories, which include speakers, projector, battery pack-cum cover, camera lens, style covers and others in India as well.
Read more: Moto Z India release details
Key specifications of Moto Z and Moto Z Force:
Models
Moto Z Droid
Moto Z Droid Force
Display
5.5-inch Quad HD (2560x1440p) AMOLED screen with Corning Gorilla Glass shield

Pixel density 535 ppi (pixels per inch)

5.5-inch Quad HD (2560x1440p) AMOLED screen with Shatter Shield technology

Pixel density 535 ppi (pixels per inch)

OS
Android 6.0.1 Marshmallow
Android 6.0.1 Marshmallow
Processor
Qualcomm Snapdragon 820 processor Quad-core CPU + Motorola Mobile Computing System, including Natural Language Processor and Contextual Computing Processor
Qualcomm Snapdragon 820 processor Quad-core CPU + Motorola Mobile Computing System, including Natural Language Processor and Contextual Computing Processor
GPU
Adreno 530 GPU
Adreno 530 GPU
RAM
4GB LPDDR4
4GB LPDDR4
Storage
32GB/64GB (UFS), expandable up to 2TB
32GB/64GB (UFS), expandable up to 2TB
Camera

Main: 13MP with Æ'/1.8 aperture, Optical Image Stabilization (OIS), Laser Autofocus, Zero Shutter Lag, Color Correlated Temperature (CCT) flash with dual LEDs,1.12um pixel,, Professional mode, Quick Capture, Best Shot, Scan barcodes, QR codes and Business cards, Google Photos integration with free original file size backup for two years, Shutter button or tap anywhere to capture, 8X digital zoom, Burst mode, Night mode, Auto HDR, Closed loop processing
Panorama, Tap to focus & exposure, Video Stabilization, 1080p HD video (60 fps), 4K video (30 fps), Slow Motion video, Video HDR (1080p and 4K)
Front: 5 MP with Æ'/2.2 aperture, Wide-Angle lens,Flash, 1.4um big pixel for better low light, Auto Night mode, Beautification software, Professional mode

Main: 21MP with Æ'/1.8 aperture, Optical Image Stabilization (OIS), Laser Autofocus, Zero Shutter Lag, Color Correlated Temperature (CCT) flash with dual LEDs,1.12um pixel,, Professional mode, Quick Capture, Best Shot, Scan barcodes, QR codes and Business cards, Google Photos integration with free original file size backup for two years, Shutter button or tap anywhere to capture, 8X digital zoom, Burst mode, Night mode, Auto HDR, Closed loop processing
Panorama, Tap to focus & exposure, Video Stabilization, 1080p HD video (60 fps), 4K video (30 fps), Slow Motion video, Video HDR (1080p and 4K)
Front: 5 MP with Æ'/2.2 aperture, Wide-Angle lens,Flash, 1.4um big pixel for better low light, Auto Night mode, Beautification software, Professional mode

Battery
2600 mAh

Mixed usage up to 30 hours
TurboPower technology, which can charge up to 8 hours of power in 15 minutes of charging

3,500 mAh

Mixed usage up to 40 hours
TurboPower technology, which can charge up to 15 hours of power in 15 minutes of charging

Network
4G-LTE (Cat. 9)
4G-LTE (Cat. 9)
Add-ons
Water repellent nano coating, fingerprint reader, Bluetooth v4.1 LE, Wi-Fi (802.11 a/b/g/n/ac; dual-band: 2.4GHz+5GHz with MIMO), USB Type-C port, NFC (Near Field Communication), A-GPS, 4 mics,
Water repellent nano coating, fingerprint reader, Bluetooth v4.1 LE, Wi-Fi (802.11 a/b/g/n/ac; dual-band: 2.4GHz+5GHz with MIMO), USB Type-C port, NFC (Near Field Communication), A-GPS, 4 mics, front-ported loud speakers, Moto Mods support
Dimensions
153.3 x 75.3 x 5.19 mm
155.9 x 75.8 x 6.99 mm
Weight
136g
163g
Price starts at

Without contract: $624 (around â'¬563/Rs.41,830)
With contract: $28.79(roughly â'¬26/Rs.1930)/month

Without contract: $720 (around â'¬649/Rs.48,265)
With contract: $33.22(roughly â'¬30/Rs. 2,227)/month