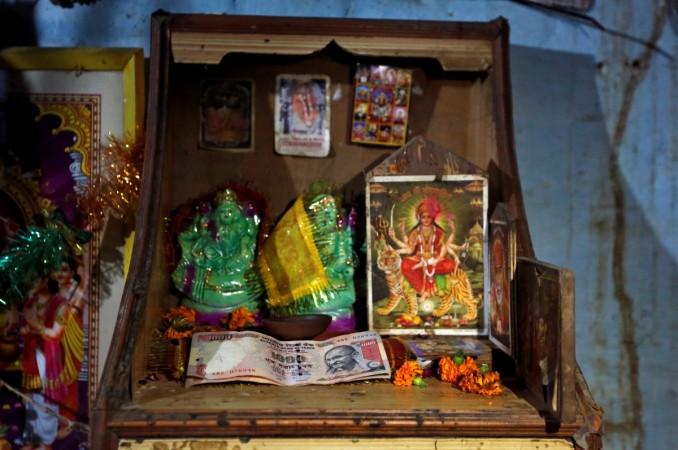 Prime Minister Narendra Modi's decision to scrap the Rs 500 and Rs 1,000 notes with immediate effect to curb the problem of black money has created chaos across the country with citizens and politicians across parties protesting against the announcement.
The decision has affected the general public with people standing in long queues outside banks and ATMs to withdraw money and exchange the Rs 500 and Rs 1,000 notes with lower denominations.
8 pm IST: "Rs 500 and Rs 1,000 notes may have an impact on elections. A lot of politicians are already worrying," says Defence Minister Manohar Parrikar.
7:06 pm IST: The Income Tax department conducts raids on jewellers and hawala operators across India after finding that they were discounting banned notes at 40 percent, TOI reported.
6:36 pm IST: "Not a step taken keeping in view elections. We've been systematically taking steps since two years. No politics involved," Venkaiah Naidu tells reporters.
6:35 pm IST: The Income Tax department conducts raids in Delhi, Mumbai and other cities as people make deposits in banks after sudden demonetisation of currency notes, NDTV reports.
6 pm IST: "I assure you the Govt is unwavering in its effort to create an India that is corruption free & fruits of development touch every citizen. (I am) so happy to learn that citizens are expressing gratitude to bankers and getting notes exchanged in a very patient and orderly manner," Narendra Modi says in a Facebook post.
5:55 pm IST: A PIL has been filed in the High Court of Judicature in Hyderabad challenging the central government's decision to demonetise Rs 500 and 1,000 notes. The case will be heard on Friday, ANI reported.
5:35 pm IST: The Trinamool Congress (TMC) has submitted a notice in Rajya Sabha to discuss the inconvenience caused to the general public due to the demonetisation of Rs 500 and Rs 1,000 currency notes.
TMC Chief and West Bengal Chief Minister Mamata Banerjee had asked the government to withdraw their "draconian decision" a couple of days ago.
"May I once again humbly request the government to prepare a proper action plan. The implementation of this (withdrawal of demonetisation) will help the common citizens. And the poor who need protection. I am from the grassroots. I have met people all day, heard their stories and felt their pain. Black money hoarders and the corrupt need to be punished, but why put the burden on commoners and the poor?" Banerjee said in a series of tweets on Wednesday.
5 pm IST: The RBI has said that payment systems, including electronic transfers and cheque clearing, will remain open for public transactions on Saturday and Sunday to meet the heavy demand of the public following the scrapping of the Rs 500 and Rs 1,000 currency notes.
4:45 pm IST: "(It is) not a big issue if one has one or two fake currency notes. If someone has many then police will have to enquire," State Bank of India Chairperson Arundhati Bhattacharya told reporters.
"Today we saw 20% hike in activity as compared to any other working day; We'll remain open this weekend. NRIs, who want to deposit or exchange currencies but can't come personally, will have to send someone with authority letters. No photocopy of ID cards needed while depositing and exchanging at our branches. We'll issue clarification if there's any confusion," Bhattacharya added.
3:55 pm IST: "This decision (to scrap Rs 500 and Rs 1,000 notes) will stop terror funding and circulation of fake currency. This step will break the bones of terror organisations," Kiren Rijiju told ANI.
3:30 pm IST: "I don't understand... how you end corruption by banning Rs 1000 notes and introducing Rs 2000 notes. They informed their associates a week back and they have already invested their money. This will just increase corruption," Delhi Chief Minister Arvind Kejriwal on the scrapping of currency notes.
3:10 pm IST: A PIL filed in a Madurai court in Tamil Nadu was dismissed by the High Court.
Madurai HC bench dismisses PIL for scrapping notification on #demonetising, says can't interfere in govt policies on monetary system.

— Press Trust of India (@PTI_News) November 10, 2016
3:08 pm IST: Companies under the Ujwal DISCOM Assurance Yojana (UDAY) will be accepting old Rs 500 and Rs 1,000 currency notes until tomorrow, ANI reported.
2:56 pm IST:
Chennai-Man carries the wedding card of his friend's daughter to bank,requests them to grant him over Rs 4000,authorities denied his request pic.twitter.com/8KKZYhL6rB

— ANI (@ANI_news) November 10, 2016
2:54 pm IST: People stand in long queues outside banks and ATMs to withdraw cash and exchange notes.
Chennai-People queue in large nos outside Reserve Bank of India to exchange Rs 500/1000 notes after Govt withdraws higher denomination notes pic.twitter.com/qI2TGUA5ge

— ANI (@ANI_news) November 10, 2016
2:50 pm IST: The Janata Dal (United) has welcomed the government's decision and said that the announcement has caused "great dislocation" among the public but it could "reap long term benefits."
2:32 pm IST: PM Modi's decision to scrap Rs. 500 and 1,000 currency notes has been described as surgical strike on corruption by Home Minister Rajnath Singh. According to him, this decision will stop the printing of fake currency in Pakistan to promote terrorism in India, the Times of India reported.
2:20 pm IST: "It will give a big push to farmers, unorganised sectors and others. It can make them part of the banking system by promoting financial inclusion," Nandan Nilekani, politician and former chairman of the Unique Identification Authority of India (UIDAI), told News18.
2:15 pm IST: Citizens can pay taxes, penalties, government dues, water bills and electricity bills using the old Rs 500 and Rs 1,000 notes, according to Times Now.
1:50 pm IST: The central government accepts Maharashtra government's request to allow citizens to use Rs 500 and Rs 1,000 notes to pay government dues, reports ANI.
1:30 pm IST: Samajwadi Party chief lashes out at PM Modi for scrapping the currency notes.
"Government has spread anarchy in entire country... BJP promised to bring back black money in their election campaigns, but after getting public pressure they ban Rs 500/1000 notes. We also want to bring back black money... If anybody has fought against black money after Ram Manohar Lohia, it is Samajwadi Party. We want the BJP to pull back this ban on currency for a few days and let people arrange something," Yadav said at a press conference.
He added that the "Narendra Modi government has slapped emergency without sending people to jail."
1:20 pm IST: Over 150 people have been detained by the police after Communist trade unions in Chennai protested against the demonetisation of the Rs 500 and Rs 1,000 currency notes.
12:30 pm IST: People pose and take selfies with the new Rs 2,000 note.
See more photos of the new note here.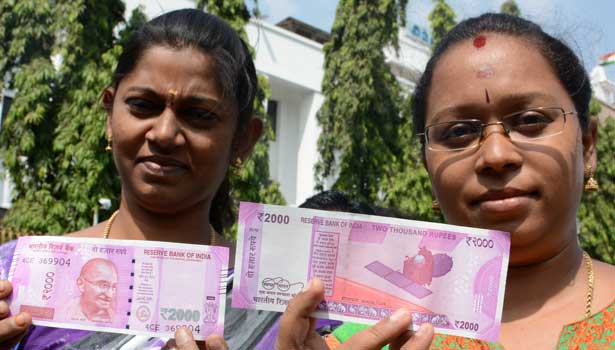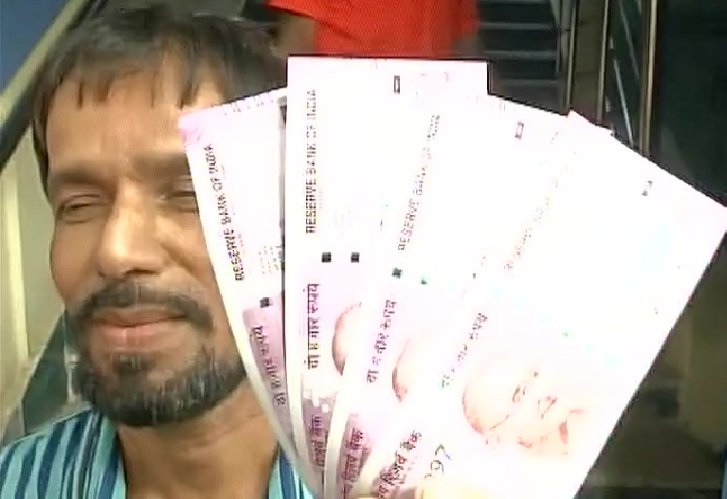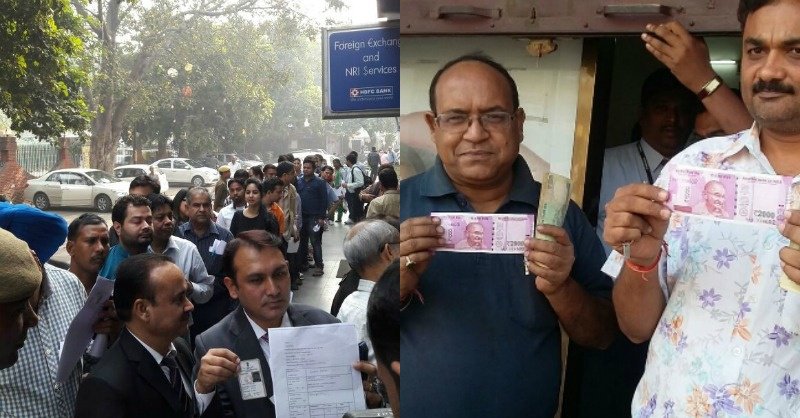 12 noon IST: Congress' Ghulam Nabi Azad slams the government on decision to ban Rs 500 and Rs 1,000 currency notes.
"Congress party has always fought against corruption; can't understand the time of this demonetisation. Several people will be affected. Even our party is against black money, but I think this will impact both wedding and agriculture industries. This is called dictatorship, we are witnessing this since last two years and currency ban is the biggest example of dictatorship," Azad told ANI.
11:30 am IST: Finance Minister Arun Jaitley on Thursday said that the government was trying to ensure that the "requisite replacement currency" is available to the citizens at the earliest and that the banking department as well as the RBI have taken all the "necessary steps" to keep all banks open for as long as possible including keeping them open on the weekends too.
11:26 am IST: Over 3,000 paramilitary and police personnel, quick reaction teams deployed in Delhi for security in banks, according to the Press trust of India (PTI).
9:45 am IST: People pose with the new Rs 2,000 notes released by the RBI. Banks opened early around 8 am for people to exchange their currency notes.
Nagpur: People throng banks as it reopens for first time after Govt withdraws Rs 500/1000 notes (in pics:People pose with new Rs 2000 notes) pic.twitter.com/uYjFOaB0JR

— ANI (@ANI_news) November 10, 2016
Rs 500 & Rs1000 notes